Is Bulgaria worth visiting? Yes, Bulgaria is definitely worth visiting. It's a beautiful country with many cultural attractions and stunning landscapes. From the Black Sea Coast to the mountain towns of the central Balkan region, there are plenty of things to keep visitors entertained.
Bulgaria also has numerous historic monuments and ancient sites including the Thracian Tomb of Kazanlak and Rila Monastery that offer insight into Bulgaria's past. The food is delicious and affordable, making it easy to sample local delicacies while exploring the country.
With its warm hospitality, rich history and incredible scenery, Bulgaria will surely make for an unforgettable experience! It would be a dream to think that a 5-star luxury ski holiday exists at budget prices. But this isn't possible. Hmmmmm actually it is in Bulgaria!
I was blown away by the quality of Villa Gella and the service that we received whilst skiing in Bulgaria. This is why it is worth visiting Bulgaria, here's our complete winter guide.
Is Bulgaria Good For Tourists?
Bulgaria is a great destination for tourists. It is a beautiful and affordable country with a rich history and culture, a variety of stunning landscapes, beautiful beaches, and plenty of outdoor activities. Its capital city, Sofia, offers a mix of ancient ruins, stunning churches, lively nightlife, and modern amenities.
The country is also known for its ski resorts, particularly Bansko, which offers excellent skiing and snowboarding conditions, as well as a variety of après-ski activities. During the summer months, tourists can enjoy the country's beautiful Black Sea beaches, scenic hiking and biking trails, and charming towns and villages.
In addition to its natural beauty, Bulgaria is also home to a range of cultural experiences, including traditional folk music and dance festivals, historic museums and galleries, and delicious local cuisine. The country's affordability and warm hospitality make it a popular destination for budget-minded travellers, families, and adventure seekers alike.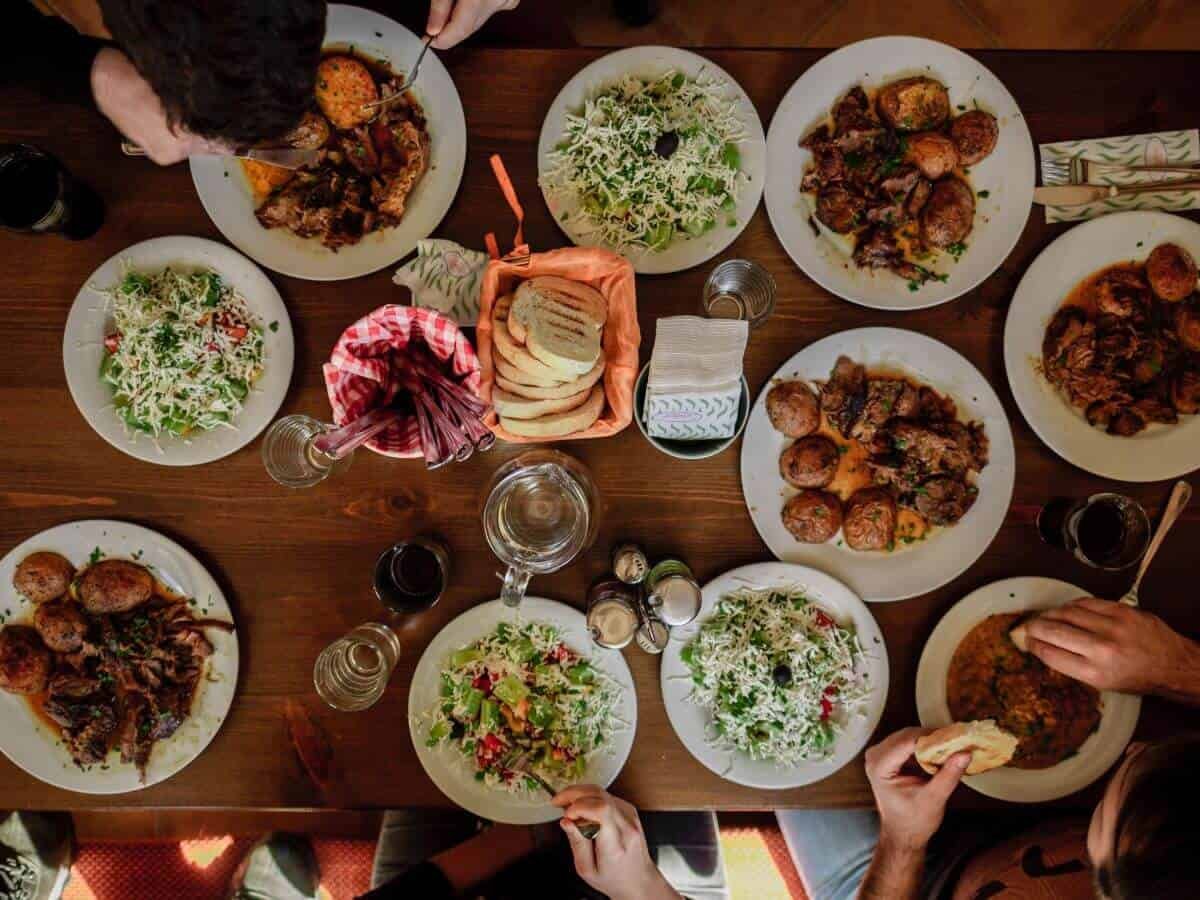 How Many Days Do You Need To See Bulgaria?
To visit and experience the highlights of Bulgaria, 7 days could be enough. The number of days you need may depend on your personal preferences, budget, and the activities you want to do. If you want to visit the main cities such as Sofia, Plovdiv or Varna, explore the countryside, and visit cultural attractions such as museums and galleries, a week could be enough.
However, if you want to also experience outdoor activities, such as hiking, skiing, or beach vacations, you may want to plan for a longer period. Also, if you want to include day trips, such as to the famous Rila Monastery or historic towns, such as Koprivshtitsa, you would need to factor in additional time.
Is Sofia Worth Visiting?
Sofia, Bulgaria's capital city, is definitely worth visiting. It is a vibrant city with a rich history and a unique mix of cultures. Sofia city offers plenty of attractions for tourists, from historic landmarks to modern shopping centres, galleries, and museums.
One of the city's most famous landmarks is the iconic Alexander Nevsky Cathedral, one of the world's largest Orthodox cathedrals, which was built in the 19th century to honour the Russian soldiers who died in the war liberation against the Ottomans. St. Sophia Church and the medieval Boyana Church, both UNESCO World Heritage sites, are also must-visit attractions for history and culture lovers.
Visitors can enjoy the city's parks, such as the Borisova Garden Park, which is perfect for an afternoon stroll, or explore Sofia's many markets, including the famous Women's Market. In addition to the traditional markets, Sofia also has modern shopping malls which offer a variety of international brands.
Foodies will appreciate the city's vibrant culinary scene, with a variety of Balkan, Mediterranean and international cuisine restaurants to choose from. Sofia is also famous for its nightlife, with a variety of bars and nightclubs open until 6 am.
Is Bulgaria A Cheap Place To Visit?
Yes, Bulgaria is generally considered a cheap place to visit, especially when compared to other European countries. The cost of food, drink, accommodation, and transportation is generally much lower than in Western Europe or the United States. Budget accommodations such as hostels and guesthouses in Bulgaria can be found for as low as 25-30 BGN a night, while meals at local restaurants can often be had for under 17 BGN.
In addition, Bulgaria offers many free or low-cost attractions, such as historic landmarks, parks, and museums. Public transportation, including buses, trams, and the metro system, is also affordable, making it easy to travel around the country.
Overall, Bulgaria is a great destination for budget-minded travellers who want to explore a beautiful and unique European country without breaking the bank.
Is Bulgaria A Beautiful Place To Visit?
Bulgaria is a stunningly beautiful country with diverse landscapes ranging from mountain ranges, beaches, and rolling hills.
The country has several UNESCO World Heritage sites, including the ancient city of Nessebar with its historic architecture and idyllic beaches. The Rila Monastery, located in the mountains, is another popular tourist attraction known for its stunning frescoes and beautiful natural scenery.
Bulgaria is also known for its vibrant and colourful traditional villages that are dotted around the countryside. The Balkan Mountains, with peaks exceeding 2,000m provide awe-inspiring views.
Beautiful landmarks like the Seven Rila Lakes or the Belogradchik Rocks are exciting sights to visit. The National Park of Pirin is a bio reserve with diverse flora and fauna that covers approximately 40% of the Pirin Mountains.
Bulgaria is a country with plenty of natural beauty and one of the best ways to discover it is to drive around to explore the Bulgarian landscapes.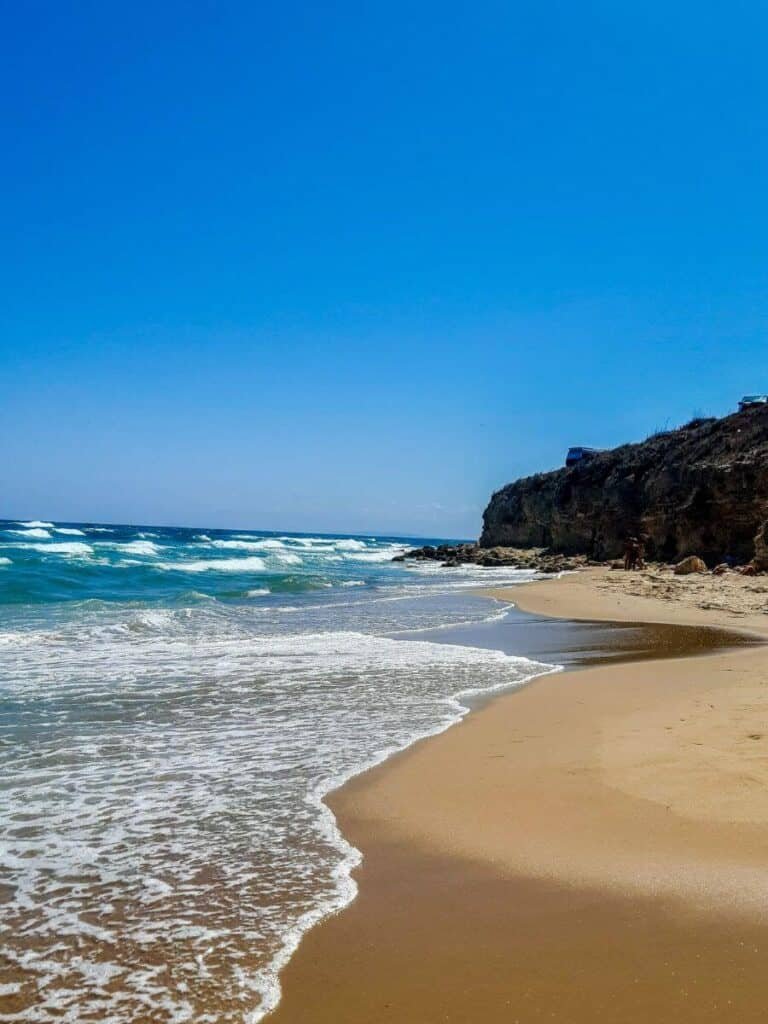 Is Bulgaria Safe?
Bulgaria is generally considered to be safe for travellers. The country is a member of the European Union and has strong anti-terrorism laws in place. There are some areas of Bulgaria that should be avoided, particularly at night, but crime levels remain low overall.
The Bulgarian government takes measures to ensure the safety of tourists, including providing extra police officers on duty around popular tourist attractions. In general, visitors to Bulgaria can feel safe travelling around the country and enjoying its many attractions and activities.
When Is The Best Time To Visit Bulgaria?
The best time to visit Bulgaria is during the season that aligns with your interests and activities. The peak tourist season is during the summer months from June to August when the weather is sunny, and beach resorts along the Black Sea coast are bustling with activity. The average high temperatures during this period range from 27°C to 32°C, making it ideal for outdoor activities such as swimming, snorkelling, and beach sports.
Spring and Autumn are also great times to visit Bulgaria, as the temperatures are milder, and there are fewer crowds. This is a perfect time to explore Bulgaria's mountain ranges, go hiking, or visit cultural attractions without the summer heat.
Winter is an ideal time to visit if you are interested in winter sports such as skiing and snowboarding. Many of Bulgaria's famous ski resorts, such as Bansko and Borovets, offer excellent skiing conditions during this time.
10 Reasons To Visit Bulgaria Any Time Of The Year
Explore the vibrant city of Sofia – the capital of Bulgaria and home to a mix of ancient and modern attractions.
Uncover Bulgaria's rich cultural heritage with over 12,000 archaeological sites dating back to 4,000 BC.
Get mesmerized by powerful monasteries, medieval cities and quaint mountain villages in the southern part of the country.
Enjoy delicious local cuisine offering a unique blend of Mediterranean and Middle Eastern flavours.
Relax on some stunning beaches in Balchik or Primorsko or take a boat trip down the Danube River.
Take advantage of Bulgaria's world-class skiing facilities with resorts like Bansko, Borovets and Pamporovo all within easy access.
Get involved in adventure activities like hiking, mountain biking, caving and horse riding in spectacular natural surroundings full of rivers, lakes, forests and more!
Take part in one of the traditional festivals or sample some local music at one of the many bars around Sofia where you can find live performances every night!
Shop til your heart's content at designer outlets or explore local markets for traditional arts and crafts items such as pottery and jewellery-making tools – some popular souvenirs too!
Benefit from low prices throughout Bulgaria with plenty of affordable accommodation options available for budget travellers who are looking for a great value holiday!
Why Visit Bulgaria In Winter?
Visiting Bulgaria in winter has its own unique set of advantages. One of the biggest draws is the skiing opportunities that can be enjoyed in places like Pamporovo and Bansko. These resorts are much more affordable than ski resorts in Western Europe.
Also, many festivals take place during the winter months that celebrate Bulgarian traditions such as Martenitsa and Koleda. Winter is also a great time to appreciate the stunning beauty of nature with snow-capped mountains, picturesque villages and magnificent lakes all transforming into postcard-perfect scenes.
Plus, it's an ideal time to experience local customs like cosy baking nights or relaxing wine tastings without all the tourists around!
Where Are The Ski Areas Of Bulgaria?
Bulgaria has two main ski areas – the Pirin Mountains and the Rhodope Mountains. The Pirin Mountains offer some of the best skiing in the country with trails for all levels, from beginners to experts.
There are also plenty of off-piste opportunities and a great range of accommodation options. The Rhodope Mountains are known for their gentle slopes, making them perfect for families and those looking to take a more leisurely approach to winter sports. Other ski areas in Bulgaria include Borovets, Vitosha, Sokolovski and Pamporovo.
The ski resort of Bansko is widely regarded as one of the best places to ski in Bulgaria. Located at the foot of Pirin Mountain, it is renowned for its exceptional snow conditions and well-groomed slopes.
There are runs suitable for all levels, from beginners to experts, and a choice of terrain parks, half pipes and various trails for more adventurous skiers. The resort also offers a range of activities such as snowshoeing, sleigh rides and snowmobiling.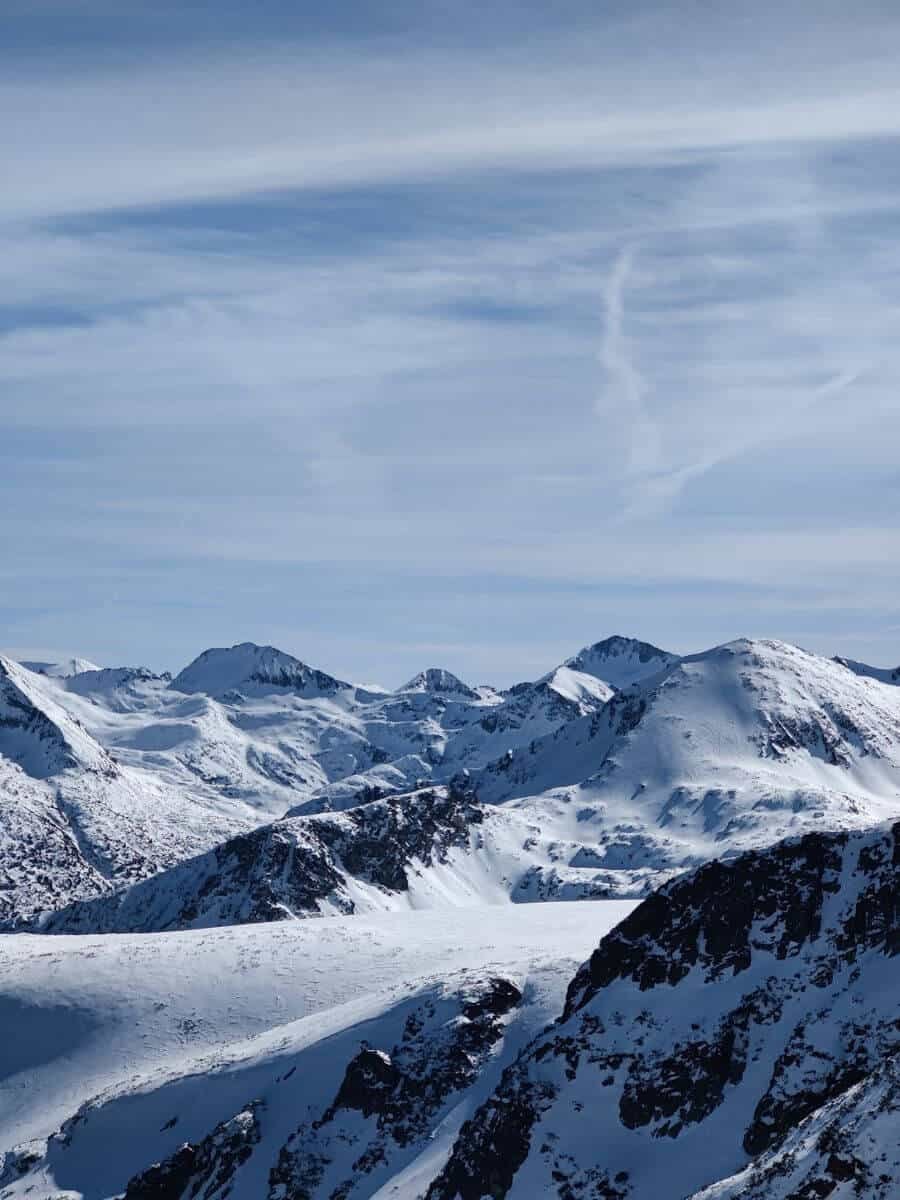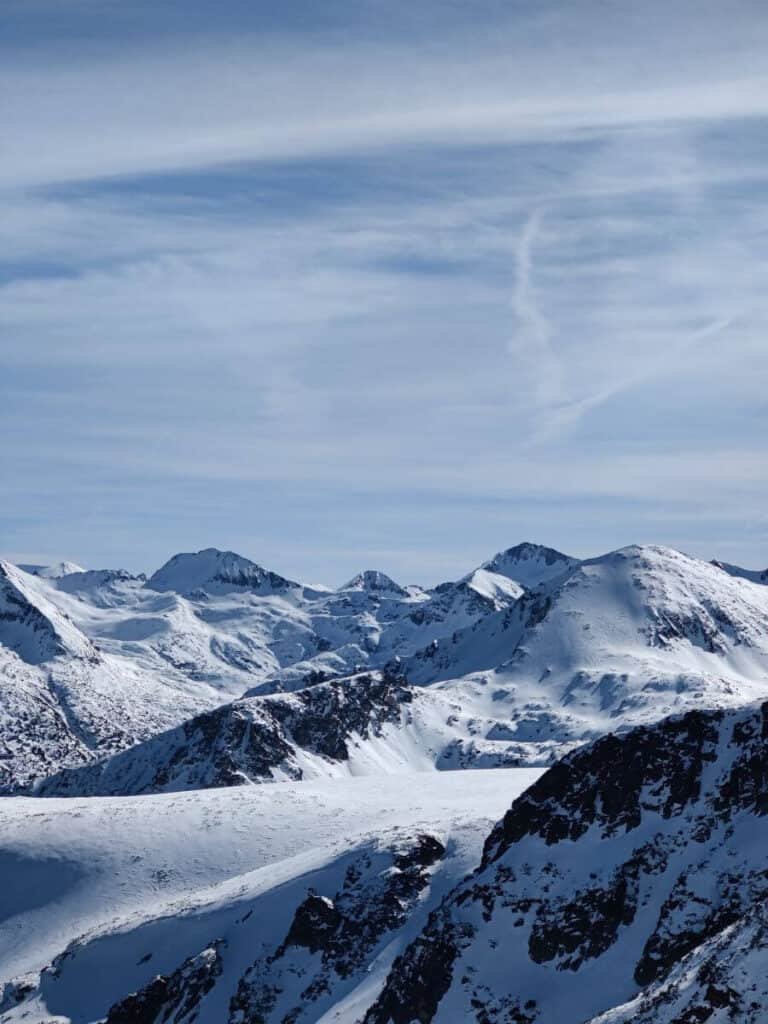 Where To Stay During Winter In Bulgaria
Bulgaria wasn't at the top of my list for a luxury ski holiday. But when I came across Villa Gella I knew that was exactly where we were going. Gela is a small village in the Rhodope Mountains. Only a 20-minute drive to the popular ski resort of Pamporovo. Villa Gella sits isolated, high up within the village. With spectacular views over the mountainous countryside.
The main thing that drew me to Villa Gella was how light and airy it looked. The main floor comprises an open-plan lounge/dining area. Complete with soft neutral furnishings and large floor-to-ceiling windows. The dining area has a 280-degree view of the beautiful backdrop that is the Rhodope Mountains.
This makes a fantastic communal area if you are travelling with a small group or a large party. The large terrace has a fire pit. Perfect for sipping hot choccie and toasting marshmallows.
As well as a beautiful, modern chalet. The prices for a 1-week stay here in 5-star luxury will compete with a budget ski holiday in many other parts of Europe.
Our Stay In The Rhodope Mountains
The first day we arrived at Villa Gella, was a beautiful bluebird day. We were greeted by Alexander the owner. Who brought us to the terrace to give us a history of the Villa, information on the area and ideas for what activities are available on non-ski days.
During this introduction, his sister Darina served Villa Gella's own herbal tea. We sat in the sunshine, soaking it all in. It was an incredible start to a fabulous week.
Villa Gella is a family-run business and they do everything to make you feel at home. It has 6 large rooms that all come with their own fireplace and en-suite bathroom. Most bathrooms (all but 1) also have a bath and an outdoor view, the perfect place to relax and unwind.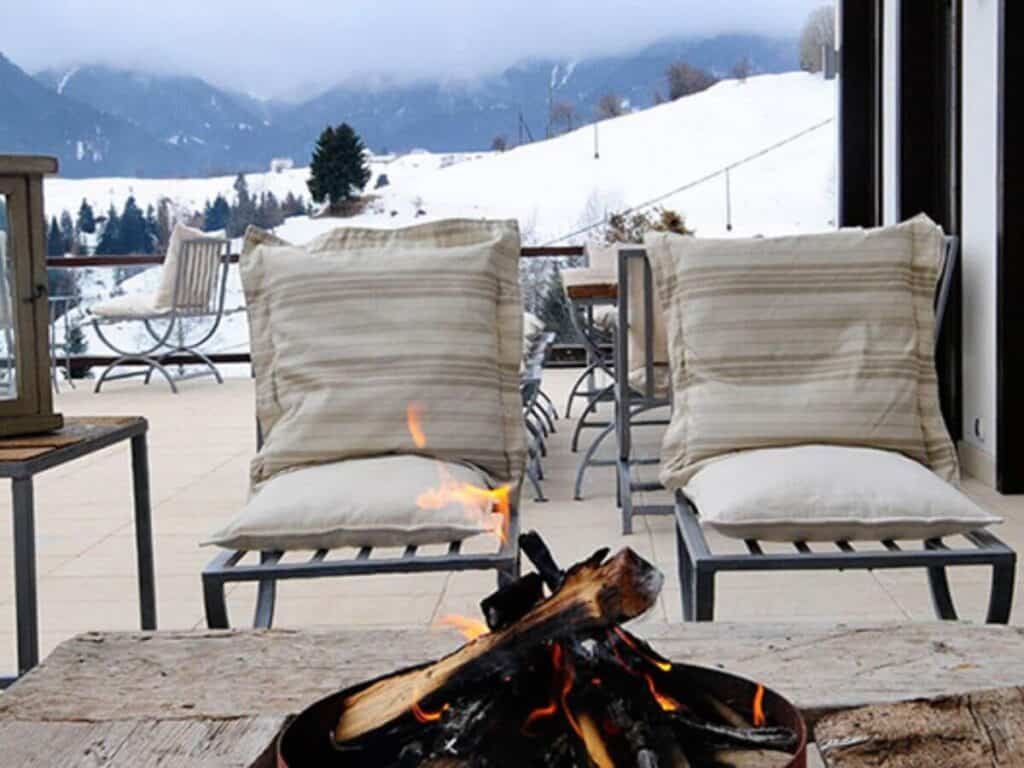 Why Villa Gella?
The Villa can comfortably sleep up to 16 people. We were a party of 13 and the space was perfect for us, we didn't feel at all crowded.
The Villa has a spa area; equipped with a pool, steam room, showers and treatments (upon request). The top-floor suite also comes with a hot tub and chill-out area, just what you need after a full day on the slopes.
As well as a luxurious stay, the food is also 5-star. The food is made from the freshest ingredients.
The main focus in the Villa Gella kitchen is:
All of the food is locally sourced and prepared as healthily as possible.
You can expect to be drinking milk from a cow that you passed by on your way to the Villa. Trying new foods in new places is always fun and it's an added bonus if that food is both tasty and healthy. Villa Gella provides plenty of fuel for the week's activities. The chef's speciality stuffed avocados were a big win within our group.
Coming back to the Villa after a full day of skiing was bliss. On route back to the Villa we were able to stop at stores to pick up any extra drinks or snacks we wanted. Upon arrival, we were always greeted with fresh tea and the opportunity to wind down after an active day.
In the evenings we enjoyed exploring an exciting mix of Bulgarian and Mediterranean dishes. Always with the option of local wine. One of our evenings was a tailored menu with a wine pairing. This trip has to be one of my favourite skiing experiences so far. This place oozes luxury and total relaxation.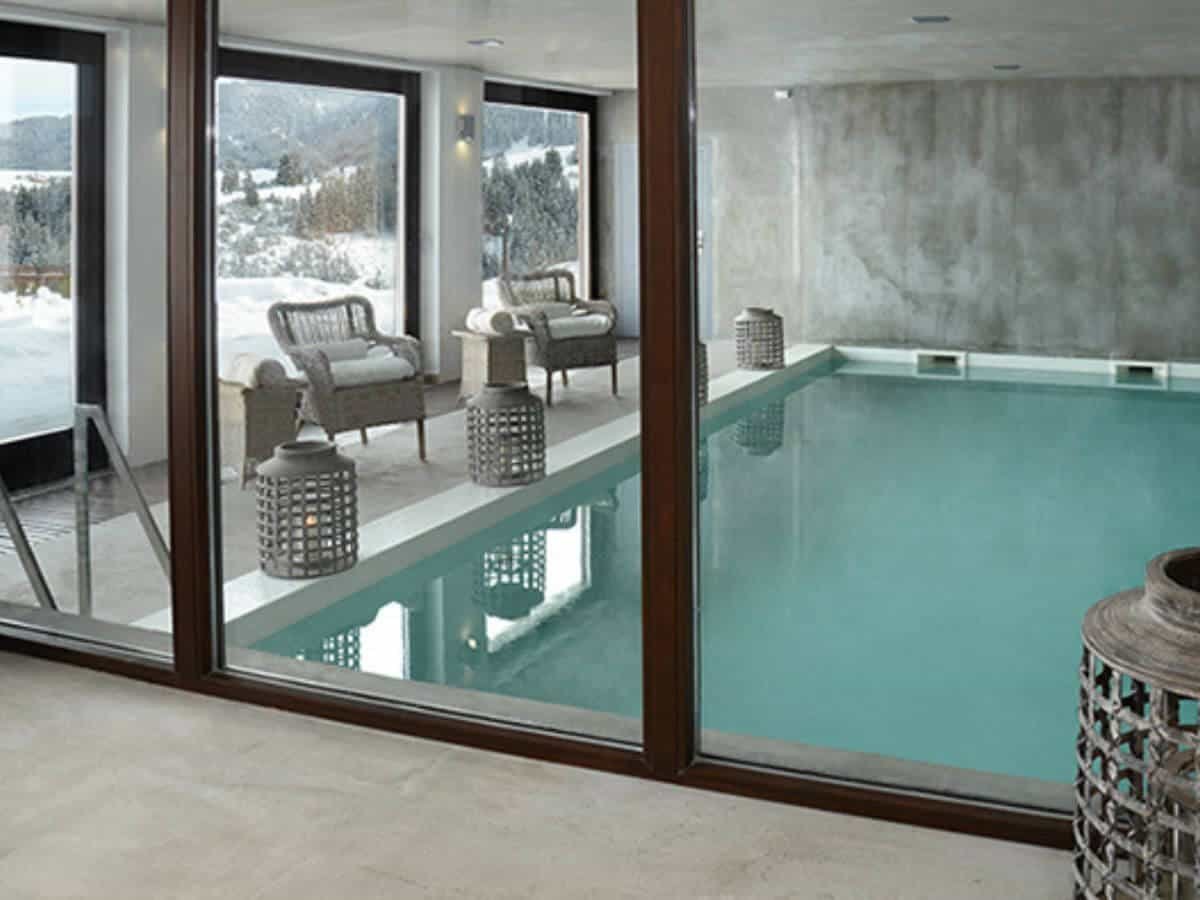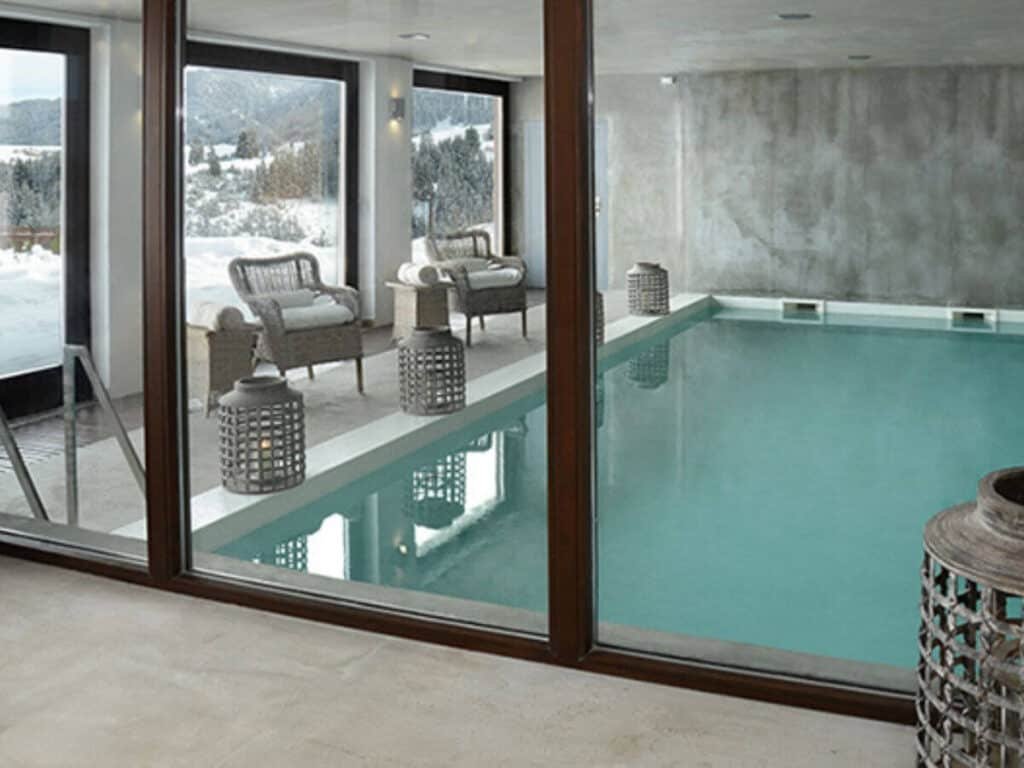 Why Ski In Pamporovo?
Pamporovo is a ski resort located in the Rhodope Mountains of Bulgaria. The area offers slopes for all levels, from beginners to experts, and is renowned for its consistently good snow cover.
The longest run at the resort is 2km and there are plenty of terrain parks and trails for snowboarders. Other activities on offer include snowmobiling, paragliding and winter hiking.
There is a wide range of accommodations available in Pamporovo, from luxury resorts to self-catering apartments. A choice of restaurants, cafes and bars can also be found in the ski village.
Our main activity for this trip was skiing. Our accommodation gladly arranged ski hire, ski lessons and private transfers to and from the ski lifts.
Pamporovo has a variety of slopes, covering over 17 pistes. This worked well for our big group of mixed abilities.
Panorama Bar and Diner is in the centre of the resort and conveniently located so all abilities can ski to it. Making it a good spot for meeting up, grabbing lunch and catching up on everyone's day.
Where Is Pamporovo?
Pamporovo is one of the most popular ski resorts in Bulgaria. It is located in the southern Rhodope Mountains, close to the border with Greece and near the town of Smolyan.
The resort sits at an elevation of 1650 metres, making it one of the highest ski centres in the Balkan Peninsula. Pamporovo offers its guests downhill skiing opportunities with various pistes for all levels, from beginner to advanced, as well as snowboarding activities and cross-country skiing trails.
Snowmobiling In The Rhodope Mountains
For our last day, we decided to do a snowmobiling tour with Ski-Doo Pamporovo. We were collected from the Villa in cars, taken to the starting point of the tour and given our safety briefing. Then we were let loose into the mountains, trailing behind our tour guide.
As a bit of a speed junkie, Snowmobiling quickly became my number 1 winter activity. Not only do you get a thrill from the ride, but the places you can access and the views you see are breathtaking.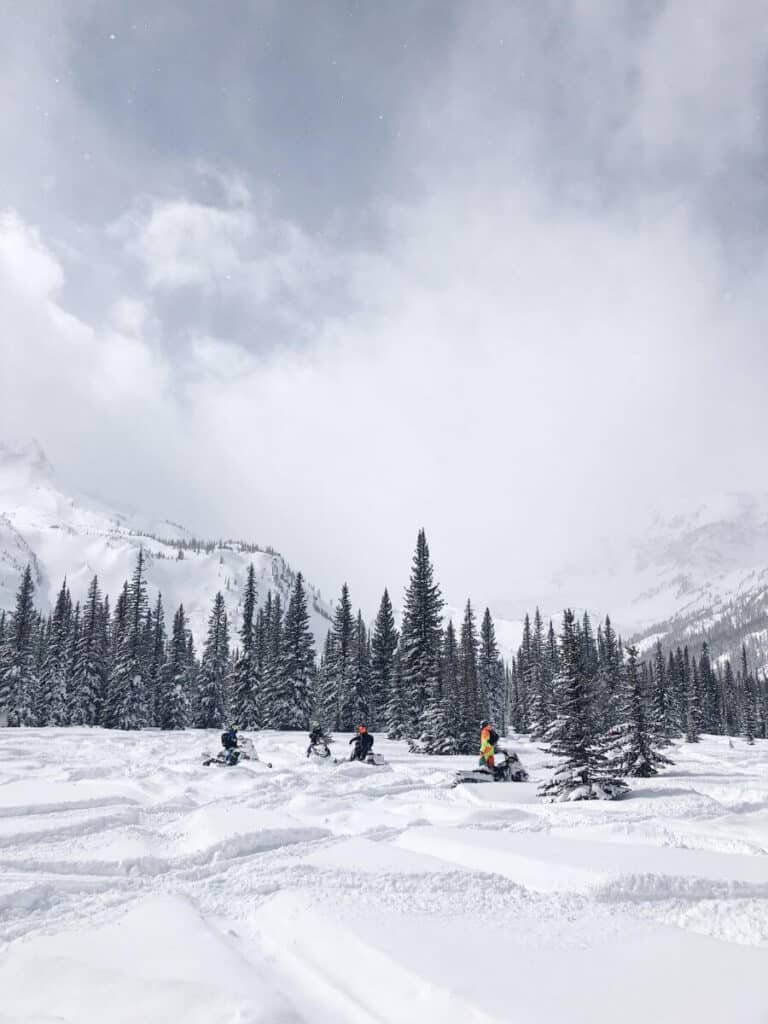 The Wrap Up | Is Bulgaria Worth Visiting?
I would definitely say Bulgaria is worth visiting. If you would love a luxury ski holiday at budget prices, I recommend Pamporovo and Villa Gella. Skiing and Snowmobiling in the Rhodope Mountains is an adventure I will never forget.
Our week was not only 5-star luxury and service but also one that did not break the bank. It's rare to find skiing at affordable prices. But luxury skiing at budget prices is like finding a wizard riding a unicorn.
If you are looking to ball out this winter check out Zermatt instead.