Planning To Go Skiing In Zermatt?
Here's everything you need to know to plan your trip!
For over 6 years, Zermatt was the place I called home. Although I still travelled extensively during this time, it was always where I wanted to come back to again and again, especially during the ski season.
As well as great skiing, incredible restaurants and easy access to Italy, Zermatt village has a magical feel in the winter months. In this post, I'll share everything you need to know for the perfect Zermatt ski trip. From maps and lift info to accommodation tips and insider advice, this guide is designed to help make your visit as smooth and enjoyable as possible.
After living in Zermatt for 7 winter seasons and returning annually to ski and snowboard, let us break down for you why skiing in Zermatt is our favourite winter activity and destination.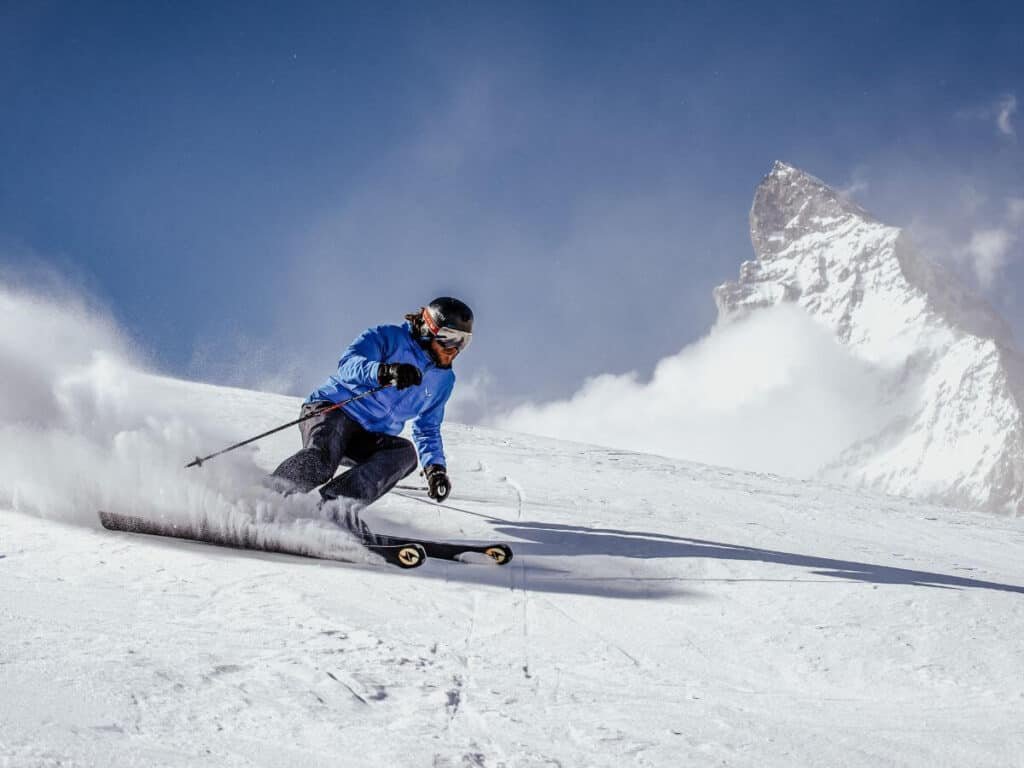 Skiing In Zermatt: Overview
Zermatt is a great place to ski, no matter what level of skier you are and the unique thing about this resort is that you can ski and snowboard 365 days of the year. In the winter, there are 3 main ski areas as well as links to 2 Italian ski resorts, which can all be accessed on one international ski pass.
The Matterhorn Ski Paradise is the highest ski area in Switzerland, sitting at 3,883m on the border of Italy, this area is shared by Zermatt and Breuil-Cervinia. The combined amount of skiable area is 360 km of slopes, that is A LOT of mountain to explore! One of my favourite things about visiting Zermatt during the winter, is being able to say "Shall we ski to Italy for lunch?"
Things to know before you go:
There are no green slopes in Zermatt.
74 km Blue Slopes – Beginner (easy)
227 km Red Slopes – Intermediate (medium)
20 km Black Slopes – Expert (hard)
36 km Yellow Slopes – Marked Off-Piste (expert only)
Zermatt can make artificial snow on 75% of the pistes – this is a great advantage when Europe is facing a low snow year.
While some lifts operate from 8:30 am to 5:00 pm others close earlier, be aware of your connection times and make sure to not get stuck over in Italy, that's a pricey taxi back to Zermatt, not to mention a 4-hour drive.
Zermatt has some of the best mountain restaurants in the world.
Music lovers will have plenty of choice of amazing après ski spots, live bands and even a festival during April called Zermatt Unplugged.
Booking Your Ski Holiday?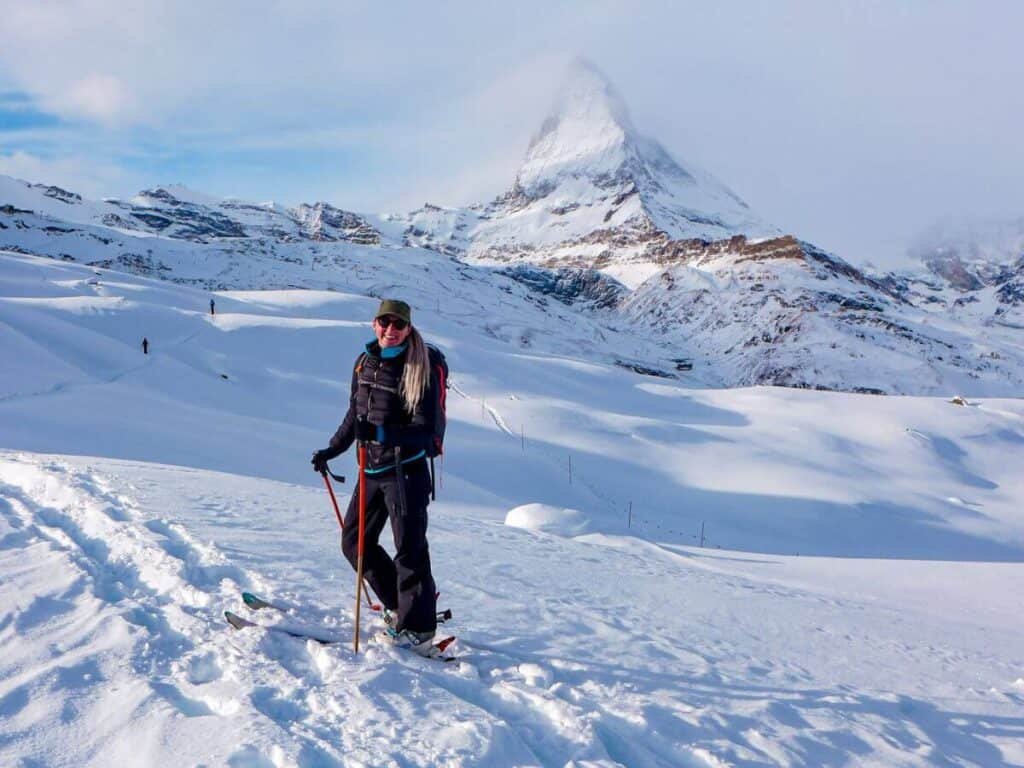 Zermatt Ski Passes
Which ski pass to choose will depend on your budget, length of stay and ability. The more consecutive days you buy on one pass, the more the overall ticket price is reduced, however, be mindful that there are no refunds if you choose not to use the pass. Booking in advance can also give you the best deal.
For a more flexible pass option, choose the Flex Ski Pass. All ski passes include free use of the electro busses in Zermatt, those under 16 receive a discount and children under 9 years old can ski for free with an appropriate ID.
Ski Pass and Ski Care insurance can also be purchased to cover you in the case of an accident or illness.
Beginners Ski Pass
Complete beginners will want a Beginners Ski Pass, which gives you access to the following:
Sunnegga funicular
Sunnegga-Blauherd combi cableway
Leisee Shuttle
Eisfluh chairlift
Findeln chairlift
Wolli's Beginners Park
The Wolli Park itself is free to enter, however, you will require a pass for the Sunnegga funicular and Wolli's Park lift to be able to access it. This lift pass is CHF 57.00 per day for adults.
Zermatt Ski Pass
For access to all of the slopes between Sunnegga – Rothorn, Gornergrat and Matterhorn Glacier Paradise – Schwartzsee, you need the Zermatt Ski Pass. This pass gives you a total of 200 kilometres of pistes consisting of a wide range of Blue, Red, Black and Yellow slopes. For Adults, this pass starts at CHF 83.00.
The Zermatt Ski Pass has an optional bolt-on to include a daily return journey on the Zermatt shuttle train to Täsch and Randa for CHF 17.00.
International Ski Pass
Added onto the Zermatt Ski Pass for CHF 14.00 per day, the International Ski Pass gives you access to an additional 160 kilometres of pistes in the Italian ski resorts of Breuil-Cervinia and Valtournenche. That's a total of 360 kilometres of skiable area! Lunch in Italy, anyone?
Matterhorn Alpine Crossing
If your skiing ability isn't up to tackling the red slopes to access Italy, then don't worry. You can still lunch in Italia by taking the Matterhorn Alpine Crossing. A return ticket will take you from Zermatt to Cervinia and back again, allowing you to stop en route to enjoy the views and enter the Matterhorn Glacier Palace.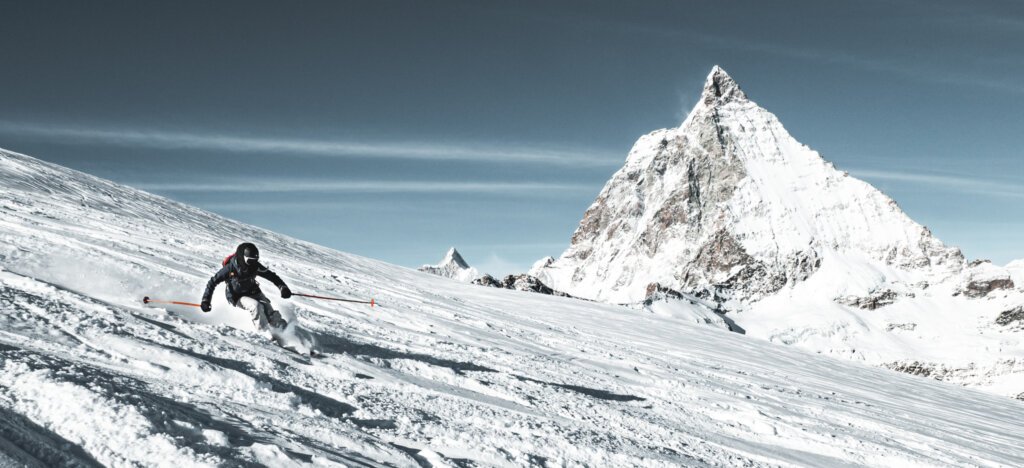 Skiing at Sunnegga – Rothorn
The Sunnegga ski area is mostly South to South-West facing, meaning that it receives more sunshine than any of the other slopes. This is why it is aptly named Sunnegga which translates to Sunny Corner. Here, you'll also find some of our favourite mountain restaurants, Flualp, Chez Vrony and Findlerhof, which are all great spots to stop for alfresco dining.
Beginner skiers and snowboarders will start their skiing journey in Wolli's Park just below the Sunnegga lift station. Being the sunniest area means that it is often the warmest, which makes those early phases when there's a lot more slow movement, more comfortable. From the beginner area, there are linked blue runs to help with your next progression.
As well as blue slopes, the Sunnegga – Rothorn ski area also offers red, black and yellow pistes, as well as off-piste skiing in good conditions for those with experience or a qualified guide. The yellow pistes are off the back of Rothorn towards Tuftern, from Blauherd to Eja and Hohtälli to Gant. The Hohtälli lift also gives you access to the Gornergrat Ski area.
Getting to Sunnegga – Rothorn
Take the Sunnegga funicular train from Vispastrasse in Zermatt to reach the Sunnegga – Rothorn ski area.
The Green Line bus runs from the main train station in a there-and-back route, stopping at all of the ski lift stations. The Red Line bus runs via Winklematten stopping near the Snowboat for access to the Sunnegga funicular train.
Skiing at Gornergrat
The Gornergrat Ski area is great for all abilities. There are nice wide cruisy blues, between Gornergrat and Riffelberg and challenging reds that flow back to Zermatt. In good conditions, Gornergrat is a great place to introduce off-piste skiing for those with the right expertise, equipment and guide.
Learn more about Off-Piste Skiing Here.
From Schweigmatten you'll find a scenic yellow, which is great for more confident skiers, but not as challenging as a lot of the long, steep yellow pitches. It does have some fast corners, bumps and narrow paths, so be sure to know your ability before venturing down it, yellow runs are marked for expert skiers for a reason.
One of our favourite places to stop for a hot chocolate is the Iglu Dorf which is on Blue Run 45. The best lunch spot in this area is Alphitta at Riffelalp, if you're not up to tackling the red runs, you can take the train from Riffelberg to Riffelalp and walk along the path to reach the restaurant. They offer great food, amazing views, friendly banter and often live music.
Getting to Gornergrat
There are two ways to access Gornergrat from Zermatt village. There's the Gornergrat Railway, whose station is situated opposite the main train station. And there's the Matterhorn Glacier Paradise cable car near the Hotel Focus – change at Furi for the Riffelberg cable car.
Both the Red and Green Line buses take you to these stations. Check which one you require based on your starting location.
Skiing at Matterhorn Glacier Paradise – Schwarzsee
The Matterhorn Glacier Paradise – Schwarzsee ski area is best for intermediate to expert skiers. There are very few blue runs in this region. The pistes are made predominately of red runs, with a couple of blues, a couple of busy steep blacks and a handful of challenging yellow pistes.
The off-piste skiing in this area can be great fun if the conditions are safe, for those who are experienced, equipped and have a qualified off-piste guide. Please take extra care with off-piste skiing in this area as it is largely glacial and littered with crevasses.
With an international Ski Pass, you can also access the slopes of Cervinia and Valtournenche from Matterhorn Glacier Paradise. While the skiing into Italy is mostly red runs, you can take the lifts to the blue area at Plan Maison. Or not ski at all and take in those rays while dining alfresco, Cervinia is a South to South-West facing resort and receives a lot of sunshine.
Our favourite restaurants in the Matterhorn Glacier Paradise – Schwarzsee area are Stafelalp, Aroleid and Zum See. In Italy make a booking at Chalet Etoile or head to Cervinia following Blue Run 5 for Pizza and Aperol at Pizzeria La Grotta. For a unique experience, watch the sun disappear behind the Alps, from Rifugio Teodulo, with a sharing board and glass of wine.
Note: a regular ski instructor is not allowed to take you off-piste in Switzerland. Only off-piste qualified instructors or mountain guides can do so.
Never Ski Off-Piste Without The Appropriate Knowledge, Experience And Equipment.
Getting to Matterhorn Glacier Paradise – Schwarzsee
To reach the Matterhorn Glacier Paradise – Schwarzsee ski area, take the Matterhorn Glacier Paradise cable car from Zermatt. Both the Red and Green Line buses take you close to the lift station, be sure to know your starting point to choose the appropriate bus.
Zermatt Skiing Map
Here is an Interactive Map Link to see where all of the ski lift stations are located in Zermatt.
Zermatt Piste Map
Here is an Interactive Map Link to the Zermatt Piste Map. This link allows you to view the live piste map or download a pdf version.
Best Zermatt Skiing Apps
Live Lift Status – Skiguide Zermatt – Apple / Android
This app gives you real-time information on open and closed pistes, as well as a handy interactive piste map.
Best Weather App – MeteoSwiss – Apple / Android
Keeping track of the weather can be difficult in mountain regions, Meteo Swiss is often the most reliable.
Best Time To Ski In Switzerland
The busiest and most expensive times to ski in Switzerland are during school holiday periods over Christmas and New Year and February half-term. If you're not tied to school holidays, I would avoid February for sure! If you aim to be on the slopes during the festive period, you'll have to accept that it will be busy, but without a doubt, a magical experience.
For the best snow conditions and fewer crowds, January is the best time to ski in Switzerland. The downside with this time of year is that it is also the coldest, but if you're happy to wrap up warm, it can pay off. For warmer temperatures, slushy snow and longer days, look at skiing in Switzerland in March-April, avoiding the Easter school holidays if you can.
If you're interested in visiting Zermatt in Autumn, check out our blog here!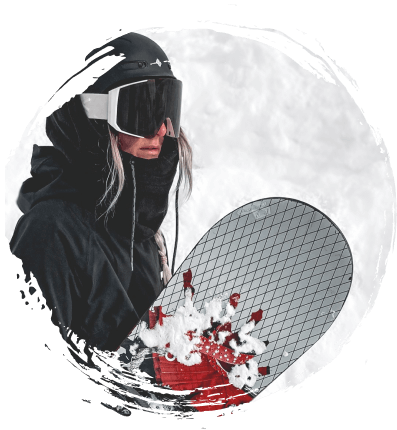 Where To Stay
As Zermatt is a relatively small town with good electro bus and electro taxi services, nowhere is really too out of the way. For the most convenient access to the ski bus, rental shops, train station, bars and restaurants, aim to stay in the centre of town close to Bahnhofstrasse and Hinterdorfstrasse.
If you plan to do most of your skiing in the Matterhorn Glacier Paradise area, you might find it more convenient to stay in Winklematten or near Oberdorfstrasse. Just be mindful that the bus services don't run late into the evening, so any late-night adventures into town will require a brisk, frosty walk or a taxi back to your accommodation.
The best budget and location accommodation in Zermatt is Hotel Bahnhof. Conveniently located opposite the main train station, the supermarket, the taxi rank and the Gornergrat Railway, you'll find it hard to find a hotel in a better spot than this.
For mid-range prices, flexibility and comfort, Dent Blanche is the perfect option. Located on Hinterdorfstrasse you'll be immersed in Zermatt's old town as well as being conveniently located to the supermarket, bars, shops and a bus stop.
These self-catering apartments allow you to come and go as you please without the worry of making it down in time for breakfast.
📍Best Luxury Spot: BEAUSiTE
For the ultimate luxurious experience, Parkhotel BEAUSiTE has stunning rooms, a relaxing spa, some of the best dining experiences in Zermatt and is conveniently located in the centre of the village.
Best Things To Do In Zermatt
Although the number one activity in Zermatt during the winter months is skiing, there is also a wide range of other snow and non-snow activities on offer. Why not give snowboarding or sledging a go?
Ever wanted to jump off the mountain and soar back down to the ground? – Paragliding is another popular activity in Switzerland.
If all that adrenaline is just a bit much, there are some great spa packages, walking tours, dining experiences and shopping adventures to be had instead.
✅ Private Ski Lesson
For first-timers, people who want to improve and nervous skiers, we always advise hiring a ski instructor. It really can be the difference between you loving or hating this activity and the speed at which you improve.
With customised lessons, private or group instruction and a team who speak Russian, English, Italian, French or Spanish, this is our go-to for ski lessons in Zermatt.
✅ Paragliding
One of the most exciting experiences you can have in Zermatt is Paragliding above the village, with the stunning backdrop of the Matterhorn. This is an experience I will never forget.
Hire an experienced guide to take care of your safety on a tandem flight in one of the most magical locations in the world.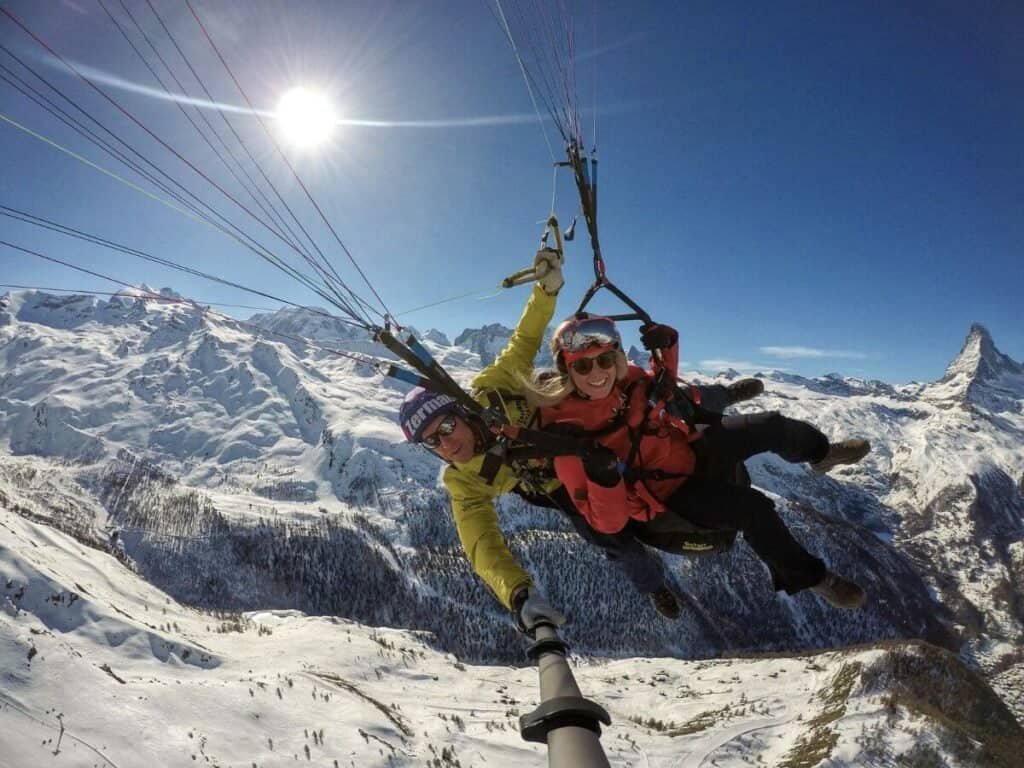 ✅ Zermatt Village Walking Tour
Journey back in time on this walking tour of the beautiful Zermatt village. Stroll down Hinterdorfstrasse and learn about the history of these well-preserved mountain huts that were built between the 16th and 18th centuries.
Learn about the first ascent of the Matterhorn and how Zermatt came to be what it is today.
FAQs
Let's dive into some frequently asked questions about skiing and snowboarding in Zermatt.
How Difficult Is The Skiing & Snowboarding In Zermatt?
Zermatt is generally seen as a slightly more difficult resort to ski or snowboard, especially for beginners. With a small beginner area and limited blue runs, Zermatt is not always the ideal place for first-time skiers and snowboarders.
However, if you're a fast learner and eager to get to those red pistes, Zermatt is the perfect place for you. It is the ultimate intermediate-level resort, with great progression options for more advanced skiing and snowboarding.
Is It Expensive To Ski In Zermatt?
With 360 kilometres of slopes, you certainly get bang for your buck in Zermatt. But what creeps up the budget is accommodation, transport and dining costs. Switzerland as a whole is known as one of the more expensive skiing destinations, but that doesn't mean it can't be done affordably.
With careful planning and advance booking, there are many ways to make a ski trip to Zermatt more affordable.
Can Beginners Ski At Zermatt?
Yes, beginners can ski in Zermatt, the beginner area is called Wolli's Park, dedicated to all first-timers. The only downside is the progression is straight to blue runs as Zermatt does not have any green slopes, this however, should not deter you if you are feeling confident enough to tackle those relatively easy blues.
Is Zermatt Ski Resort Crowded?
Zermatt ski resort can get crowded during peak weeks, which fall on school holidays in December and February. Outside of these times, on weekdays, the slopes can be pretty quiet. Weekends can also get quite busy due to local tourism.
January is probably the quietest time to visit Zermatt and a great opportunity to lap those well-groomed pistes.
The Wrap-Up: Skiing In Zermatt
If you're looking for a Christmas escape, your first venture into snowsports, great live music and après ski, a challenging adventure or a good combination of skiing and dining, Zermatt caters to everyone.
With stunning vistas, extensive slopes, a charming alpine village and the opportunity to venture into two Italian ski resorts, it's no wonder Zermatt is our favourite skiing destination. The blend of tradition and modernity, combined with its commitment to sustainability, makes Zermatt an exceptional choice for a ski trip.
So, if you haven't experienced the magic of Zermatt's slopes yet, it's time to plan your next winter adventure in this picturesque Swiss resort. Get ready to carve your way through pristine powder, breathe in the crisp mountain air, and create memories that will last a lifetime in the breathtaking Swiss Alps of Zermatt.
Thinking about a Campervan Trip to Switzerland? Here's our Vanlife Switzerland Guide!