You May Be Wondering 'Is Zermatt Worth Visiting'?
Reasons, travel tips and things to do. We've got all the info!
Zermatt is the little Swiss town that's got everybody buzzing. Now, I know what you're thinking: "Is Zermatt worth visiting? Or is it just another overhyped tourist trap?"
Ten years ago, I popped over to Zermatt for a day while doing a ski season in Verbier and I instantly fell in love. Since then I have spent 7 winter seasons and 2 year-round stints, living in this stunning mountain village, so let me tell you all about it.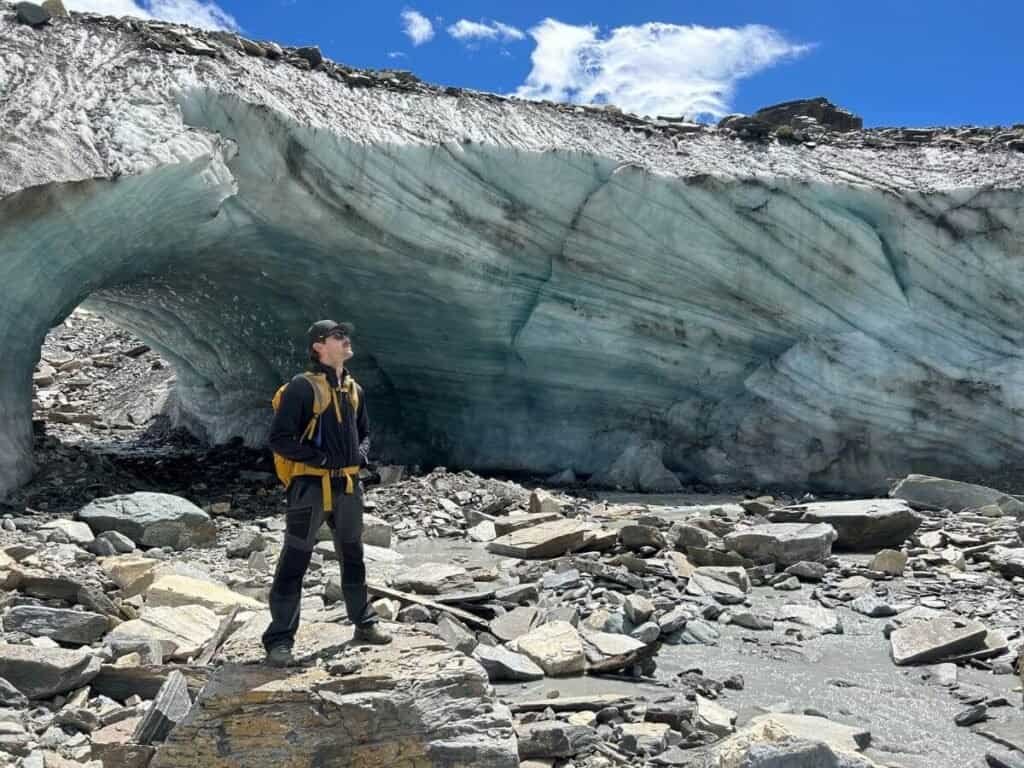 Is Zermatt Worth Visiting?
Yes! Zermatt is worth visiting at any time of the year. There are lots of things to do for any outdoor enthusiast or sightseeing traveller, no matter when you want to visit.
If you're a lover of mountains or snowsports, Zermatt is a 365-day destination and it is also home to a selection of Michelin star and Michelin recognised restaurants as well as a great selection of spas.
This means no matter what type of traveller you are, Zermatt is a great destination! It's a little more spenny on the wallet for those budget travellers, but there are always ways to keep within budget, even in Switzerland.
If you're considering a campervan or motorhome trip, check out our helpful guide for Vanlife Switzerland.
How Many Days Should I Spend In Zermatt?
You should spend at least 2-3 days in Zermatt to get a good feel for the place. This gives you enough time to visit the iconic peaks, take a famous cable car ride, and maybe even squeeze in a hike/ski or two.
To explore Zermatt, we would advise at least a week. There's so much to do in this tiny village, you'll want as much time as possible to experience it all. From hikes and sights in the summer to snowsports and fine dining in the winter, Zermatt is a destination that needs to be experienced thoroughly.
Is A Day Trip To Zermatt Worth It?
If you're short on time, then a day trip to Zermatt is worth it. You can still see the Matterhorn (weather permitting), ride a cable car or cogwheel train, get up close to a glacier, hike/ski and have a fantastic meal in one day. I warn you though, one day is all it took to get me hooked and now I've spent more time in Zermatt than anywhere other than where I grew up!
Things To Do In Zermatt
I could probably go on and on about how many amazing things there are to do in Zermatt at any time of year. But here are the best 25 things to do in Zermatt for every type of traveller.
1. Get Up Close With The Matterhorn
Have you ever wondered where Toblerone chocolate gets its triangular shape from? Perhaps not, it tastes yummy, that's the most important thing. But the Matterhorn (or real life Toblerone) is a staggering 4,478-meter high mountain, which towers over Zermatt. Giving this tranquil town a very picture friendly, yet dramatic backdrop.
The Matterhorn can be seen from most places in the village with a south facing view, which means there are plenty of options for you to book accommodation with a Matterhorn view.
Where Is The Best Place To View The Matterhorn?
The best places to view the Matterhorn at any time of year are the Zermatt Matterhorn Viewpoint, Kirchbrücke, Sunnegga, Gornergrat, Kapelle Riffelberg and Schwarsee. In the summer you can also access the Hörnlihütte, Stellisee Lake and the 5 Lakes Trail.
2. Year Round Snowsports
Snowsports in Zermatt are suitable for beginners, intermediates or experts. There are 3 large ski areas in the winter, all containing a variety of slopes (from blue to yellow). Each with a different mode of transport.
From Sunnegga you take the unique experience of a funicular train through the inside of the mountain. Gornergrat hosts a cogwheel train that will take you from the town centre, through the dreamy mountainside trees, past magnificent frozen waterfalls and around the wide open ski piste. This train journey also consists of unique views over the village itself.
Klein Matterhorn station has an 8-person cable car that takes you to Trockener Steg. This is a 25-30 minute journey over the ski fields, past the grand surrounding glaciers and smaller villages like Furi. All 3 ski areas boast incredible but different views of the Matterhorn.
You can also ride to the Matterhorn Glacier Paradise and take the Matterhorn Alpine Crossing 365 days a year (weather permitting). In the winter this gives you access to the neighbouring ski resorts of Cervina and Valtournenche in Italy.
During the summer Zermatt and Cervina share the small glacial ski area above Plateau Rosa, offering pistes, a park and a new beginner ski area.
3. Ride The Cable Car To Italy!
Craving the authentic taste of Italia? No problem! Visit Zermatt and ski into Italy to some of the best mountain restaurants or overnight huts in Italy. Maybe you would like to stand on the border between Switzerland and Italy, or just fancy a 4th and 5th option for your ski area.
Take the cable car or T-Bar from Trockener Steg over to Cervinia or Valtounenche. A fair word of warning, the T-Bar is possibly the longest one in the world (or so it feels) and not overly pleasant on a cold or windy day.
Opt for the International ski pass, this can be for the total number of days during your stay, or just as a daily add-on. Or if you're heading on foot check out the new Alpine Crossing.
Just be prepared to get a little hooked on mouth-watering dishes like reindeer ravioli at Chalet Etoile or pick-me-up bombardinos at Refugio Guide del Cervino (also known as Testa Grigia).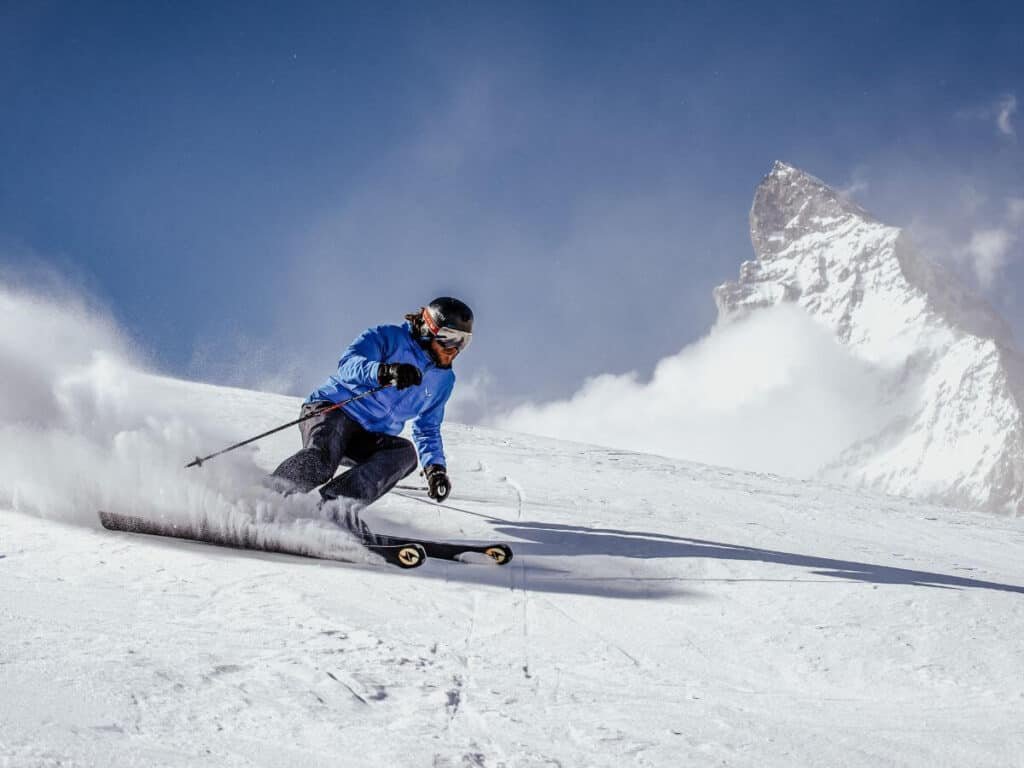 4. Amazing Restaurants
Fondue, Rösti, Raclette. Need I say more?
Cheese, Cheese, Cheese, Oh! And Chocolate. Something is rewarding about sitting down to a pot full of cheese, dunking in your bread or potatoes and washing it down with a crisp white wine. Not to mention that Zermatt is home to some of the world's best mountain restaurants.
You will find everything from steak houses to vegan, Italian to Asian, cafes to Michelin Star restaurants and a whole range of Swiss dishes to try.
💡Top Tip: Try the off-menu Champagne and Truffle fondue at Say Cheese and pair it with a local white wine like Petite Arvine or Heida.
5. Tackle A 4000m Peak
Zermatt sits in the shadow of 38 4000m peaks. In the summer it is home to a wide variety of mountaineers, from people just finding their feet to seasoned climbers. If summiting one of these beasts is on your to-do list, there are plenty of options for learning and hiring an experienced guide in Zermatt.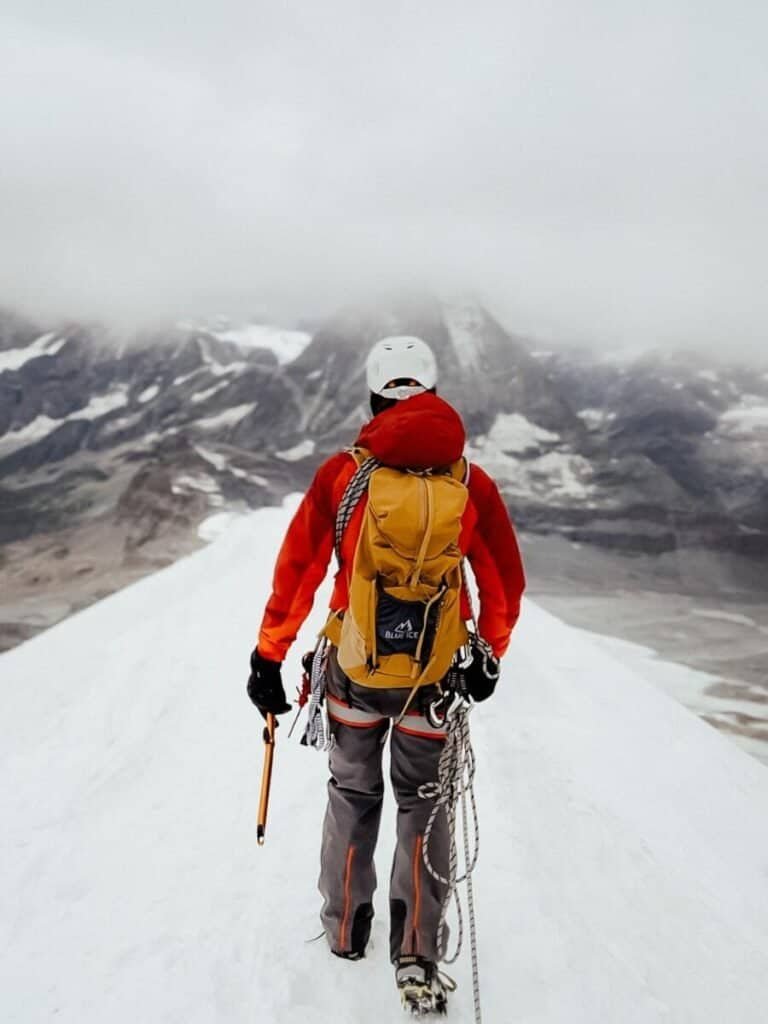 6. Zermatt Unplugged
Zermatt is also home to Zermatt Unplugged, a unique music festival held annually during the first half of April. This festival is over 5 days and hosts acts that range from local Swiss bands, like The Souls to British pop star Jessie J, and everything in between.
What makes this music festival unique is not only that some of the bigger more well-known acts, choose to strip down some of their songs to give the audience an authentic unplugged experience. But also that some of the gigs take place on the mountainside.
Always wanted to see Ronnie Scott's All Stars in London? In my opinion, it's way cooler (sucker for a pun) to see them play with the extreme backdrop of the Matterhorn, out in the open air and mystified about "just how did they get that piano up here?" – Spoiler alert, it's flown in by helicopter. Nice work Air Zermatt!
Top tip – Ronnie Scott's All Stars also play late night gigs at the Mont Cervin Hotel. If you want a musical treat like no other, head here to witness Ronnie Scott's jamming with some of that day's acts, local musicians and often the audience.
7. Stroll Around The Quaint Picturesque Village
One thing that struck me about Zermatt is how the town itself is like something you would expect to see on a chocolate box. I always describe it to people as "if you had never been to a ski resort before, this is what you would imagine."
Classic step back in time Swiss buildings. Narnia like snow-covered trees. The scent of fresh mountain air. The echoing sounds of the church bells. An idyllic river running through the town centre, and of course, that view of the Matterhorn.
Head to Hinterdorfstrasse to witness the old farm buildings from long ago, or hike up to Zmutt for lunch in this historical mountain village.
8. Live Music & Après Ski
Yes, let's face it a good percentage of skiing is all about the Après. Whether that involves sipping champagne or shooting Jagermeister, in Zermatt, you can do both. Want to dance on tables to the sounds of a Pop Charts DJ? Or enjoy the majestic view of the sun setting behind the Matterhorn while listening to some acoustic sounds. This town has something for everyone.
Live music plays at a variety of locations in town and on the mountain, all year round. Catch acoustic sounds at Alphitta, Bands at Cervo, lively gigs at Mamacita's, amazing musicians at The Pink and a weekly open mic night at Manud.
9. No Motorised Vehicles
Adjusting to the altitude is something that you have to do in most ski resorts. Zermatt is no different; the village alone is 1,608 meters above sea level. With only electric vehicles running in this beautiful town, you also have to get used to how clean the air is.
When you visit Zermatt for the first time, expect stingy nostrils and to feel a little tipsy quicker than usual on day one. Drink plenty of water or that hangover will hit you doubly hard on day two. Hydration salts and Berocca at the ready!
Electric vehicles also mean they're pretty stealthy. Pay attention when walking on the roads as these bad boys seem to come out of nowhere!
10. Visit The Highest Cable Car Station In Europe
One of the most popular things to do and an activity that shouldn't be missed, is visiting the Matterhorn Glacier Paradise. Sitting at 3,883m, it is the highest cable car station in the world. Here you'll find a viewing platform of the surrounding 4000m peaks, a panoramic glass-fronted restaurant and the Glacier Palace.
The Glacier Palace is 15 meters below the surface of a glacier and is the highest ice palace in the world. This beautiful structure is home to ice sculptures and parts of the glacier for you to get up close to.
11. Summer Adventure Sports
If you're a bit of an adrenaline junkie, in the summer months, Zermatt is a great place for mountain biking, rock climbing, via ferratas and paragliding. And if ultra marathons are more your thing, take a look at Matterhorn Ultraks the skyrunning competition that takes place every August.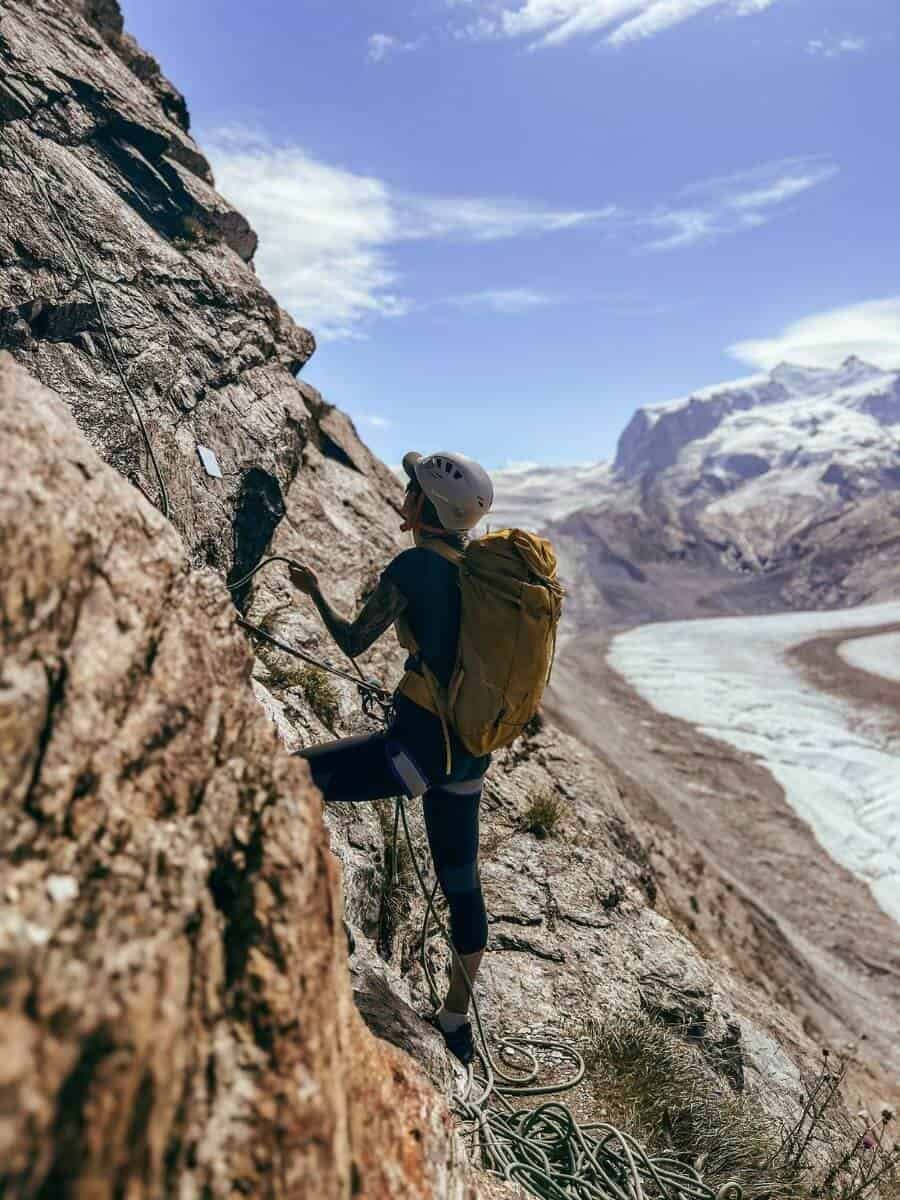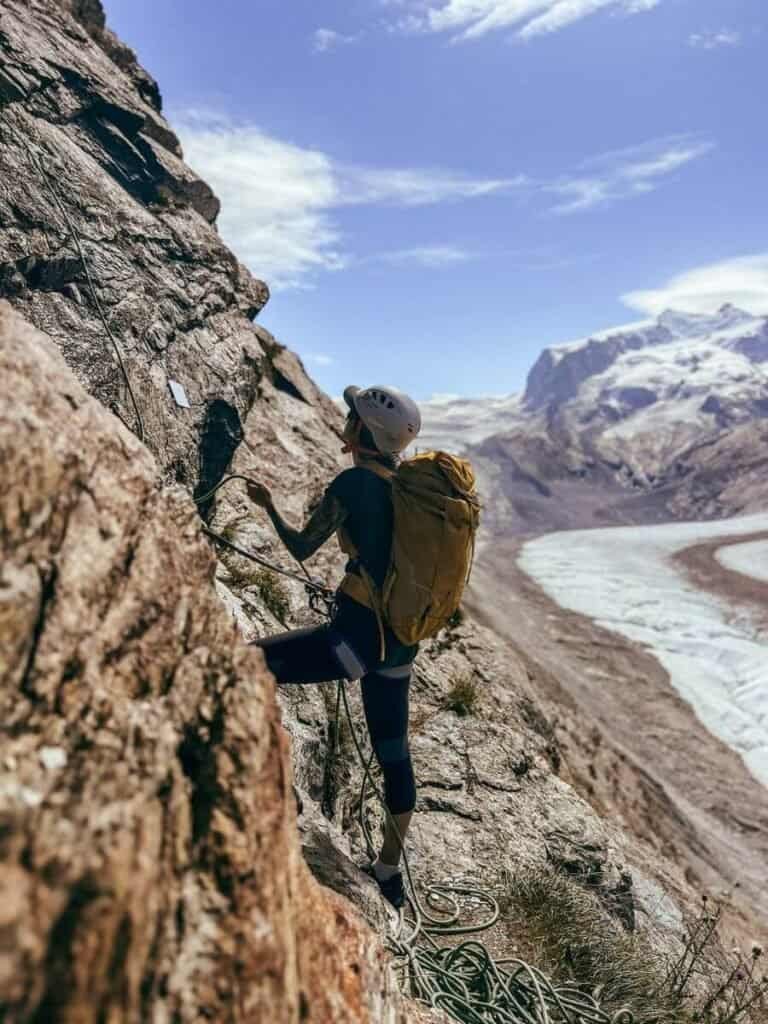 12. Zermatt Is A Four Season Destination
No matter what time of year you plan to visit Zermatt, there are always plenty of things to do. The Gornergrat Railway and Matterhorn Glacier Paradise are open year-round. There is a skiable area also available 365 days of the year and each season comes with its individual beauty and activities.
Spring is a great time to see the flowers bloom and spend your days either on the slopes, on the trail or relaxing in the sunshine as winter thaws away.
Summer is a hive of activity from adventure sports to family activities, gentle strolls to serious mountaineering and the option to cool off at Schali Lago in Täsch, on those warmer days.
Autumn brings magical golden hues and crisp air perfect for hiking, the crowds are fewer this time of year, so it's the perfect time for a more relaxing visit to Zermatt.
Winter is the peak season in Zermatt. Snow coats the mountainside and the streets turning it into a magical winter wonderland and one of the best ski resorts in the world.
13. Ride The Cogwheel To Gornergrat
The Gornergrat is a rocky ridge of the Pennine Alps, overlooking the Gorner Glacier southeast of Zermatt in Switzerland. It stands at an impressive altitude of 3,089 meters (10,132 ft) above sea level, making it one of Switzerland's top excursion destinations.
For over 125 years, the cog railway has been transporting guests up to the Gornergrat. The journey itself is an experience, providing stunning views of the Swiss Alps along the way.
Once you reach the summit, you're greeted by a sunny observation platform that's accessible all year round. From here, you can enjoy spectacular panoramic views of the surrounding mountain range, including the highest Swiss Mountain, the Dufourspitze, and of course, the iconic Matterhorn.
The Gornergrat also offers a breathtaking view of the Gorner Glacier. As one of the largest glaciers in the Alps, the Gorner Glacier is a sight to behold, with its vast expanse of ice and snow stretching out beneath the towering peaks of the surrounding mountains.
You can also explore the local flora and fauna on a nature trail, visit the observatory to learn more about the stars and our universe, or simply relax and soak in the scenery at one of the mountain restaurants.
You can also access the hiking trails, rock climbing at Riffelhorn, mountain biking routes or the pistes depending on the time of year.
14. Head To The Trail
Zermatt has roughly 130 hiking trails covering 400 kilometres, there's enough variety for every kind of walker, hiker and mountaineer. Different routes are available at different times of year so make sure to plan accordingly and stay within the limits of your ability. For more serious peaks, there's the option of hiring a guide from Zermatters.
Our Favourite Hikes In Zermatt
While there are countless hikes in Zermatt, here are our favourites ranging from easy to difficult.
Easy: Matterhorn Glacier Trail
Height: 2,939 m (9,642 ft)
Time: 1.5-2hrs
Distance: 6.6km
Medium: Blauherd – 5 Lakes – Riffelalp – Zermatt
Height: 2,571 m (8,435 ft)
Time: 3-4hrs
Distance: 10km
Difficult: Mettelhorn
Height: 3,406 m (11,175 ft)
Time: 8-10hrs (return to Zermatt)
Distance: 17km
Mountaineering: Breithorn
Height: 4,164 meters (13,660 feet)
Time: 1-2hrs
Distance: 6km (from Klein Matterhorn)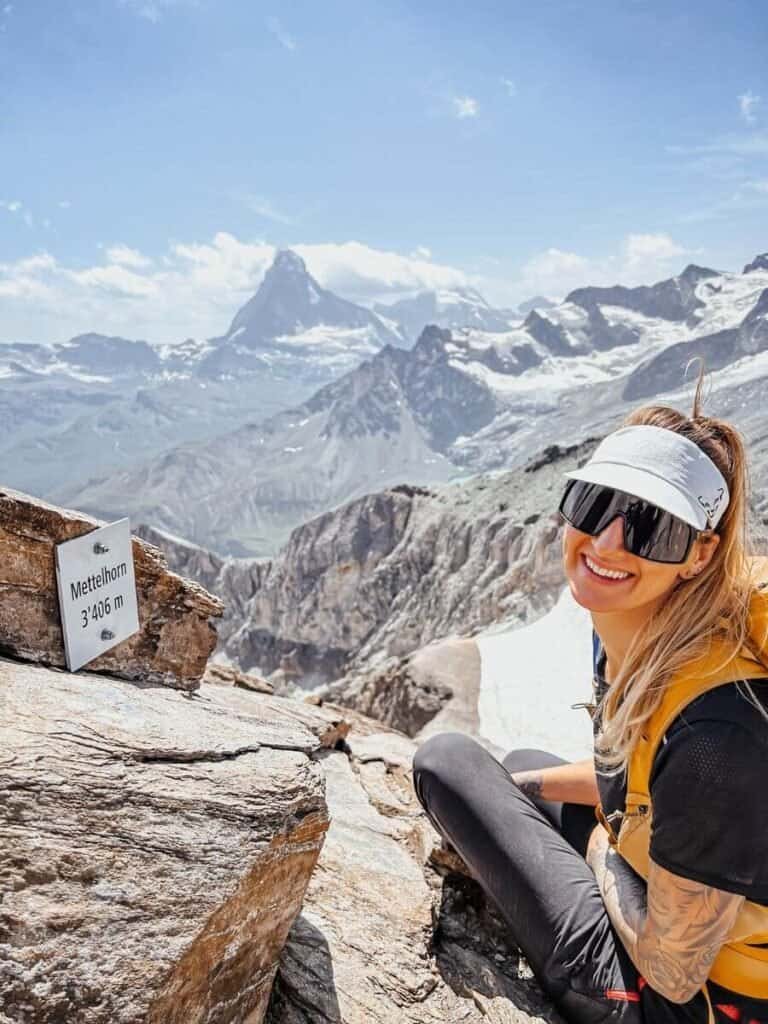 15. Visit The Mountaineers Cemetery
Tucked away in the garden behind the St. Mauritius church, this tranquil spot is a memorial to all those brave souls who dared to dance with the mountains but didn't live to tell the tale. About 50 climbers who met their end on the Matterhorn are resting here.
Now, you might be thinking, "That's a bit grim, isn't it?" But trust me, there's something strangely beautiful about it. Each inscription tells a story of courage, passion, and an unquenchable thirst for adventure. Men and women from across the globe, all united by their love of the mountains.
One particular grave that tugs at the heartstrings is the "Grave of the Unknown Climber". It serves as a poignant reminder of the more than 500 deaths that have occurred on the surrounding peaks. This hallowed ground is a place of reflection, respect, and remembrance.
16. Alpine Photography
Zermatt is like the supermodel of alpine landscapes, always ready for a close-up. It's got everything: towering peaks, crystal-clear lakes, traditional mountain huts, extreme seasons and the granddaddy of them all – the Matterhorn.
This iconic mountain is a photographer's dream come true. And it's not just me who thinks so. There's a whole tribe of photographers who've made Zermatt their playground.
17. Astrophotography
Astrophotography in Zermatt is a truly magical experience thanks to its clear skies, high altitude, and minimal light pollution. The Swiss town is renowned among astrophotographers for its breathtaking views of the night sky, with the majestic Matterhorn serving as a stunning backdrop.
The Stellarium Gornergrat is a public astronomical observatory. This observatory is used as a scientific research centre by the Universities of Bern and Geneva. The observatory is designed to enable observations on site or via remote control of the telescope over the internet, offering astronomical observations together with educational activities.
A unique experience offered by The Stellarium Gornergrat is "Dining with the Stars." Visitors can enjoy a meal at the 3100 Kulmhotel Gornergrat accompanied by astronomical guide Peter Salzmann. This experience combines gastronomy with astronomy, providing visitors with a chance to explore the night sky while enjoying a meal.
One of the most sought-after sights for astrophotographers in Zermatt is the Milky Way aligning with the Matterhorn. This celestial spectacle, coupled with the lights from Zermatt and the Italian side of the Matterhorn illuminating the lower part of the sky, offers an unforgettable scene for photographers.
Our favourite place to capture this is from Stelisee Lake. Just below Flualp, sits a beautiful alpine lake, where you can capture the reflection of the Matterhorn and the night sky in its waters and the Milky Way above the towering peaks.
* note: the lake is only accessible during the summer months from May to October.
18. Stay In A Mountain Hut
With so many tall peaks to choose from, there is also a wide range of mountain huts to sleep in. Whether you're just looking for a unique experience, need a place to crash during a long hike, or hoping to experience sunrise and fresh tracks on the piste, there's a mountain hut for you.
Best Mountain Hut For Piste Skiing Zermatt and Cervina
Our favourite mountain hut in the winter is Rifugio Teodulo.
Teodulo sits high up 3,317m to be exact, on the border of Switzerland and Italy. With a recent refurbishment, the restaurant and sleeping arrangements are now lovely and cosy, it's certainly not your average mountain hut. Teodulo offers an exceptional food and wine menu which is great for winding down after a day on the piste.
In the morning you can choose a sunrise ski down into Cervinia or Zermatt. Zermatt will offer the longer run and the opportunity to ski freshly groomed areas that can get pretty grim later in the day (notably the black piste). Cervinia offers the sunshine and we often choose to ski down the empty pistes as the sun is rising.
Best Mountain Hut On The Matterhorn
Whether you are planning to climb the Matterhorn or just want to get up close to the mountainside, the Hörnli Hut sits at 3,260m, at the base of the north-eastern ridge of the Matterhorn. The Hörnli Hut is open from early July to mid September.
As well as comfortable accommodations for hikers and climbers, the Hörnli Hut also has a restaurant accessible to day visitors. No reservations necessary.
Best Mountain Hut To Walk To From Zermatt
If you're looking for a hut to hike to in the summer directly from Zermatt, we'd advise a trip to either Eidelweiss 1961m or Trift 2337m (or both). You have to pass Eidelweiss to access Trift and the above hiking trails.
Edelweiss has a weekly BBQ (check their website for which day) and is famous for its yummy carrot cake. Trift has the best apple pie in town and both have refreshing alpine iced tea. The trails in this area of Zermatt are always much quieter than the more popular side of Sunnegga, Gornergrat and Trockerneg Steg.
Best Mountain Hut For Sunrise & Sunset Shots Of The Matterhorn
If you're hoping to capture some astrophotography and those first light shots of the sun rising behind the Matterhorn, the best mountain hut for this is Flualp. An overnight stay includes dinner and breakfast. Breakfast is conveniently timed so that you can head out for your first light shots and then come back to enjoy a scrumptious brekkie.
Flualp is also open as a restaurant during the winter months and hosts a famous Burns Night celebration every January.
19. Watch The Sunrise Over The Matterhorn
Watching the sunrise from behind the Matterhorn is an experience like no other. There are many great options to witness this magical spectacle.
The first is from the comfort of your accommodation. The second would be on a sunrise walk. For the more adventurous souls, you can either stay at Flualp or camp near Stellisee Lake, for that famous sunrise view.
20. Go Camping Above The Tree Line
While the rules for wild camping are strict in Switzerland, it is possible to camp above the tree line as long as you are not in a restricted area.
We love the sense of remoteness camping offers, especially in areas that can get busy during the day. Camping allows you to enjoy and explore these areas without the crowds.
Remember to pack light and leave no trace.
21. Experience The First Ascent
Zermatlantis, the Matterhorn Museum, takes you on a journey through the story of the first ascent of the Matterhorn by Edward Whymper and his crew. This is a harrowing and controversial tale of both victory and tragedy.
The museum is located under the village square of Zermatt, between the Zermatterhof and the church.
22. Hop On A Wheeled Adventure
As well as mountain biking, there are many exciting wheeled activities in Zermatt. Whether you're looking for an adrenaline rush or an alternative way to take in the scenery at your own pace, all of these activities are suitable for all ages.
Hire a Kickbike from Sunnegga station and hit the 821m descending trail. Dirt Scooter along the northwall of the Matterhorn and down to Zermatt from Schwarzsee. Mountain Cart from Blauherd to Sunnegga with impressive views of the Matterhorn.
24. Wildlife Spotting
Zermatt, Täsch and Randa combined are one of the largest wildlife areas in Switzerland. This is a place where you can observe a whole host of animals in their natural habitat.
You've got your ibex, strutting around like they own the place, and chamois, prancing about with their nimble feet. Then there are the stags and roe deer, who may just stop to give you an inquisitive look before bounding away.
And let's not forget about the marmots. These chubby, furry ground squirrels are as cute as a button and there's said to be a population of roughly 1000 marmots around the Zermatt area!
If you're a bird-watching enthusiast, you're in luck. The Zermatt-Matterhorn area is ideal for bird-watching. So, don't forget to bring your binoculars!
Zermatt is home to six protective forests and ten areas officially designated as wildlife sanctuaries. Here, you can find black grouse, alpine hares, and ptarmigans, among others.
Just remember to respect the wildlife and keep a safe distance. After all, we're guests in their home!
25. Wellbeing and Retail Therapy
Isn't it just the best when you can combine two of life's greatest pleasures: self-care and shopping? Well, hold on to your ski poles because Zermatt is about to blow your thermal socks off.
Picture this: one moment you're unwinding in a luxurious spa, getting pampered with top-notch treatments, and the next, you're strolling down Bahnhofstrasse, indulging in some high-end retail therapy. It's like having your Swiss chocolate cake and eating it too!
Whether you're a wellness warrior or a shopaholic, Zermatt has got you covered. From technical outdoor equipment like Mont Bell and Peak Performance to designer brands like Rolex and Moncler.
The Best Spas In Zermatt
Mountain Ashram Spa by CERVO
This new concept from Cervo isn't just a spa, it's an experience. Mountain Ashram Spa is mainly outdoors, including a huge cold plunge pool for cold water therapy and regular yoga classes included in your spa package. With its serene surroundings and top-notch treatments, it's like stepping into a little slice of heaven.
SchlossSpa Zermatt
Switzerland's first CBD Spa. Picture this: unwinding in a pool, letting the warmth seep into your muscles, all while surrounded by 630 m2 of pure relaxation. It's like a hug for your soul.
Christiania Mountain Spa Resort
Known for having the biggest spa in Zermatt. Luxurious rooms, personalized services, and an ambience that screams 'relaxation' – it's the whole package.
The Riffelalp Resort
This hotel offers not only luxury accommodation but also a top-tier spa experience. From soothing massages to rejuvenating facials, it's got everything you need for a perfect pampering session.
Matterhorn Focus
For a more affordable spa experience, our favourite wellness area is the Matterhorn Focus. A stunningly modern spa with quirky yet stylish interior design.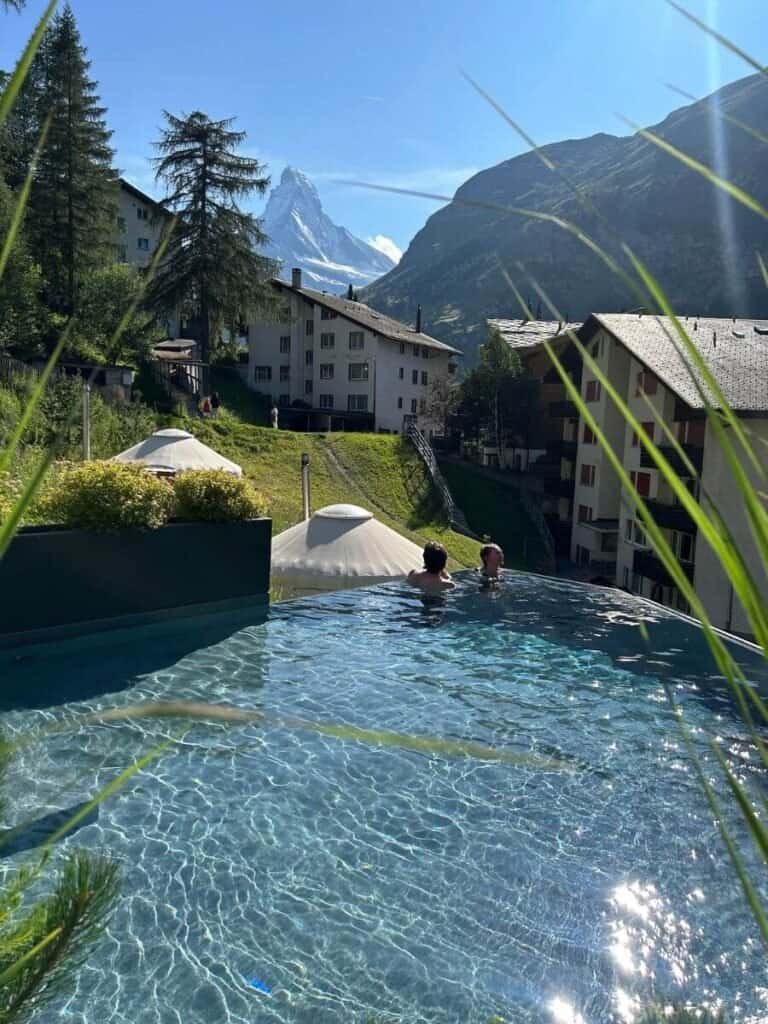 Free Things To Do In Zermatt
If you're travelling on a budget or trying not to overspend on your trip to Zermatt, there are a variety of free activities to choose from, some of them may require a little more planning, equipment and experience than others.
Hike Without A Lift Pass
There are so many trails in Zermatt, that there will be something for your ability that is accessible from the village, without having to pay for a lift pass.
Explore Zermatt Village
Wandering around Hinterdorfstrasse and the Mountaineers Cemetery is a cultural immersion into this historic town.
Head To The Mountain Village Of Zmutt
A relatively easy hike to the cute hamlet of Zmutt is well worth putting on your Zermatt itinerary. This walk takes roughly an hour depending on your fitness level.
Nature Walks
Flora and fauna can be spotted from many of the trails in Zermatt, including the lower down areas for those wanting free, easily accessible routes.
Ski / Snowboard Touring
In the winter you can ski tour from the village and access anywhere on the mountain. Ski touring at the side of the piste is allowed in Zermatt as long as you are out of the way of the skiers and not cruising up the middle of the piste.
Remember to tour responsibly and take safety equipment and preferably a buddy, if you plan to venture off-piste. Always stay within the limits of your ability, the mountain environment can be unforgiving.
Zermatt Via Ferrata
Via Ferratas are a free activity if you have experience and own your own via ferrata safety kit. This is a great way to explore the mountains in Zermatt.
Wild Camping
If you're happy to hike above the tree line with your lightweight camping gear, then wild camping is a great free option in Zermatt. This gives you access to some of the higher peaks late at night and early in the morning when there are no crowds.
Rock Climbing
Many sport and trad climbing routes in Zermatt are accessible from a variety of areas, including the village. Rock climbing is a great free activity for those who have the experience and the equipment.
Photography
Photography enthusiasts of all kinds, from smartphones to DSLR can capture a range of amazing alpine, action, nature, sunrise, sunset and astro shots in Zermatt.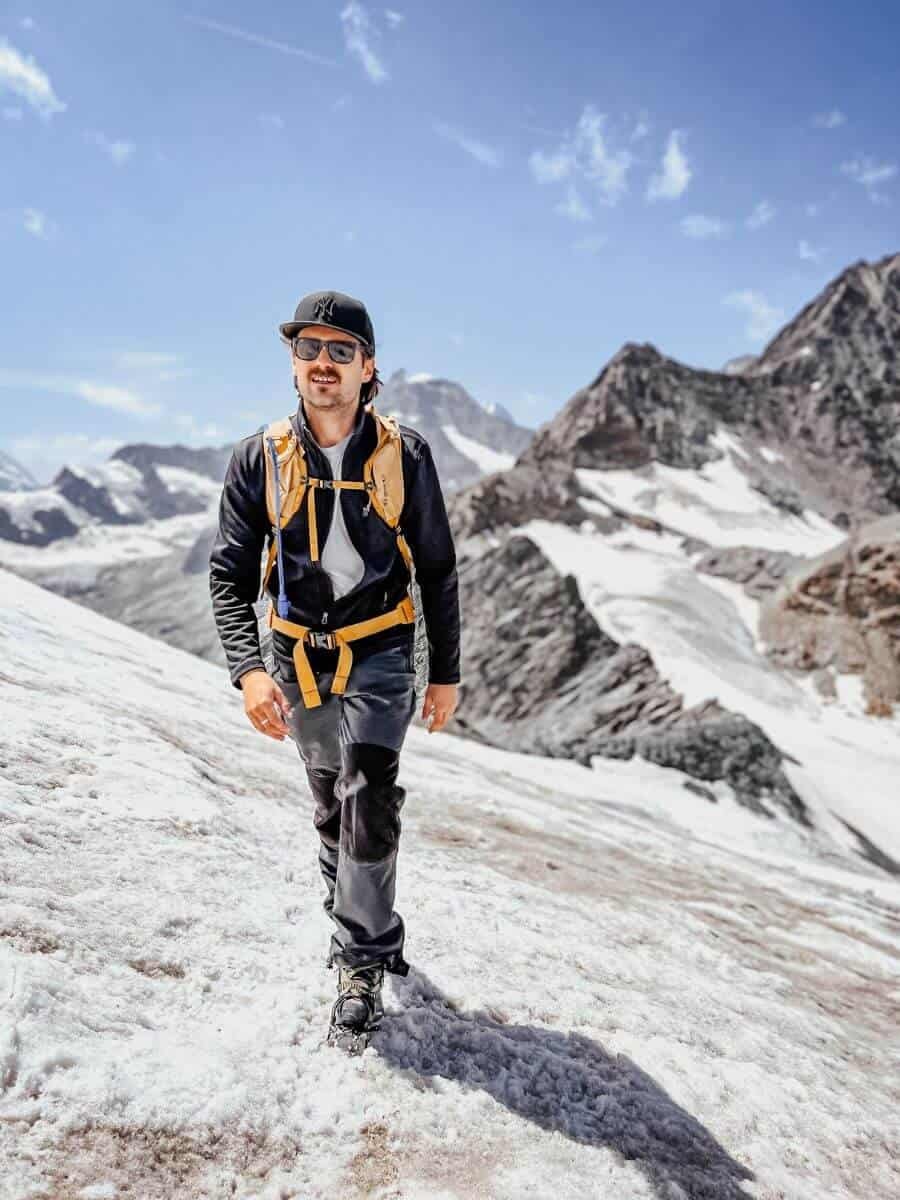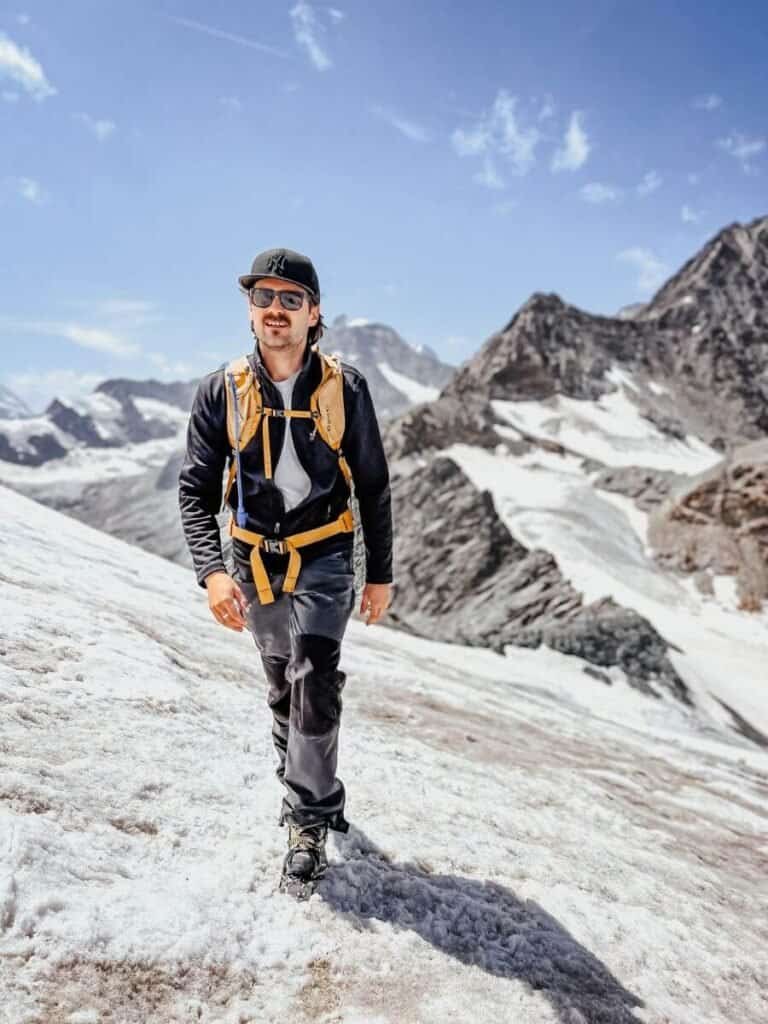 Getting To Zermatt
With Zermatt being a car free village, you can't just drive straight up to your accommodation. But that doesn't mean your journey has to be complicated. You can still drive, train, plane or helicopter into this unique mountain village.
Zermatt is around 3-4 hours from 4 international airports, Geneva, Zürich, Basel and Milan. The closest airport is Sion, however, this airport offers limited flights. You can train from any of these airports changing at Visp or Brig.
You can also self-drive to Täsch and leave the car in a parking lot or taxi/transfer to the car park in Zermatt. No cars are allowed further than Spiss. There is also the option of flying in via Helicopter, which also arrives at Spiss.
Note: You can't drive past Täsch towards Zermatt without a permit to do so.
For more detailed info on How To Get To Zermatt, here's our in-depth guide!
Getting To Your Accommodation In Zermatt
Whether you've arrived via heli, train or transfer, you will either need a pickup arranged by your hotel, an electro taxi, an electro bus or to walk to your accommodation.
If you are staying in a mountain resort, you may even need to hop on a train or cable car, make sure to communicate with your accommodation on their arrival options.
There are always electro taxis available in front of the train station and the Urania car park. If you have a pickup arranged by your accommodation, they will be waiting at the train station for you with a name card.
Is It Worth Going To Zermatt If You Don't Ski?
It is worth going to Zermatt, even if you don't ski. Even in the winter when the summer hiking trails close, there are still so many amazing experiences to have in Zermatt. And just because you don't ski, doesn't mean there aren't other snow activities you can enjoy.
Most of the activities in this article are possible to do in the winter months. Winter brings an exciting vibe to Zermatt, with a buzzing atmosphere, the towering Matterhorn, twinkling lights and a blanket of snow, the magical feeling is like nowhere else.
What Is So Special About Zermatt Switzerland?
What's so special about Zermatt is its unique feel, the abundance of activities at any time of the year and let's face it, The Matterhorn is like the Brad Pitt of mountains, it also only gets better with age. No matter how long you spend in Zermatt, you'll never tire of looking at that pointy hill.
Is Zermatt Worth Visiting In The Summer?
With so many activities available year-round, Zermatt is worth visiting in the summer. From hiking trails to dirt scooters, astrophotography and park skiing, Zermatt has something for everyone during the summer season.
Is Zermatt Worth Visiting In September?
As the summer activities tend to run into September and most into October, Zermatt is worth visiting in September, we would say it is one of the best months to visit. With milder temperatures and fewer crowds, this is the time of year to get the most out of this otherwise busy town.
Zermatt Or Grindelwald In Winter
That's like asking me to choose between chocolate and cheese. If you want the full-on ski resort experience with all the bells and whistles, Zermatt is your guy. But if you prefer a more relaxed vibe with still plenty of winter activities, Grindelwald could be your perfect match.
Zermatt is like the Hollywood star of Swiss ski resorts. It's glamorous, it's popular, and it's got the Matterhorn as its backdrop.
I mean, who wouldn't want to ski down slopes with that view? Plus, with over 147 ski slopes, it's a winter sports enthusiast's dream come true.
But Zermatt isn't just about skiing. It's also famous for its hiking trails and other winter activities. And let's not forget the food. With 82 restaurants and bars, your taste buds will have a field day here.
Then there's Grindelwald. Now, if Zermatt is a Hollywood star, Grindelwald is like the indie film darling. It's less touristy, a bit more laid-back, and has a charm that's all its own.
There might be fewer ski slopes here (55 to be exact), but don't let that fool you. Grindelwald still packs a punch when it comes to winter fun. Plus, it's closer to the nearest airport, which means less travel time and more time to enjoy the snow.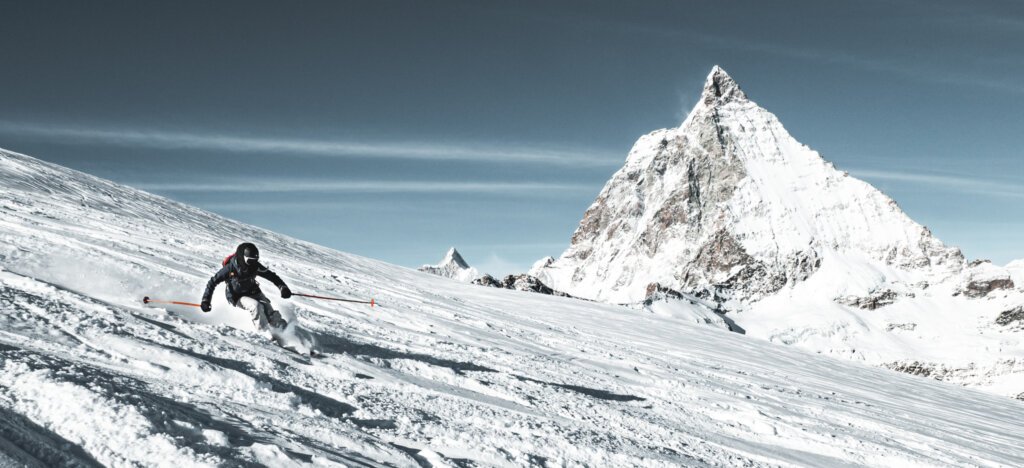 Is Zermatt Expensive?
Zermatt is no more expensive than many parts of Switzerland, although Switzerland as a whole is more expensive to visit than most countries in Western Europe. Zermatt gets its "high price" reputation based on the cost of the ski pass, however, when the cost is compared to the amount of skiable area and the quality of the lift system, we think the price is fair.
Even with a relatively high price tag, there are ways to save money in Zermatt.
Picnic on the mountainside instead of eating out 3 times a day.
Plan as many free activities as possible.
Stay in an apartment and eat in more often.
Plan ahead and look for flight and train deals.
Look at alternative accommodation options, like camping or hostels.
The Wrap-Up | Is Zermatt Worth Visiting?
We've traversed the snowy slopes of Zermatt, feasted on fondue in cosy chalets, and gazed upon the majestic Matterhorn until our eyes watered from sheer beauty (or was it the cold wind? Who knows!).
So, is Zermatt worth visiting? Well, let me put it this way: Is a hot tub worth jumping into after a day in the snow? Is Swiss chocolate worth every single calorie?
Do bears… well, you get the picture. In my humble and slightly frostbitten opinion, Zermatt is worth visiting.
There's no denying that Zermatt can be expensive, but it doesn't have to break the bank if you plan ahead and take advantage of discounts. With beautiful scenery, a wealth of activities for all ages, and a culture just bursting with fondue fun, Zermatt is an unforgettable destination that should be on everybody's bucket list.
But hey, don't just take my word for it. Go see it for yourself. Feel the crunch of fresh snow under your boots, taste the richness of Swiss cuisine, and experience those 'pinch-me-I-must-be-dreaming' moments as you stand in the shadow of the mighty Matterhorn.
And who knows? You might just find yourself falling in love with this charming Alpine village. I mean, if Zermatt were a person, I'd swipe right.