Wondering Where To Ski In Europe This Winter?
We've got all the resort info you need for this year's ski trip!
When it comes to the best ski resorts in Europe, the choice can be overwhelming, so if you are heading to Europe this winter, let me help you narrow it down. After working 9 European winter seasons and visiting a lot of mountain villages. Here are our tips on where to ski in Europe.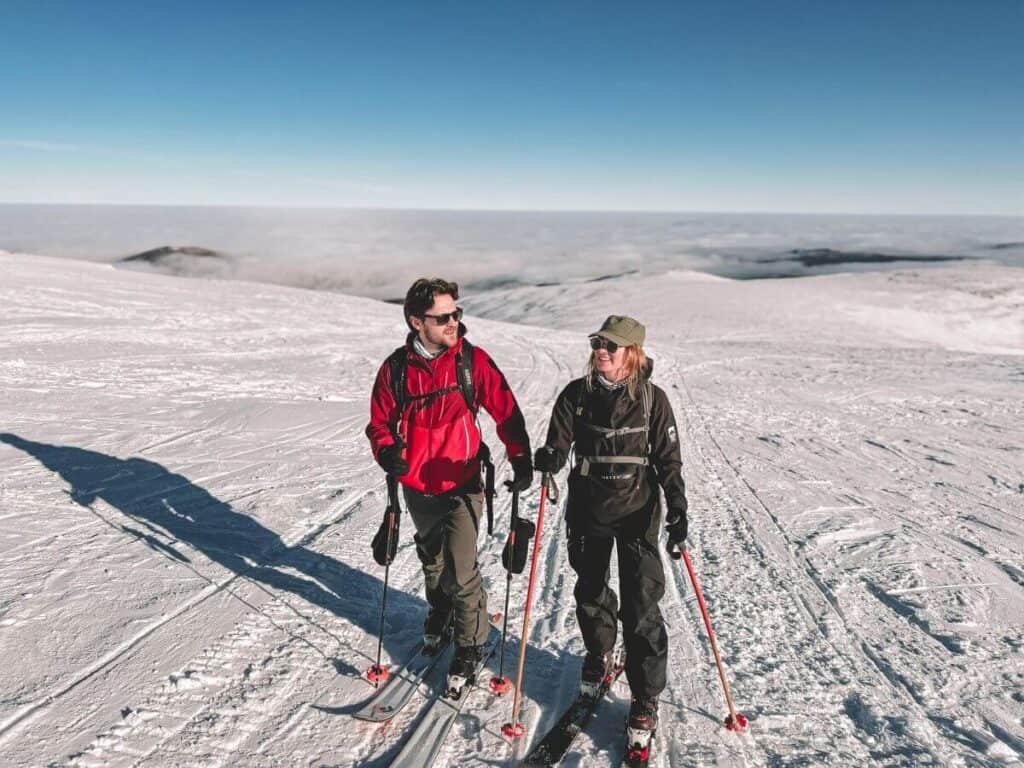 Where To Ski In Europe | Our Top 5 Resorts
✔️ Best All-Round – Zermatt, Switzerland
✔️ Best Luxury Budget – Gela & Pamporovo, Bulgaria
✔️ Best For Beginners – Alpe d'Huez, France
✔️ Best For Experts – La Grave, France
✔️ Best For Nightlife / Après Ski – St Anton, Austria
Which European Country Is Known For Skiing?
Several European countries are known for skiing, but some of the most popular ones are France, Switzerland, Austria, and Italy. These countries have world-class ski resorts, stunning alpine scenery, and vast networks of ski slopes that cater to skiers at all levels. Skiing has become a significant part of their national identity and culture.
Other European countries that are also known for skiing include Norway, Sweden, Germany, Bulgaria, Andorra and Spain.
Which European Country Has The Best Skiing?
It's difficult to say which European country has the best skiing as there are many great skiing destinations throughout Europe. However, some of the most popular destinations for skiing in Europe include France, Switzerland, Austria, and Italy. These countries offer a vast array of skiing options, from gentle slopes for beginners to challenging off-piste runs for advanced skiers.
France offers high-altitude resorts and vast ski areas such as Les Trois Vallees, which boasts over 600km of ski runs. Switzerland is also a fantastic option with world-famous resorts such as Zermatt and Verbier, known for their stunning scenery and challenging slopes.
Austria is renowned for its traditional Alpine charm, excellent ski schools, and family-friendly resorts such as St. Anton, Ischgl, and Kitzbuhel. Italy is also a great choice, offering charming slopeside towns such as Cortina d'Ampezzo and the massive Dolomiti Superski area with over 1,200km of ski runs.
Ultimately, the best European country for skiing depends on individual preferences, budget, and skiing level. Each country has its unique character and features that make it a great destination for a winter vacation.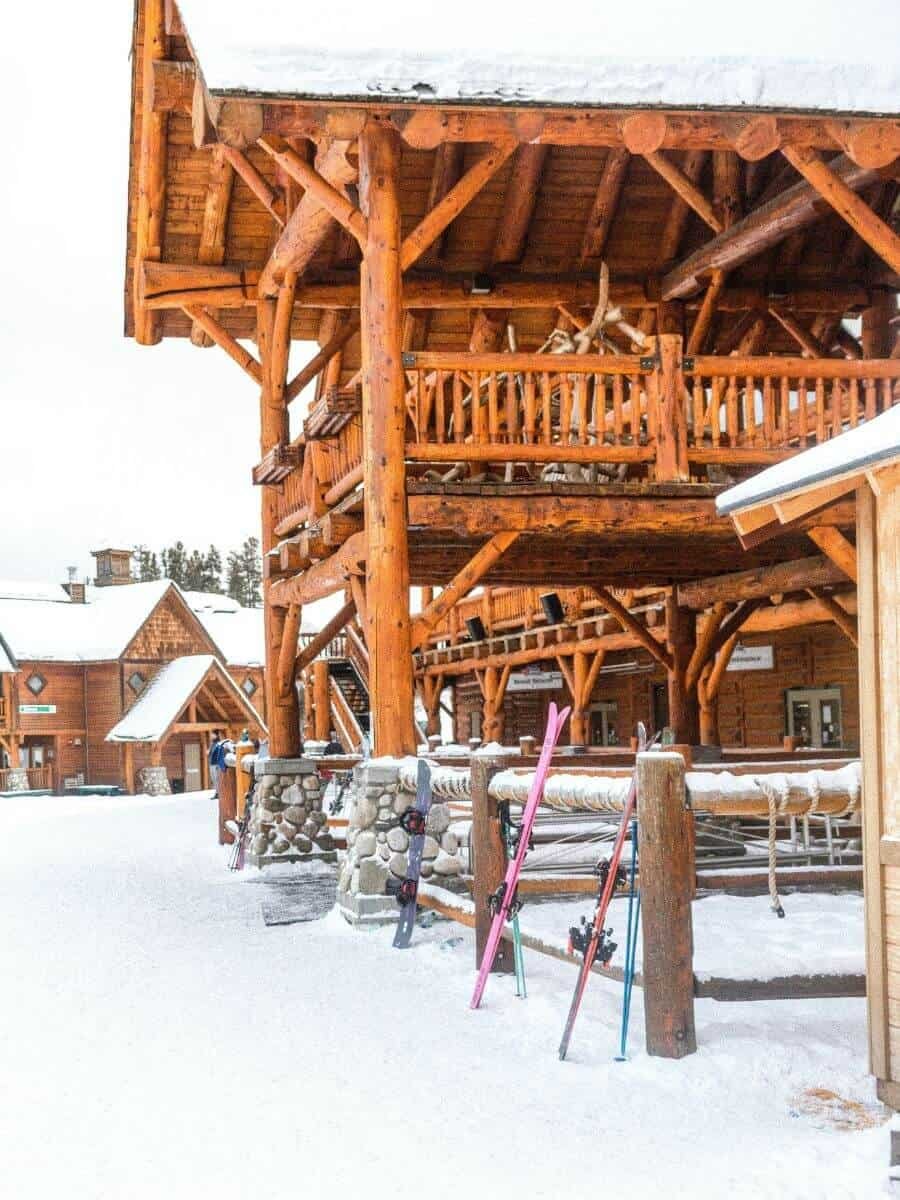 Where Is The Best Snow For Skiing In Europe?
Several factors, such as altitude, geographic location, and climate, can impact the quality of snow for skiing. On average, the best snow conditions for skiing in Europe are found in the northern resorts of Scandinavia or high-altitude resorts located in the Alps.
Scandinavia
Scandinavia generally gets more snow than Southern Europe. The weather patterns and climate in Scandinavia are quite different from those in Southern Europe. Scandinavia is located further north and has a colder climate, which means that it receives more snowfall compared to Southern Europe.
Norway and Sweden typically have long and snowy winters, with some areas receiving up to several meters of snowfall every winter. This allows ski resorts in Scandinavia to offer extended ski seasons and reliable snow conditions. Temperatures in these areas can also drop quite low, which helps to maintain the quality of the snow.
The Alps
Ski areas in The Alps can have more variable snow conditions as they typically receive less snowfall. These areas also offer milder temperatures and plenty of sunshine, which are a big draw for skiers looking for a mix of an active ski holiday with other outdoor experiences. However, there are many ski resorts in the Alps located at higher altitudes, allowing them to maintain good snow coverage throughout the ski season.
Where Are The Alps Located?
The Alps are a mountain range located in Europe that stretches approximately 750 miles (1200 km) through eight countries: Austria, France, Germany, Italy, Liechtenstein, Monaco, Slovenia, and Switzerland.
The range covers an area of approximately 80,000 square miles (207,000 square km) and is home to some of the world's most famous ski resorts, including Chamonix, France, Zermatt, Switzerland, and Cortina d'Ampezzo, Italy.
The highest peak in the Alps is Mont Blanc, which stands at 15,771 feet (4808 meters) tall. The mountain range also includes other notable peaks, such as the Matterhorn, the Eiger, and Jungfrau.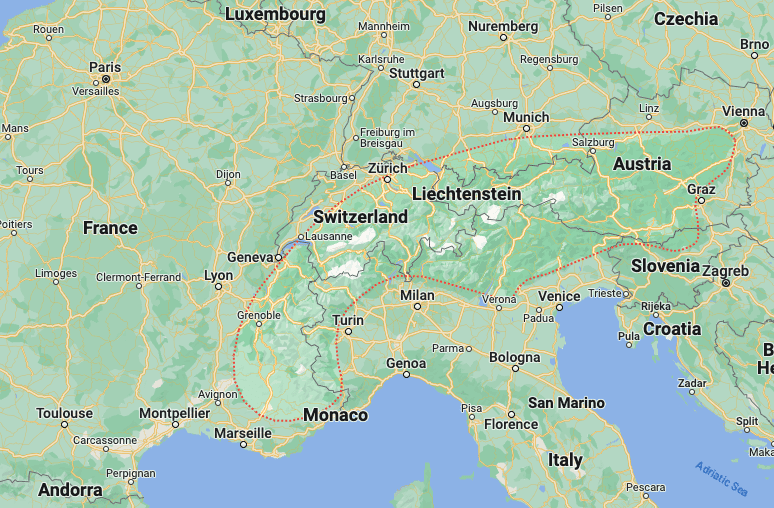 The Best Ski Resorts For Snow Conditions In The Alps
✔️ Val Thorens, France (the highest ski resort in Europe)

✔️ Zermatt, Switzerland (located near the Matterhorn with high altitude)

✔️ Cervinia in Italy (near Zermatt and with excellent snow conditions)

✔️ Obergurgl-Hochgurgl, Austria (high-altitude with skiing possible up to 3082m)

✔️ Saas-Fee, Switzerland (famous glacier ski resort with a long skiing season)

✔️ St Anton, Austria (renowned for its powder snow and high terrain)

✔️ Chamonix, France (renowned for its off-piste skiing and steep slopes in a stunning setting)
These destinations usually have a longer skiing season and reliable soft snow, making them ideal for ski holidays.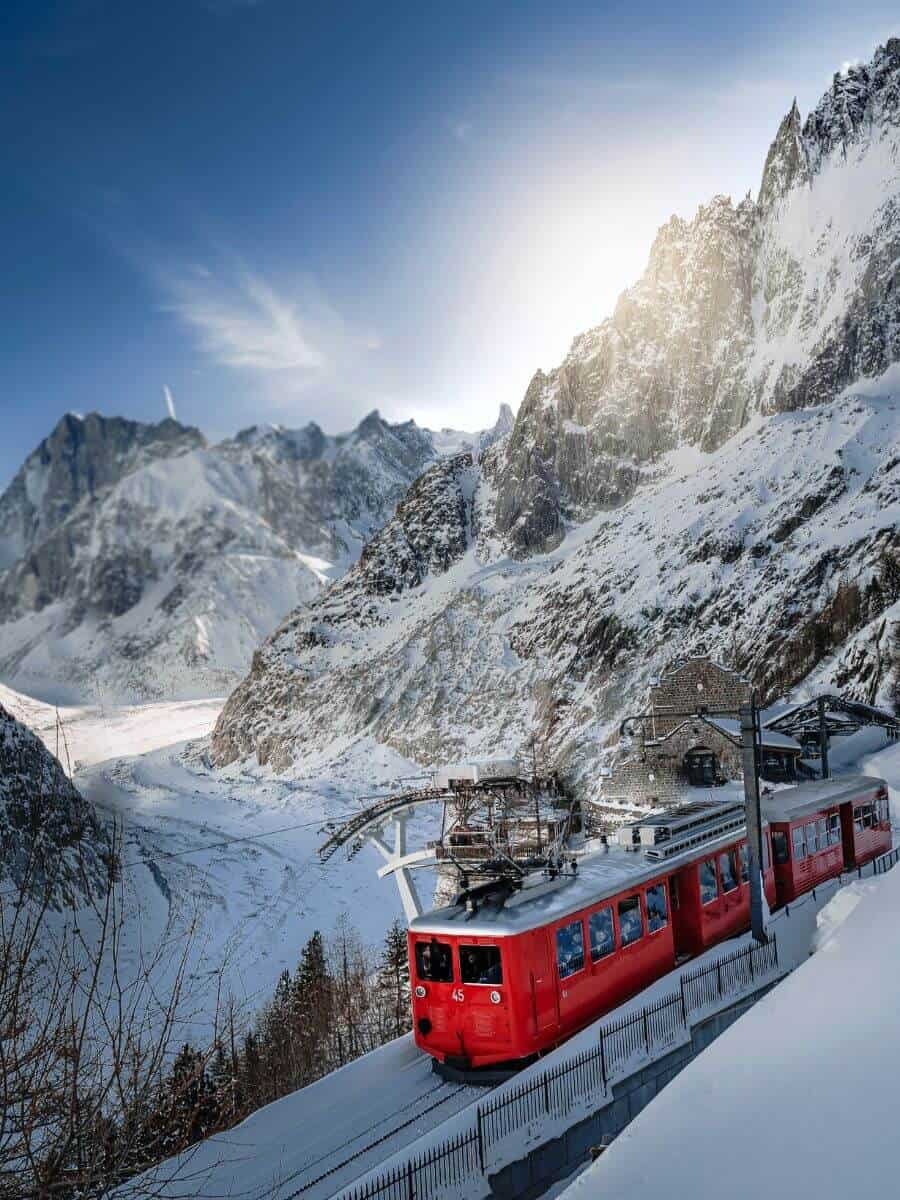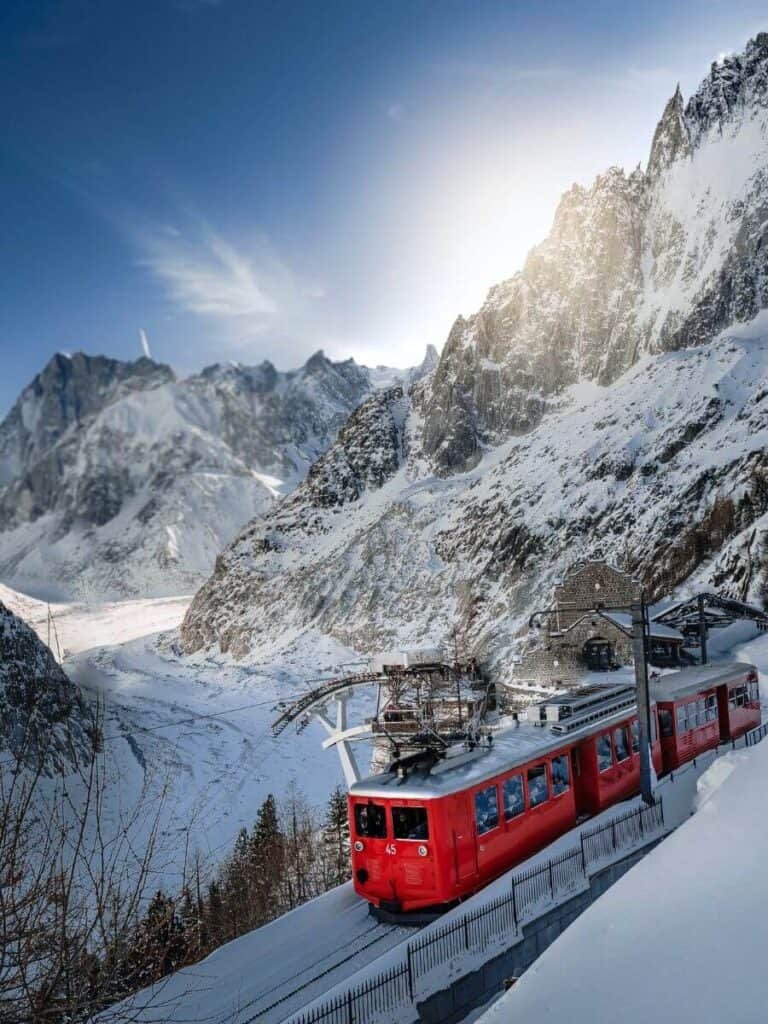 When to Ski In Europe
If you like those nice blue sky days, then look at booking your trip for late February to late April. This is when the weather tends to be warmer. January is usually the coldest month for ski resorts in Europe.
Temperatures in some places can get as low as -30°C. There can be blue sky days too, it's just not as likely as later in the season. The bonus of skiing in January is that the slopes tend to be much quieter than usual.
If you are not tied to school holidays, steer clear of taking your trip throughout most of February. Most European schools have half-term holidays in February and resorts get very crowded.
Planning Your Ski Trip
Ski Trip Budget
The biggest deciding factor will be the budget. This goes for individual, family and group trips. It's all well and good to have a big group with similar ski ability, but, likely, you won't all have the same bank balance. We all know how expensive ski holidays can be before you even set foot out the door.
Unlike warmer climate holidays that may only need transport, accommodation and spending money. Skiing requires a lift pass, equipment hire, ski clothing, protective gear, and instruction. As well as the usual overheads.
The most affordable countries are Andorra and Eastern European countries. Andorra and Bulgaria are known for their good party scene as well as affordable prices. Pas de la Casa in Andorra and Borovets in Bulgaria are the places to go if your skiing holiday revolves around Après.
If partying is not your scene then you would be better suited to a place like Pamporovo in Bulgaria. Pamporovo is one of my favourite ski resorts in Europe.
Read here about our Luxurious stay at Villa Gella, Bulgaria. In a little village called Gela, just outside of Pamporovo
If budget isn't an issue within your group, then you can look at the more expensive locations. Like Italy, France or a blow the budget trip to Switzerland.
Booking Ski Trip Accommodation
The other factor to consider when you are going skiing is what type of accommodation you would like to stay in. This can sometimes go hand in hand with the budget. If you are dead set on a catered luxury ski chalet but can't afford the €20,000+ per week price tag, then it's definitely best to look at places like Bulgaria.
I can't recommend Villa Gella enough. It's a 30-minute drive to Pamporovo, but with transfer prices being so cheap, it's totally worth it!
If you have the budget and want to go luxury, the best ski chalets in the world are in Switzerland. Take a look at multi-award winning Elysian Collection.
In places like Andorra, it is more popular to hire self-catered apartments, this can be a great affordable luxury. The apartments can also be ski-in/ski-out and allow you to cut back on some of your spending by eating and drinking at home.
Hotels you can find everywhere with different packages and different prices. I found a great deal at a boutique hotel big enough to cater for a group of 12, in Pamporovo on booking.com. A lot of resorts now also have accommodation listed on Air BnB so if you are after a bargain, shop around.
Ski Trip and Accommodation Packages
For Families:
Tailored Exclusive Ski Packages:
Destinations Based On Your Ski Ability
Ok, so the budget has either been agreed or you will spend cash like something out of Wolf of Wall Street. Either way, there is absolutely no point in rocking up to an expert ski resort, one filled with black runs and itineraries, if you are a group of complete beginners.
Do your research; beginners need a beginner area with plenty of green or blue runs to progress at the right pace.
On the other side of that, of course, is expert pistes. If you are a group of advanced skiers you don't want to be heading to a resort that has little to no black or yellow runs. That will be disappointing, especially if you are the type of skier who loves a challenge.
There are lots of resorts that cater to all levels. So if you have a mixed ability group it would be best to find a resort that has pistes from beginner to expert. This may seem like common sense, but it would be easy to assume that all resorts cater well to all levels. This is not the case.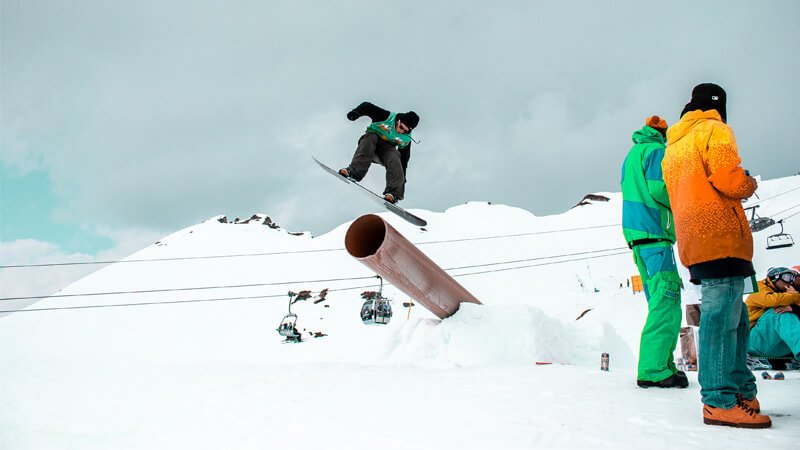 The Best Ski Resorts For Beginners
Alpe d'Huez, France
Nearest Airport: Grenoble
Transfer Time: 1hr 15 mins
Alpe d'Huez sits at 1,869m and has the largest amount of connecting green only ski runs and 2 beginner areas. With 41 green pistes and 34 blue pistes, it's the perfect place to start your skiing journey. For groups with young children, this is ideal for their introduction to snowsports.
As you progress from the nursery slopes, Alpe d'Huez and its connecting ski resorts also offer more challenging terrain for intermediate to advanced skiers.
Avoriaz, France
Nearest Airport: Geneva
Transfer Time: 90 mins
Sitting at 1800m on a sun soaked plateau above Morzine, Avoriaz is perfect for those who prefer to ski in the warmth. This is a bonus for beginners who may spend a little more time stationary at the start of their trip.
Avoriaz has 3 beginner ski areas, as well as 37 green runs that connect with the lower neighbouring resort of Morzine. With 51 slopes in Avoriaz and 283 slopes in connecting Portes Du Soleil, you certainly won't be short of skiable terrain in this sunny part of France.
Sass-Fee, Switzerland
Nearest Airport: Sion
Transfer Time: 1hr 10 mins
Sitting at 1800m at the foot of the towering 4545m peak of Dom, Saas-Fee is a charming little village in the Swiss Alps. With a large beginner area at the base of the slopes and plenty of connecting blue runs, Saas Fee is a great option for both beginner and intermediate skiers.
With charming wooden huts, a very rustic Swiss charm, fabulous restaurants and a great après ski scene, Saas-Fee is an all-round great option for a beginner ski trip.
Pamporovo, Bulgaria
Nearest Airport: Plovdiv
Transfer Time: 1hr 35 mins
While the resorts may be lower and smaller in places like Bulgaria, they are also considerably more affordable. Pamporovo has more than enough skiable area to keep absolute beginners occupied for the duration of their trip.
Pamporovo sits at 1420m and offers 30km of slopes for beginners and intermediates. There are 15 ski schools that operate in Pamporovo, as well as a ski kindergarten at very reasonable prices.
Cervina, Italy
Nearest Airport: Turin
Transfer Time: 1hr 45 mins
While not your typical beginner ski resort, Cervina offers lots of wide sun-drenched pistes. As the sun rises over the Italian side of the Matterhorn, this adorable Italian ski town enjoys plenty of bluebird days from first lifts to last lifts. Cervinia sits at 2009m offering 350km of slopes for all levels, connecting the areas of Breuil-Cervina (IT) and Zermatt-Matterhorn (CH).
In time for winter 2023, there will be a new lift operating that connects Plateau Rosa with Klein Matterhorn, the Alpine Crossing will allow those who aren't competent to ski the red runs into Switzerland to take the lift all the way up and over, and vice versa.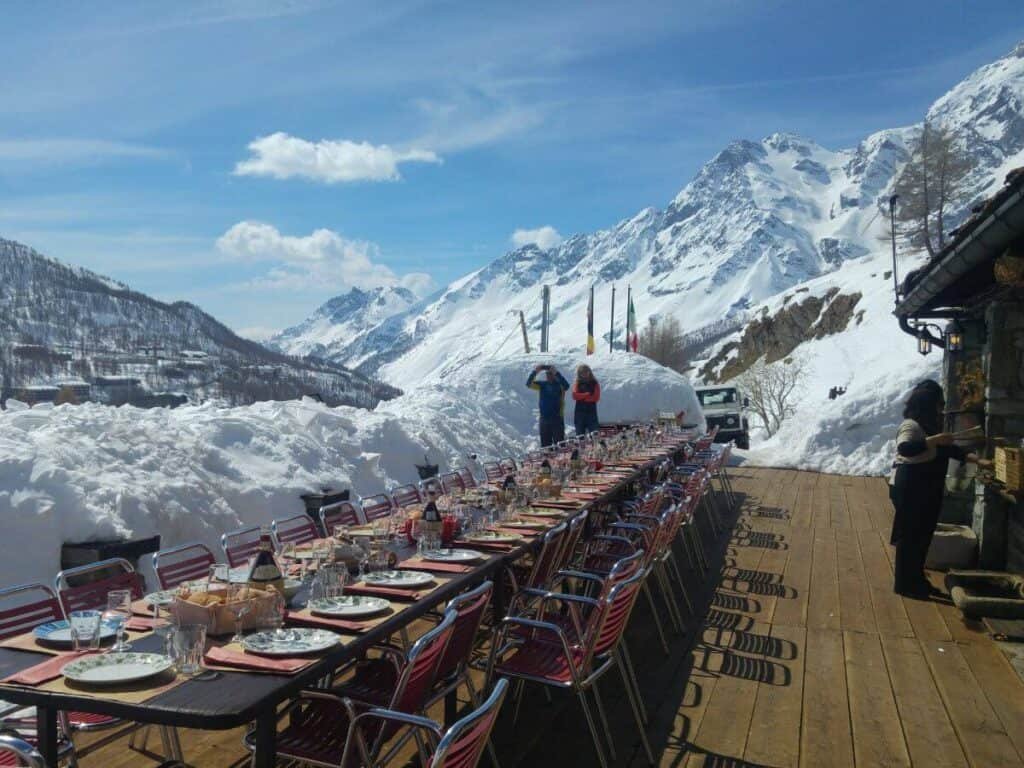 Söll, Austria
Nearest Airport: Innsbruck
Transfer Time: 54 mins
With fantastic beginner areas and 122km of blue pistes to explore Söll is possibly the best resort in Austria for beginners. Also, who doesn't love a short transfer time?
Söll sits at 705m, which means you do need to check if this resort is having a good snow year before booking. But they boast an impressive 288km of pistes and are one of the few resorts that offer the experience of night skiing.
💡 Top Tip – In low snow years it's safer to book the higher ski resorts, as not only are they likely to have more natural snow, but they will also likely be cold enough to create manmade snow to keep the pistes open.
Grandvalira, Andorra
Nearest Airport: La Seu d'Urgell
Transfer Time: 40 mins
Sitting at a base between 1300m-2020m Grandvalira is a ski area consisting of six different ski areas with a web of 210km of runs. Such a huge variety to choose from makes Grandvalira the perfect place in Andorra to learn to ski.
Encamp and El Tarter give beginners the opportunity to ski from top to bottom with gentle rolling blue runs offering the perfect progression from the nursery slopes.
Levi, Finland
Nearest Airport: Kittila
Transfer Time: 15 mins
If you're looking for more of a winter experience and not just beginner lessons then Levi located in Lapland, Finland is the ultimate winter destination. It is well known for its excellent skiing conditions, beautiful scenery, and Northern Lights. Levi is the largest skiing resort in Finland, and it offers endless opportunities for winter activities for visitors of all ages throughout the season.
Levi has over 40 trails with various difficulty levels suitable for both beginners and advanced skiers. The longest run is 2.5 km and has a vertical drop of 325 meters. Apart from skiing, visitors can also engage in various activities such as snowmobiling, husky and reindeer safaris and ice fishing.
Trysil, Norway
Nearest Airport: Oslo
Transfer Time: 2hrs
Trysil is one of the largest ski resorts in Norway and sits at just 350m. While this may seem extremely low, Norway generally tends to receive more snow than Southern European ski resorts.
The resort boasts over 70 slopes and 30 lifts with various degrees of difficulty. With over 50% of the runs being blue with gentle gradients and wide open spaces, they are ideal for beginners and intermediates. Trysil also has some thrilling black runs and freestyle areas for advanced skiers and snowboarders, making this an ideal area for a mixed ability group.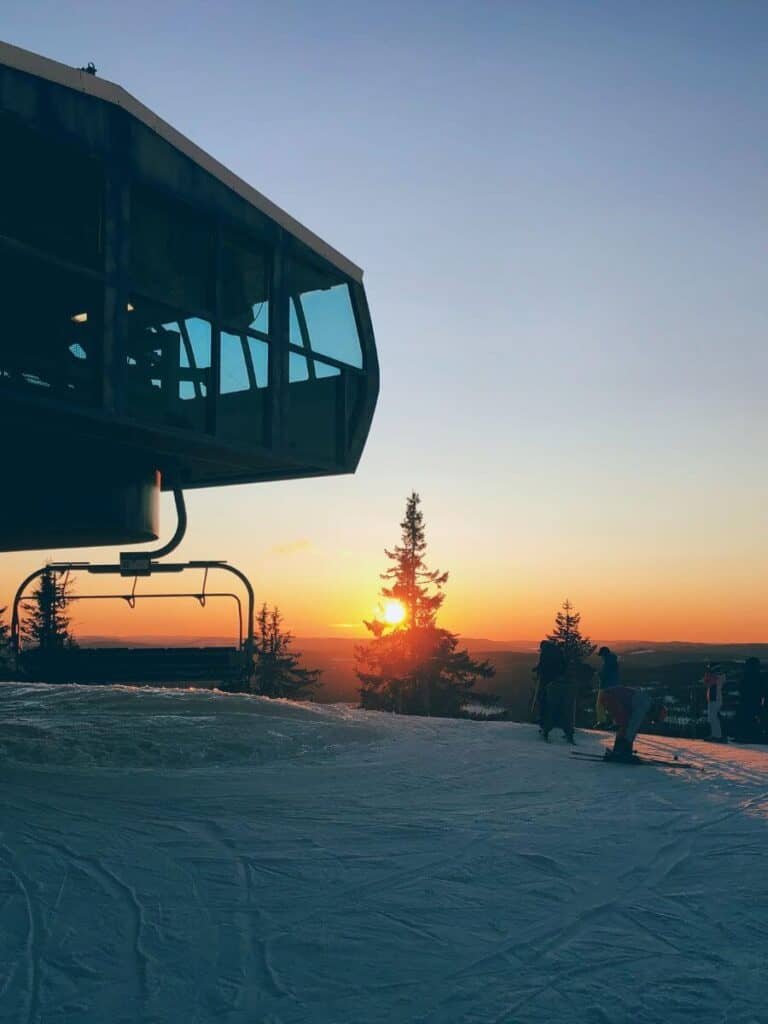 The Best Ski Resorts In Europe For Advanced Skiers
Chamonix
Nearest Airport: Geneva
Transfer Time: 1hr 30 mins
Known as "the extreme sports capital of the world" Chamonix offers some of the most challenging terrain in the Alps. With tree skiing, black runs and plenty of off-piste, Chamonix is an advanced skier's dream. For expert skiers, the Grand Montets above Argentière is the premier destination in this valley.
Verbier
Nearest Airport: Geneva
Transfer Time: 2hrs (Sion is closer but offers fewer flights)
Verbier is host to many itinerary runs and plenty of off-piste skiing, enough to challenge even the most experienced of skiers. With the long bumpy mogul run of Tortin, to the challenging backside of Mont Fort. Verbier sits amongst the 4 valleys which give its visitors one of the biggest ski areas in Europe. Verbier's terrain is so good for expert skiers, that they host the finals of the Freeride World Tour.
Val d'Isère/Tignes, France
Nearest Airport: Chambery
Transfer Time: 2hrs
Snow sure and the ultimate convenience when it comes to off-piste skiing. Hit the slopes right away with little effort and explore a variety of untouched powder, all without having to break into a sweat from any intensive hikes. An absolute skier's dream!
La Grave
Nearest Airport: Grenoble
Transfer Time: 2hrs
With only a single lift that takes you up to 3550m to access a single groomed slope and 2150m of vertical off-piste terrain, La Grave is backcountry skiing heaven. Unique in the Alps, this is an entirely off-piste resort for expert skiers only.
💡Top Tip – No matter how advanced you are at skiing, if you are not a pro or a mountain guide who knows the local area well, we would always advise you to hire a mountain guide, especially in glaciated regions.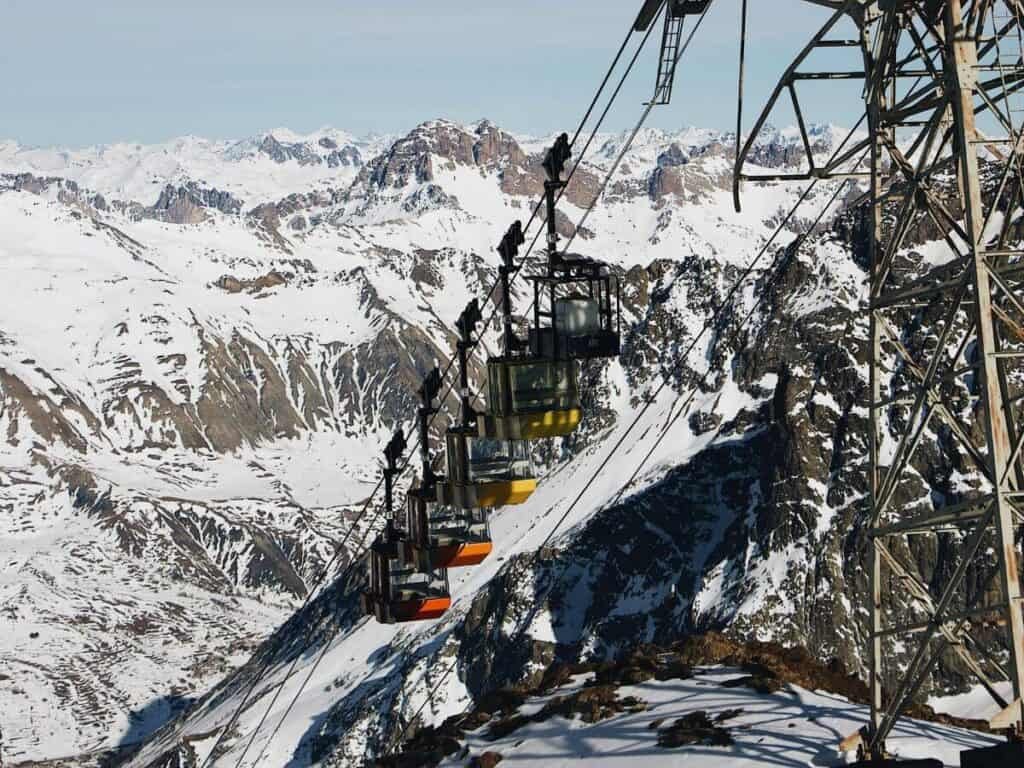 The Cheapest Ski Resorts In Europe
The most affordable ski resorts are found in the Eastern European resorts of Bulgaria, Slovenia, Slovakia and Romania. There are also affordable resorts scattered amongst Western Europe in Andorra, Italy and Spain.
Where Is Cheap To Ski In Eastern Europe?
Bulgaria
The most popular and affordable ski resorts are located in Bulgaria. The 3 main ski areas of Bulgaria are Bansko, Borovets and Pamporovo. As well as affordable resorts, it's easy to find luxury accommodations close to the ski areas at reasonable prices.
Bulgaria is also becoming popular with digital nomads, so if you're looking for an affordable place to spend an entire winter, Bulgaria could be the best choice for you.
Slovenia
Europe's best kept ski secret has to be Slovenia, enjoy uncrowded, untouched slopes at resorts like Vogel.
Vogel Ski Resort is one of the most popular ski resorts in Slovenia. Located in the Triglav National Park, it offers some of the best skiing opportunities in the country and is ideal for both beginners and experienced skiers alike.
Slovakia
Slovakia has become more popular in recent years and it's easy to see why. With great ski terrain at affordable prices, a stunning mountain landscape and an abundance of medieval castles to explore, it's no wonder why so many people are choosing Slovakia as their next winter destination.
Jasná Nízke Tatry (Jasna) is the biggest ski area in Slovakia and one of the cheapest places in Europe to ski, possibly the cheapest. Jasna sits at 943m and offers 50km of slopes of all levels including beginner areas and a terrain park.
Romania
Poiana Brasov looks like it was plucked straight out of a classic fairytale. The shimmering pine trees, wooden cabins and grand old hotels provide an enchanting backdrop for an affordable ski holiday.
If you're looking to explore beyond the ski slopes, you can take a day trip to the picturesque medieval city of Brasov, or even make your way to Dracula's Castle which is only 23km away. Enjoy some traditional Romanian cuisine and delicious mulled wine while you're there!
Where Is Cheap To Ski In Western Europe?
Andorra
Andorra is a small independent state located in the Pyrenees Mountains between France and Spain. It is home to several ski resorts, including Grandvalira and Vallnord, which offer a range of skiing options for skiers of all levels.
The cost of skiing in Andorra is lower than many other popular ski destinations in Europe, including ski passes, accommodation, and food costs. Ski packages in Andorra are often flexible, and visitors can choose from various options to suit their preferences and budgets. Andorra offers great value for money, without compromising on the quality of skiing.
Italy
Many Italian ski resorts offer a much more affordable experience than their Western European counterparts. If you've always wanted to visit Zermatt and see the Matterhorn in person, but haven't quite got that Swiss ski trip budget, we'd advise a trip to connected Cervinia.
While the Dolomites may be the most popular mountain terrain in Italy, Lombardy has some equally impressive resorts at much more affordable prices. Madesimo offers plenty of untouched wilderness for off-piste lovers.
Spain
Although skiing is probably not your first thought when it comes to Spain, Sierra Nevada is the southernmost ski resort in Europe and also one of the highest resorts. Sitting at a base of 2,100m and offering 100km of pistes ranging from green to black, Sierra Nevada caters to all levels of skiing at very affordable prices.
The ski season is also typically longer than that of other parts of Southern Europe, often running from November until May.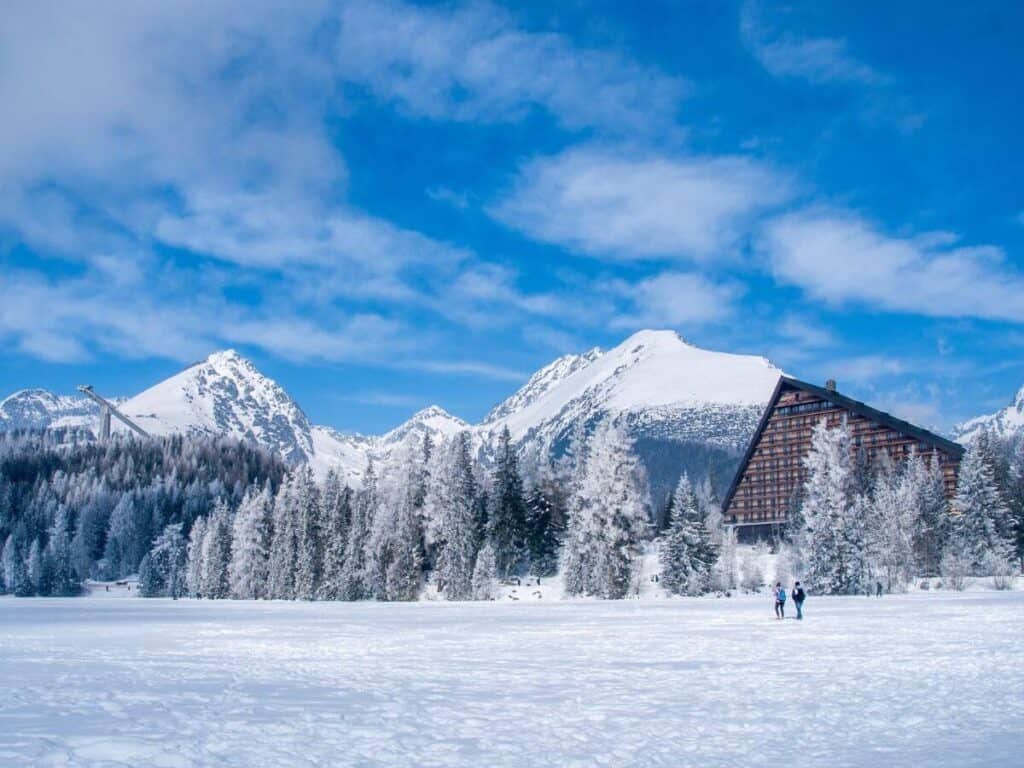 The Most Beautiful Ski Resorts In Europe
If we had to choose one country for the most beautiful ski resorts in Europe, then without question it would be Switzerland. The vast array of stunning, quaint, mountain villages and impressive towering peaks makes Switzerland the number one choice for beauty.
But to be fair to other countries, here's our list of the most beautiful resorts across Europe.
Zermatt, Switzerland
Nearest Airport: Geneva, Milan, Zürich, Basel, Sion
Transfer Time: Sion is the closest but offers far fewer flights, all others can take anywhere from 3-4 hrs depending on your transfer choice.
Although it's a tough call when choosing the most beautiful ski resort in Switzerland, after six winters and two summers in this stunning mountain village, we can definitely say it's our favourite.
No matter how many times you've seen that jaw dropping view of the Matterhorn, it never gets old. As well as its stunning scenery, Zermatt offers an impressive 360km of pistes connecting to the neighbouring resorts of Valtournenche and Cervinia in Italy.
Levi, Finland
Nearest Airport: Kittila
Transfer Time: 15 mins
As an all round magical winter wonderland, it would be impossible to leave Levi off this list. With its pillow covered trees, northern lights and alternative snow activities like snowmobiling and husky sledding, Levi is a winter paradise.
Megève, France
Nearest Airport: Geneva
Transfer Time: 1hr 15 mins
A medieval town at the base of Mont Blanc, Megève was developed by the Rothschild family in the 1920s to compete with other fashionable ski resorts. As well as being a hit for fashionistas, this popular mountain village kept its cobbled streets and farmhouses, retaining some of that classic mountain charm.
Kitzbühel, Austria
Nearest Airport: Salzburg
Transfer Time: 1hr 30 mims
The upscale village of Kitzbühel or "Mountain Goat Hill" is one of Austria's most stunning ski resorts. With cobbled stoned streets, adorable shops, and cute cafes, Kitzbühel holds that quaint village charm while hosting one of the most extreme skiing events. The Hahnenkamm race is where the world's best ski racers hurl themselves down an almost vertical strip of ice.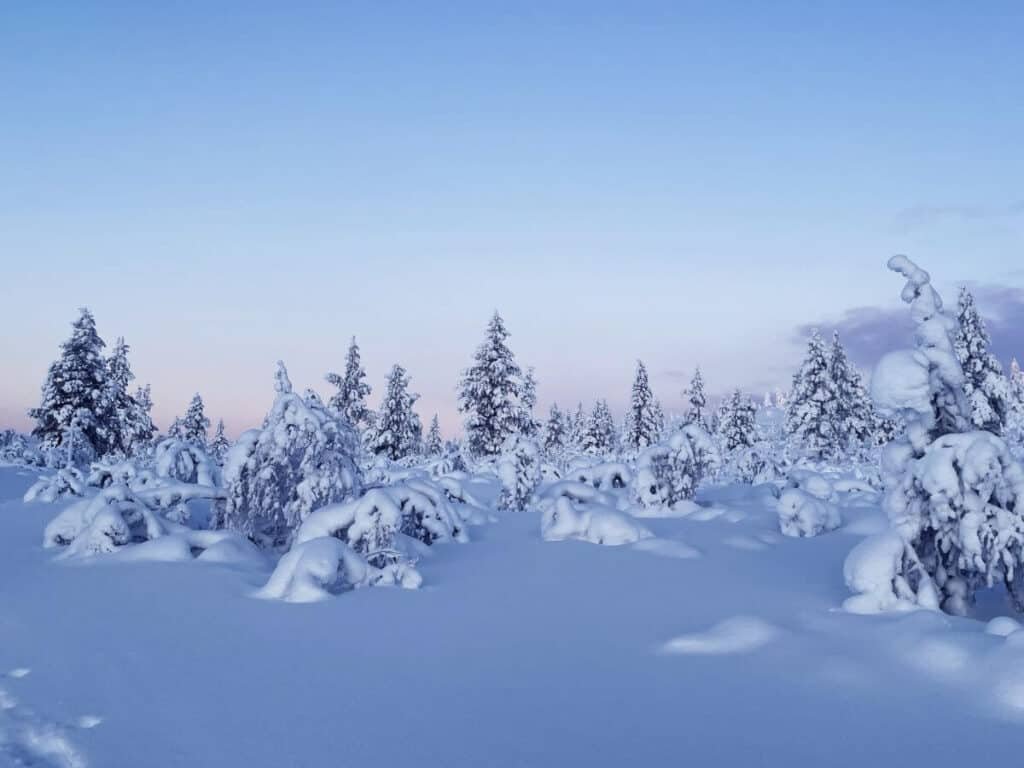 Where To Ski In Europe For The Best Nightlife / Après Ski
If socialising, live music and dancing are also important to you during a ski trip then luckily Europe has some of the best alpine party scenes, with a range of on-piste bars, live music and nightclubs, you can find something for everyone in some of these seemingly quaint European towns.
Best On Piste Après – St Anton, Austria.
St Anton is home to the 2 famous on-piste bars. The Mooser (MooserWirt) and KK's (Krazy Kanguruh). Where the beer and Jagermeister flow from 3pm onwards.
Best Mountain Festival – Snowbombing, Mayrhofen, Austria.
The little town of Mayrhofen comes alive during this week-long festival. With world-renowned artists and DJs, this is the go-to winter festival in Europe.
Best All Round Après – Zermatt, Switzerland.
Zermatt is home to a great variety of Après, which is another thing I love about this village. You can find acoustic sounds in a romantic setting, on-piste Pop Music DJs or late-night live music. Zermatt now also hosts its own music festival in April, Zermatt Unplugged.
Best Mountain Events – Verbier, Switzerland.
I lived in Verbier for 3 winters and love the variety of on-mountain events they have. They host big pro events like the Freeride World Tour. The inter-resort bumps and jumps competition, Boss Des Bosses, and smaller events ran by local businesses, like the One Piece Descent.
Best All-Round European Ski Resort
Zermatt, Switzerland
From challenging ski terrain to one of the most stunning mountain villages and that awe-inspiring view of the Matterhorn, Zermatt is by far our favourite ski resort in Europe. It doesn't offer any green runs, but it does have a beginner's area and easy access to blue slopes. The range of skiable terrain is huge, with 3 ski areas on the Swiss side and 2 ski resorts of Cervinia and Valtournenche on the Italian side.
Italy can be accessed from the Trockner Steg cable car with an international ski pass and from 2023 the new Alpine Crossing makes access between Switzerland and Italy even easier. The run from the top of Zermatt to the base of Valtournenche in Italy is 20km/13 miles long, one of the longest in Europe.
Zermatt and both Italian resorts also have some of the best alpine restaurants in the world. There is also plenty to do here off the slopes, from winter walks to relaxing in the wide variety of spas. If live music is your thing there is no shortage of that in Zermatt, on-piste, après ski, outdoor, open mic, cocktail lounge and late night are all available for music lovers.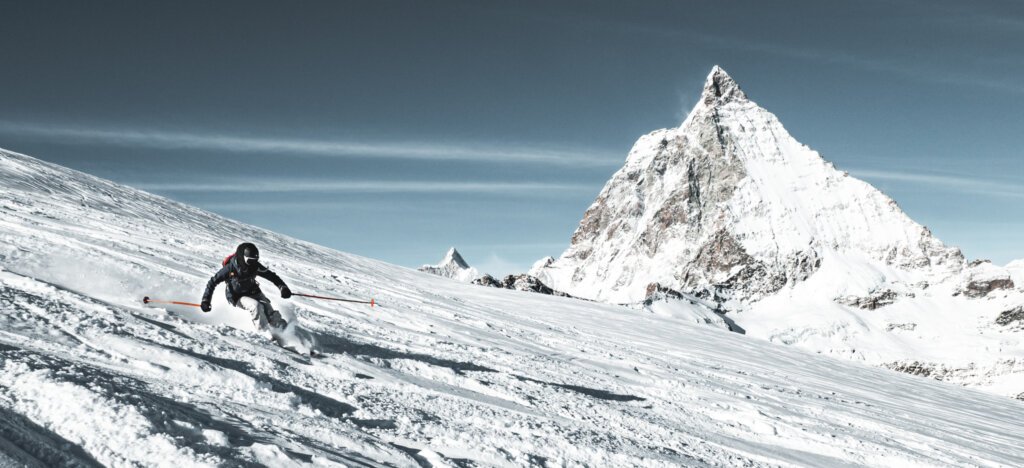 The Wrap-Up: Where To Ski In Europe
With a vast array of choices, narrowing down where to ski in Europe this winter can be tough, so here's a quick checklist to make planning easier.
✔️ Have An Understanding Of The Collective Ski Ability Of The Group
✔️ Create The Total Budget For The Trip
✔️ Decide What Kind Of Experience You All Want
✔️ Agree If There Is Anything Other Than Skiing That Is Important For This Trip
Hopefully, now you have a much better idea of where to go on your next European Ski Trip. Happy Ski Holiday Hunting!