Does It Snow In Australia?
Here's everything you need to know!
You may be wondering, does it snow in Australia? Imagine, the land of kangaroos and koalas, sizzling barbecues and sunny beaches, is suddenly blanketed in… snow? Yes, you read that right.
The land down under isn't just about scorching summers and endless expanses of desert. So, buckle up, mate, because we're about to take a frosty journey through an often overlooked aspect of Aussie weather.
Does It Snow In Australia? Your Complete Guide
Snow Down Under? You'd Better Believe It! Certain parts of Australia turn into winter wonderlands yearly. That's right, snowfall is not as uncommon as you might think in this sun-drenched country.
Now, before you start picturing Sydney under a blanket of white, let's get our geography right. While you won't find snowfall in bustling cities or along Australia's stunning coastlines, there are specific regions where winter paints an entirely different picture. The Australian Alps, for example, are a snowy playground that would give some European ski resorts a run for their money.
Intrigued? Good! Because we're just getting started. Stay tuned as we dive deeper into Australia's snowfall patterns, explore the best places to see snow in Australia and debunk some common misconceptions about the Australian climate.
So, grab a cuppa (or perhaps a hot chocolate would be more fitting?), sit back, and prepare to have your preconceptions about Australia turned upside down!
What Months Does It Snow In Australia?
The snow season in Australia can be quite unpredictable, with some years seeing early snowfall in April and late snow into October. However, the most reliable months for snowfall are typically June, July, and August.
Now, before you start picturing the entire continent transformed into a snowy paradise, remember that Australia's climate is vast and varied. Not all parts of the country experience snowfall, but certain regions do, and yes – the snow is significant.
The most snowfall in Australia is found at elevations between 3,200 and 5,000 feet (1,000 and 1,500 meters). These higher elevations, predominantly found in the Australian Alps, see the majority of the country's snowfall. In these areas, the average total snowfall per year is about 40 inches, most of which falls between June and August.
How Cold Is Australia In Winter?
Winter temperatures in Australia can vary dramatically from region to region. For instance, in Victoria, winter temperatures average around 15°C (59°F). In contrast, Queensland, which is known for its warm summers and mild winters, sees average winter temperatures in Brisbane ranging from 9°C (48°F) to 29°C (84°F).
Sydney, Australia's largest city, experiences winter months where average temperatures drop between 8.8 – 17°C (47.8 – 62.6°F). Interestingly, Sydney's rainfall is generally highest in June.
During the winter months (June through August), the Australian Alps experience a mean annual temperature between 3 – 12°C. The minimum average monthly temperature ranges from -7 to 0.4°C.
Australia's winter climate can also bring a range of weather extremes, including snow and ice formation in the high-altitude regions. On the other hand, parts of Australia can also experience bushfires during the winter season, particularly in regions where dry and windy conditions prevail.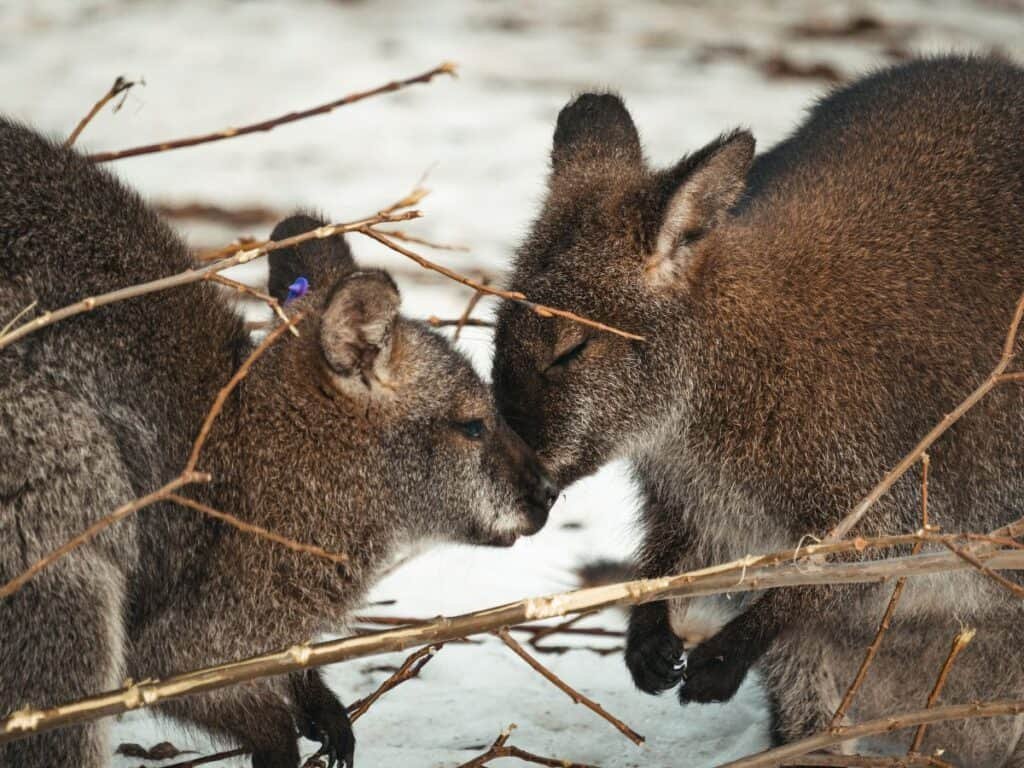 Has It Ever Snowed In Sydney Australia?
Yes, it has snowed in Sydney, Australia, but it's an extremely rare occurrence. The most notable instance was almost two centuries ago, on June 28, 1836, when Sydney received around 4cm of snowfall. This event is still remembered as a significant moment in the city's weather history.
However, according to meteorologists, snow in Sydney these days would be highly unlikely. This is due to Sydney's coastal location and relatively mild winter temperatures. Even in the winter, temperatures in Sydney don't get low enough for snow to occur.
Where Does It Snow In Australia?
Now, where does it snow in Australia? Let's start with New South Wales, Victoria, and Tasmania – these states experience substantial and regular snowfall during the winter months. In fact, you can find some of Australia's best ski resorts in these areas.
New South Wales is home to the Snowy Mountains, including popular ski destinations like Thredbo and Perisher. These places are transformed into winter paradises every year, perfect for skiing, snowboarding, or simply enjoying a snowball fight!
Victoria also boasts its own snowy retreats. Ever heard of Mount Hotham or Falls Creek? They're among the top spots to witness snowfall in the state. NSW and Victoria make great destinations for a ski season.
Meanwhile, Tasmania, the island state south of the Australian mainland, experiences snow in its highlands. It's not uncommon for the state's highest peak, Mount Wellington, to be capped with snow during winter.
Even in South Australia, a state known more for its vineyards and scorching summers, snowfall can occur in the Adelaide Hills.
The Hidden Gems Down Under: Australia's Top Ski Resorts
Winter in Australia is a bit like a secret garden – it's there, but you have to know where to look. While the country may be synonymous with golden beaches and scorching summers, its ski resorts are truly a force to be reckoned with. Let's take a journey through the snowy wonderlands of Australia's finest ski resorts.
Thredbo
Located in New South Wales, Thredbo steals the spotlight with its longest run in Australia and New Zealand, the High Noon, Cruiser and Village Trail, both measuring a whopping 5 kilometres. Thredbo combines a vibrant alpine village atmosphere with top-notch skiing facilities, making it an irresistible winter destination. It offers a range of runs for all skill levels, and for the daredevils among us, it hosts exciting snow sports competitions throughout the season.
Perisher
Perisher is the largest ski resort in the Southern Hemisphere, boasting an impressive 3,076 acres of skiable terrain. Nestled in Kosciuszko National Park, the resort offers an array of activities, from night skiing to scenic mountain dining. It also stands out for its excellent ski school, making it a fantastic choice for beginners.
Falls Creek
Falls Creek, located in Victoria, is renowned for its charming ski-in, ski-out accommodation and friendly village vibe. The resort boasts over 90 runs and a terrain park for freestyle enthusiasts. After a day on the slopes, visitors can enjoy the lively après-ski scene, with restaurants serving up everything from gourmet pizzas to hearty alpine cuisine.
Mount Hotham
Also in Victoria, Mount Hotham is known for its exceptional powder skiing. The resort features a range of challenging runs and off-piste areas, making it a favourite among advanced skiers. It's not just about the slopes – Hotham's stunning mountaintop village offers panoramic views of the surrounding snow-capped peaks.
Mount Buller
Just three hours from Melbourne, Mount Buller is a convenient getaway for city dwellers. With over 80 runs, the resort caters to all levels of skiers and snowboarders. Besides its extensive skiing facilities, Buller offers a range of winter activities, including dog sledding, snowshoeing, and tobogganing.
Mount Stirling
Mt Stirling is well-known as a premier choice for cross-country skiers in Victoria and Southern New South Wales, offering 60km of cross-country ski trails. The mountain is part of the Mt Buller–Stirling Alpine Resort, but it has remained largely natural compared to the more commercialised and developed Mt Buller. Its relative tranquillity makes it an attractive destination for those seeking a more peaceful alpine experience.
What really sets these resorts apart on the global stage is their unexpected location. Skiing amidst the unique Australian flora and fauna, under the bright winter sun, is an experience you won't find anywhere else in the world.
Does It Snow In Tasmania?
Yes, it indeed snows in Tasmania! Snowfall is more prominent in the elevated areas. Mount Wellington, for example, often gets a good covering of snow during the colder months. It's also a popular spot for locals and tourists alike who are keen to experience a snow day.
The Central Highlands of Tasmania is another area where you'll find snow throughout the winter. This region is home to the Derwent Bridge and offers beautiful snowy landscapes. However, in coastal cities like Launceston, which is at sea level, snowfall is less common.
Ben Lomond, Tasmania
For a unique snow experience, head to Tasmania's premier ski resort, Ben Lomond. Its snowfields are perfect for beginners and intermediates. Plus, you can enjoy stunning views of the Tasmanian wilderness.
Does It Snow In Western Australia?
​​Yes, it does snow in Western Australia, but it's not a common occurrence and is confined to specific areas. Most parts of Western Australia, including the capital city of Perth, experience mild winters with temperatures rarely dipping below 19.4 – 21.3°C (67 – 70°F). Snowfall in Perth is extremely rare.
Although, there are exceptions. Bluff Knoll, located in the Stirling Range National Park, is one of the few places in Western Australia to experience regular snowfalls, with some snow reported in most years. The Perth Hills around Kalamunda have also seen light snowfalls, and when wild weather hits the South-West region, snow can fall on the Stirling Ranges.
So, while you won't see snow-covered streets in Perth or most of Western Australia, there are a few special spots where you can experience this frosty phenomenon.
Which Cities In Australia Receive Snowfall?
Canberra, the nation's capital, occasionally receives snowfall. The city's elevation and inland location make it one of the colder Australian cities during winter, so there's a chance you could see some snowflakes here.
Hobart, in Tasmania, also sees occasional snow due to its southern latitude and proximity to the cold Southern Ocean. It's rare for snow to settle in the city itself, but the surrounding mountainous regions receive more frequent dustings.
Ballarat, in Victoria, is another city with a history of snowfall. It's not an annual occurrence, but a dusting typically happens every couple of years.
Where Is The Cheapest Place To See Snow In Australia?
To experience snow without parting with any dollar, research the mountainous regions close to you that aren't ski/snowboard resorts. There are plenty of free mountain areas for you to take pictures, wander in a fresh dusting of snow or start a snowball fight.
If you're looking to experience the magic of snowsports in Australia without breaking the bank, several options stand out as the most affordable.
Mt Mawson, Tasmania
Mt Mawson stands out as one of the most affordable ski areas in Australia. Located within the Mount Field National Park in Tasmania, it offers a more laid-back and wallet-friendly skiing experience compared to some of the larger resorts.
Corin Forest Mountain Resort
The Corin Forest Mountain Resort prides itself on being the most affordable and accessible alpine resort in Australia. Located just 45 minutes from Canberra, it's a great option for those living in New South Wales or the Australian Capital Territory.
Charlotte Pass, New South Wales
Charlotte Pass is another budget-friendly destination for snow enthusiasts. It's the highest resort in Australia, ensuring reliable snowfall during the winter months.
What To Pack For Winter In Australia
Here's a handy packing list to ensure you're prepared for the cooler temperatures and varying weather conditions:
Warm Jacket: The Australian winter can bring chilly temperatures, especially at night.
Jeans and Hiking Pants: These are versatile and warm items suitable for various activities, from city exploration to outdoor adventures.
Ski Gear: You're going to need this if you intend to hit the slopes.
Thermals: For those particularly cold days or if you're planning to visit the alpine resorts.
Layers: Think long-sleeved tops, sweaters, and cardigans that you can add or remove as needed.
Beanie and Scarf: These will keep you warm during those brisk winter mornings and evenings.
Sneakers: A comfortable pair of sneakers is essential for exploring.
Shorts and Leggings: These could come in handy for warmer days or indoor activities.
Dressier Clothes: If you're planning on enjoying Australia's nightlife or fine dining, you might want to pack a nice outfit.
Swimsuit: Yes, even in winter! You might want to take a dip in heated pools or visit the tropical north.
Light Jacket or Hoodie: Great for slightly warmer days or when it's a bit breezy.
Weatherproof Backpack: To carry your essentials during your daily outings.
Sleeping Bag: If you're planning on camping or backpacking.
Lighting and Batteries: Useful for camping trips or if you find yourself out after dark.
Button Down Shirt and Athletic Pants: Ideal for casual outings or active days out, like a road trip along the Great Ocean Road.
Remember, Australian winters can be unpredictable. So, packing a variety of clothing that can be layered is key.
The Wrap-Up | Does It Snow In Australia? Your Complete Guide
When it comes to snow in Australia, it's all about timing and location. From the snowy peaks of Victoria's Mt Stirling and Tasmania's Mount Wellington to the rare and special snowfall on Western Australia's Bluff Knoll, there are indeed places where you can experience the magic of an Australian winter.
While the coastal cities and much of the country enjoy mild winters, the alpine regions and higher altitudes offer a winter wonderland for snow enthusiasts. So, whether you're a skier, a snowboarder, or simply someone who enjoys a good snowball fight, there's a corner of Australia waiting for you.
Remember, the best time to see snow in Australia is during the winter months, typically from June to September. But keep an eye on the weather forecasts as Mother Nature likes to keep us on our toes. Now you know that it does snow in Australia, it's time to bundle up, pack your sense of adventure, and explore the frosty side of this sunburnt country!