Australia might not be the first place you think of for a winter ski season, but it's time to change that misconception. When most people think of Australia, they picture sunny beaches, wildlife, and a scorching hot climate.
However, what many people don't know is that Australia is home to some fantastic ski resorts scattered throughout the country. So, if you're a ski enthusiast looking for adventure, a change of scenery or back-to-back ski seasons, working a ski season in Australia could be just what you need.
Let's be honest if you are heading to Australia for their champagne powder, extreme lines and the sickest Après. Stop what you are doing, change your flights and consider taking up a different summer career.
Australia and its ski resorts have a lot of things to offer but those are not 3 of them. However, if you want to improve your skiing or snowboarding skills, you need to get a lot of teaching hours under your belt, or you want to earn as much as you can in a short few months, then Oz is the place for you.
Is It Possible To Ski In Australia?
Yes, it is possible to ski in Australia. With state-of-the-art resorts located across the country, there are plenty of opportunities to enjoy skiing and snowboarding. With a range of terrain suitable for all levels of ability, including terrain parks and snow tubing ramps, you can choose your own adventure and make the most out of your Australian skiing holiday.
Why Work A Ski Season In Australia?
Not only is it a great opportunity to experience skiing in a completely unique and exciting environment, but it also offers plenty of advantages over other ski destinations. For starters, the ski resorts in Australia have far fewer crowds than those in Europe or the US, which means shorter lift lines and more room to carve the slopes.
Your working holiday visa or sponsorship also comes with additional time for you to explore the country. 3-4 months of work in one of Australia's ski resorts could fund the rest of your travels Down Under.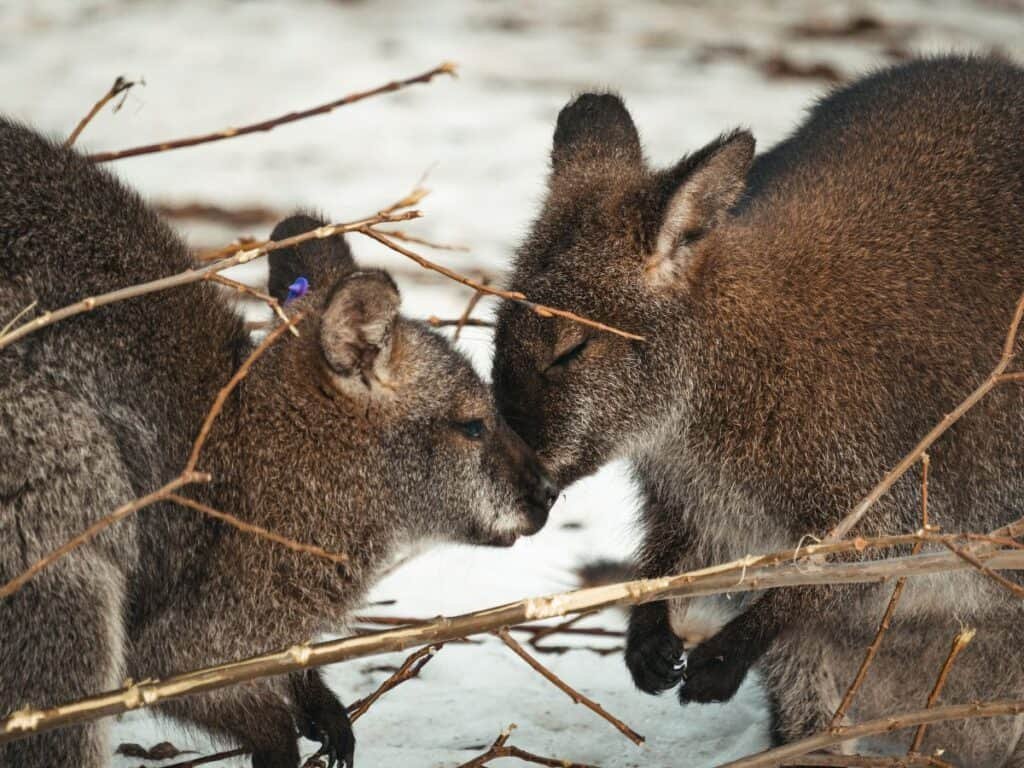 When Is The Snow Season in Australia?
A typical ski season in Australia runs from mid June to mid October, all depending on the snowfall. As we all know with issues like climate change the beginning and end date of a ski season is becoming more and more unpredictable.
The height of the Australian ski season is in July, when you may even experience "Christmas Day" a fake Christmas that some locals like to celebrate to experience a traditional "White Christmas".
What Month Is Best To Ski In Australia?
If you're looking for the best snow conditions, mid-July to mid-August is generally considered the peak time for skiing in Australia. During this time, most ski resorts have received their heaviest snowfall. However, it's worth noting that accommodation and lift tickets may be more expensive during this time.
Alternatively, if you prefer a more leisurely ski experience, the beginning or end of the season may be more suitable for you. Late June and early July may offer fewer crowds and cheaper accommodation and lift tickets, although you may not get the best snow conditions. Conversely, late August and September may also offer a quieter experience and lower prices, but the warmer temperatures may mean slushy conditions towards the end of the season.
Ultimately, the best time to ski in Australia will depend on your budget, preferences, and availability. Be sure to check the weather and snow forecasts before planning your trip to ensure the best possible conditions.
Where are the Ski Resorts in Australia?
All of the resorts are located in New South Wales and Victoria. Conveniently located within driving distance from the thriving metropolis of Melbourne or Sydney.
Which Is The Best Ski Resort In Australia?
Perisher and Thredbo are two popular resorts located in New South Wales that are only a six-hour drive from Sydney. Both resorts have over 150 kilometres of runs collectively, making them ideal for skiers and snowboarders of all levels.
If you're looking for more fun, adrenaline-inducing activities, Falls Creek located in Victoria is the place to be. This resort offers a whopping 450 hectares of skiing terrain, including groomed runs, cross-country skiing, and off-piste areas.
Mount Hotham offers over 35 lifts, making it easy to access the wide variety of terrain that caters to all levels of skiers and snowboarders. There are over 320 hectares of skiable terrain, 13 chairlifts, and two terrain parks. The terrain park also features a superpipe that's popular with freestyle skiers and snowboarders.
Mount Buller is another popular ski resort, located about three hours away from Melbourne. It offers visitors a great range of facilities like nightlife, restaurants, and bars, as well as over 300 hectares of ski slopes.
Next door to Mount Buller is Mount Stirling, cross-country skiing is one of the popular winter activities at Mount Stirling, with over 65 kilometres of groomed trails taking skiers through picturesque alpine meadows, snow-covered forests, and mountain peaks. The trails are suitable for skiers of all levels and are designed to offer a mix of easy, intermediate, and challenging courses.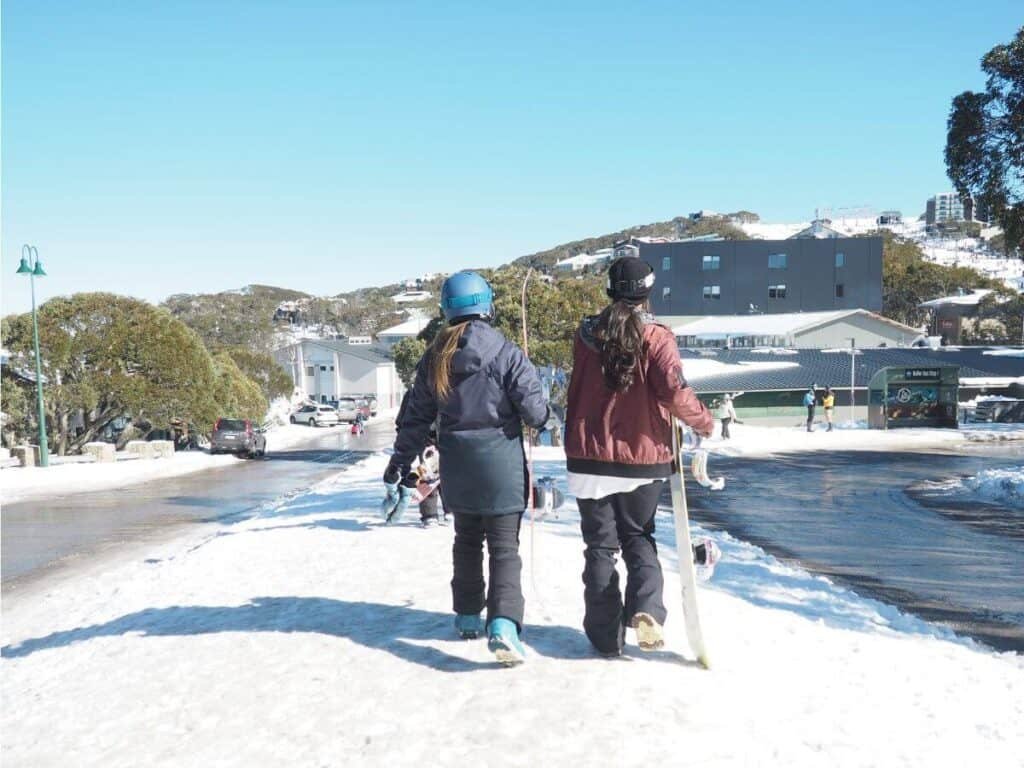 Which Is The Biggest Ski Resort In Australia?
Perisher is the biggest ski resort in Australia, located in New South Wales. Boasting more than 860 hectares of pristine terrain, Perisher offers exciting skiing and snowboarding experiences for all levels of ability. The resort consists of four ski areas – Smiggin Holes, Guthega, Blue Cow and Perisher Valley – providing over 135 runs with a total elevation drop of 1,845m.
Perisher features something for everyone, including terrain parks for snowboarders and skiers alike. The resort has plenty of accommodation options to suit any budget and offers a variety of activities such as snow tubing, night skiing and even helicopter rides. There are also après-ski events on offer throughout the season in various bars and restaurants around the area.
Is Skiing Better in New Zealand or Australia?
The difference between skiing in Australia and New Zealand largely depends on personal preference. Both countries have great ski areas with top-notch facilities and plenty of expertly groomed runs for all levels of skiers.
New Zealand has higher peaks, more varied terrain and generally receives more snowfall on average than Australia.
The cost of skiing also varies between Australia and New Zealand. In Australia, lift tickets tend to be more expensive than their New Zealand counterparts due to higher prices for accommodation and supplies.
On the other hand, as a worker you are likely to work more hours and earn more per hour in an Australian ski resort.
What is Australian Ski Terrain Like?
Ski resorts in Australia have different snow conditions from those in Europe. In Australia, the ski season is shorter and the snow is typically wetter and heavier than that found in Europe. The temperature also tends to be warmer in Australia, which can cause the snow to melt faster and become slushy more quickly. As a result, Australian ski resorts tend to focus on providing well-groomed trails rather than off-piste terrain.
In contrast, European ski resorts generally have longer ski seasons with lighter, drier snow that doesn't melt as quickly and provides good off-piste skiing opportunities. Additionally, higher elevation and colder temperatures mean that lifts and gondolas can operate virtually all year round at some European ski resorts.
I was warned – "it's wet". So I expected wet. But not quite below-the-knee rain jackets and fur-lined marigolds wet. This was a very new and very amusing addition to a ski school uniform. If rain doesn't bother you then you have nothing to worry about. If it does, perhaps Australian skiing is not for you.
The snow is fine. Yes, it is wet. Yes, it is heavy. But after a good dump, the ski conditions are great. It packs down well, so if there is no snow for a while, what has landed will hang around.
What Jobs Are Available In Australian Ski Resorts?
Just like most ski resorts, the jobs available will be mainly in the Snowsports, Childcare and Hospitality sectors.
Lodge Managers
Ski/Snowboard Instructors
Ski Lift Operators
Bar / Restaurant Workers
Nanny / Babysitter
Retail Staff
Resort Logistics Staff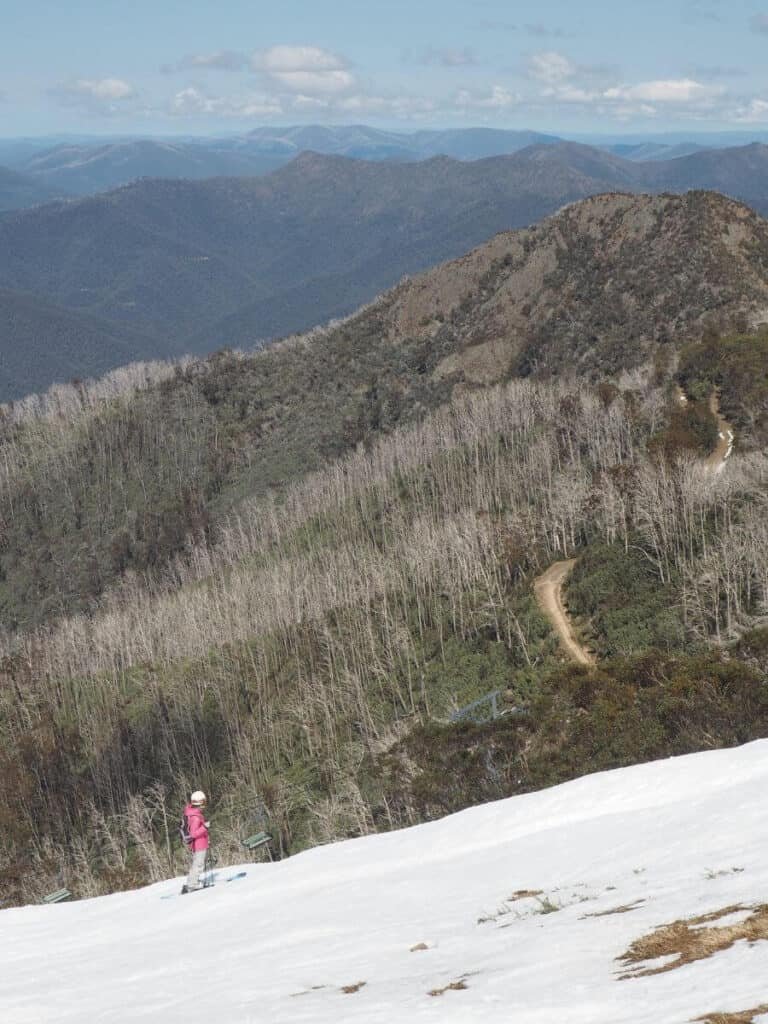 Working Hours & Pay For A Ski Season In Australia
The minimum wage in Australia is around $22 per hour, expect somewhere between $25-$30 per hour for jobs like bartending and more for managerial positions.
A big plus side of working as a ski instructor in Australia is the opportunity to work plenty of hours. The more qualified and experienced you are, the better the hourly rate and amount of hours you will get.
The pay can range from around $24 – $50 AUD, which, depending on where you work in Europe may not seem like an awful lot. But the likelihood is, you will work more hours here in the Southern 3-month season than you did in the Northern 5-month season.
Hours here for top-grade instructors can range from 350 during a bad season to over 500 in a good season.
The other bonus of working in Australian resorts is that there won't be 10 ski schools fighting for the same work. One or 2 companies run the entire resort. This can also mean that if you don't have enough teaching hours, you can sometimes pick up other work.
Qualifications and Work Visas
In Europe, a lot of ski schools will not allow anyone with less than a Level 2 qualification to teach. In Australia, you can teach with a Level 1.
Lower-grade instructors don't receive sponsorship for work visas from ski schools. You can apply for a working holiday visa or work and holiday visa if you are eligible for one. This depends on your age (18-30) and where you are from.
Have a look at the Australian Government Visa Finder to check if you are eligible.
Higher-grade instructors may be eligible to receive sponsorship from the ski school. Sponsorship will allow you to get a temporary work visa to cover you for the dates of the ski season. It also allows a little extra time in the country to travel. Along with sponsorship, some ski schools offer money towards flights and visa fees.
The governing body for ski and snowboard instructors is the Australian Professional Snowsports Instructors. APSI
Email: apsi@apsi.net.au
For all other ski resort jobs, you must have a working holiday/ work and holiday visa for Australia.
Tax & Superannuation
Before commencing work at an Australian ski resort, you must obtain a Tax File Number (TFN). You can do this by visiting the Australian Tax Office Website.
All employers in Australia are legally required to make superannuation payments, a portion of your salary which is set aside for retirement. These payments are transferred directly into a designated superannuation account, which you can withdraw when you leave the country.
Ski Resort Accommodation
Ski school staff accommodation is not exactly glamorous. If you are a seasoned backpacker with plenty of hostel experience then this shouldn't faze you. Mark your food, pack your earplugs and make a beeline for the bottom bunk.
Private accommodation will be a lot more pricey but may be a more affordable and comfortable option if you are travelling with someone. Most places will be out of the resort centre or down the valley; this will also mean that you will need a car.
Becoming a lodge manager is the holy grail of landing sweet accommodation in Australian ski resorts. I was told that these positions existed, but as far as I knew it could have been a rumour.
An email was sent to every single lodge in the resort and a few months later I was lucky enough to get a position. To be completely honest I actually had no idea how lucky I was until I arrived at the resort.
Lodges will be in the centre of the resort; some will even be ski-in and ski-out. You will most likely get a double room for you and a partner, free accommodation plus a varying weekly fee. Small lodges pay small fees, bigger lodges …. you catch my drift.
They all differ when it comes to workload, this should be reflected in the pay. When I met up with the other managers, they were surprised that a new face in the resort had been given a lodge. Apparently, this is not the norm, but, I don't like to be a Norm, I like to be a Princess Consuella Bananahammock. 😉
Cost Of Living In Australian Ski Resorts
One thing that bummed me a little about Ski Resorts in Oz, is the cost of living vs the quality. Australian cities are very cosmopolitan, you can expect to see the latest trends in restaurants and cafes.
The coolest concept bars with unique cocktail menus litter places like Melbourne and Sydney. Ski resorts on the other hand leave a lot to be desired. Expect standard hefty Ozzie prices, without the quality or service that usually comes with them.
There are some outlets that stand out above the rest, but the general standard is mediocre at best.
Plan your meals or nights out carefully and the rest of the time cook for yourself at home. Even the supermarkets come with a slightly painful price tag, so be frugal where you can. Otherwise, those hard-earned dollars are going straight into someone else's pocket.
The good thing is, the wages truly reflect the cost of living unlike some places (ahem UK & USA). So if you're not using your ski season down under to save a small wedge for ongoing travelling, or to fund your Northern Hemisphere winter as a ski bum, then you don't need to worry about it.
What's Unique About An Australian Ski Season?
The beauty of spending an entire season in a new country is exploring is uniqueness. And boy does Australia have plenty of that! From flora, fauna, beautiful snow gum trees, dozy bears in trees and things that hop around with little joeys in their pouches. An Australian ski season is like no other.
The Wrap Up : Working a Ski Season in Australia
Working a ski season in Australia offers a unique opportunity to explore new and interesting snowfields, meet like-minded individuals, and experience winter in a whole new way.
While Australia may not immediately pop into your mind when thinking of winter ski destinations, the stunning beauty and unparalleled skiing opportunities make it a must-visit destination for any passionate winter sports lover. So, why not plan your next winter adventure in the Land Down Under?
For first-timers, check out Seasonal Work | Everything You Need To Know.