Wondering If Vanlife Is Possible In Switzerland?
Rules, parkups and stunning places to visit! We've got all of the details.
Welcome to the ultimate guide to Vanlife in Switzerland, the land of chocolate, cheese, and breathtaking Alpine scenery! Let us help you navigate through picturesque Swiss landscapes, and set up camp amidst lush green valleys or by serene lakesides.
That's the magic of a campervan journey in Switzerland. It's not just about living on four wheels; it's about embracing an adventurous lifestyle that combines comfort with freedom. So whether you're car camping, in a self-converted camper or looking to hire a motorhome, buckle up. We're about to embark on an exhilarating journey across Switzerland.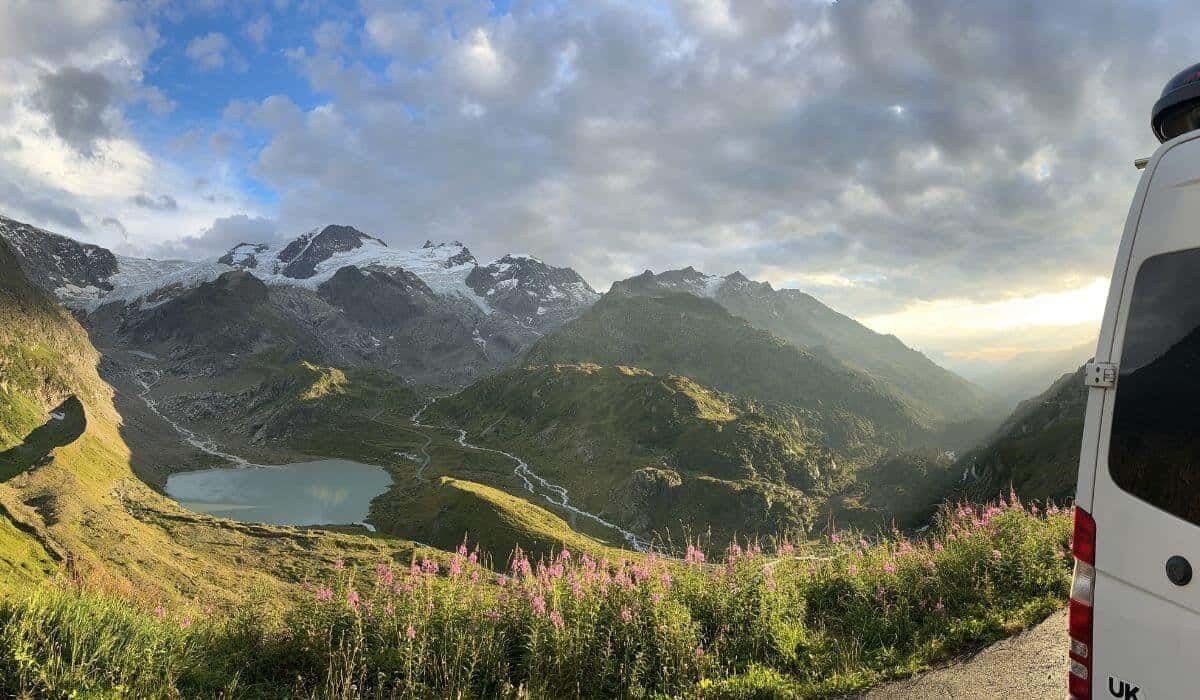 Vanlife Switzerland | Everything You Need To Know 2024
Is Vanlife possible in Switzerland? Absolutely! It just takes a bit of planning and a willingness to abide by the rules. After all, we're here for a good time, not a fine, right? Let's dive deeper into vanlife in Switzerland.
Can You Sleep In A Van In Switzerland?
You can sleep in a van in Switzerland, as long as it is on private property, a paid campsite, or an area allocated for campervans and motorhomes. It's not actually legal to just park your camper van anywhere in Switzerland for the night. In some cantons or municipalities, spending the night in a vehicle is considered wild camping and is strictly prohibited unless in designated areas.
In some regions, even sleeping in an overnight car park is not allowed. You can pay to park the van for the evening, but you can't sleep in it. It's always best to check if an overnight parking place allows sleeping in vehicles.
Is Vanlife Legal In Switzerland?
Yes, Vanlife is definitely legal in Switzerland, as long as you are playing by the rules. It's certainly a lot more tricky than many other European countries, but it's absolutely possible. Switzerland requires more planning if you intend to move around and not pay campsite fees.
Can You Wild Camp In A Van In Switzerland?
Yes and No. Technically in many areas you can't wild camp, as in, set up camp, get your awning and picnic table out and invite neighbouring campers over for s'mores. However, you can sleep overnight in a variety of places.
The tight rules in Switzerland make it quite tough to find free overnight spots for campervans, especially if you're in a motorhome or anything bigger than a converted van.
While wild camping is generally forbidden, especially in national parks, nature reserves, and federal hunting zones, it doesn't mean you can't enjoy vanlife in Switzerland. This just means that you'll have to be a bit more strategic about where you park your van for the night.
Some regions in Switzerland do allow wild camping, but each municipality has its own set of rules. So, you'll need to pay careful attention to signage and local regulations. More on how to find parking spots is below.
Can You Wild Camp In A Tent In Switzerland?
Wild camping is generally tolerated above the tree line in Switzerland. However, it's not allowed in nature reserves, wild rest zones, and hunting ban areas. So, if you're planning to pitch your tent amidst the towering Swiss pines, you might want to reconsider.
Now, let's talk about the places where wild camping could be possible. There are some secluded spots like Croy, located north of Lausanne, and Arolla in the heart of the Valais Alps, that could serve as your temporary home in the wild. Some other potential locations for wild camping include Nufenenpass in the Swiss Alps, Vidy in Lausanne, and various trails such as Via Alpina and Trans Swiss Trail.
Remember, though, the rules for wild camping in Switzerland vary from canton to canton. Each municipality sets up their own rules and regulations, so it's crucial to do some research and respect the local laws wherever you go.
It is possible to camp on a thru-hike if you are above the tree line. Just make sure to double check that your desired destination isn't in a restricted area.
Where Can I Park My Campervan In Switzerland?
There are several types of places to park your campervan overnight in Switzerland. These are; campsites, aires, private property, parking schemes and approved overnight 'wild' parking spots.
Campsites
There are almost 350 campsites dotted across Switzerland! That's many opportunities for you to wake up to the sight of the majestic Alps, or fall asleep to the soothing sound of a Swiss stream.
Among these, Camping Jungfrau is a crowd favourite. Nestled in the heart of the Swiss Alps, this campsite offers breathtaking views and a variety of outdoor activities. Imagine waking up to the sight of snow-capped peaks and spending your day hiking, skiing, or simply basking in the beauty of nature.
If you're travelling to top tourist attractions in peak season, make sure to book in advance. Popular campsites are bursting at the seams during busy periods. Be aware that some campsites only operate from Spring to Autumn.
Check here for year-round campsites.
Aires
An aire is essentially an approved overnight parking place for motorhomes and campervans. Aires can often be paid, although if you're lucky (or savvy), you might find some free ones in more remote areas.
Switzerland boasts about 100 aires, which may not sound like a lot but trust me, they are well-distributed and easily reachable. So, whether you're planning to explore the Swiss Alps or take a leisurely drive around Lake Geneva, you'll find an aire to park your campervan. You usually don't need to book an aire in advance, it's first come first serve.
Now, if you're wondering where these aires are located, some popular options include Wohnmobilstellplatz an der Reuss, Bim Wald, Ferienhof Rüti, Parking Cioss, Camping Des Glaciers, and Parking Sarn-Heinzenberg. Use apps like Camper Contact or European Aires books to locate aires in your destination.
But remember, aires aren't meant for extended stays. If you engage in "extra-vehicular activities" or stay for more than one night, it would be considered wild camping, which is generally not allowed in Switzerland.
Private Property
If you're lucky enough to know people in Switzerland who have private property or a private parking space big enough for your camper, then it's absolutely allowed to park and sleep overnight in your campervan.
You can also find small lots on apps like Park4Night, where owners of private land allow overnight parking, either for free or a small donation. These spots don't usually have any facilities, but the donations are usually considerably cheaper than a campsite. If you're an off-grid camper and can't find a legal 'wild camping' spot, these are a great option.
Parking Schemes
There are parking schemes like Swiss Terroir that allow you to park on farmland, vineyards and other small business land in exchange for a purchase from their business.
The Swiss Terroir scheme is a unique and innovative initiative that offers you more than just a parking spot for your beloved motorhome. It's an invitation to discover the authentic Swiss countryside, far away from the standard, overcrowded parking spaces that you might find elsewhere. Think of it as your VIP pass to some of the most beautiful and lesser-known parts of Switzerland.
This ingenious scheme is affiliated with several similar initiatives across Europe, including France Passion, Landvergnugen in Germany, Brit Stops, Swede Stops, and Pintrip in Denmark. So, if you're planning a pan-European campervan adventure, these schemes could be your ticket to exploring the continent like a local.
Wild Camping
While we don't advise popping out the awning and getting your camp on, there are many stealth places you can park overnight in Switzerland. Our favourite is the Süstenpass, not only is this one of the most incredible mountain pass drives in the world, but it's a great place to stop for the night.
With designated parking areas at the top and bottom and many places to pull over along the pass, the Süstenpass is a great location to stop for a night of stargazing.
We found all 'wild camping' parkups on Park4Night. Remember that these parkups will rarely have any kind of facilities, so make sure to leave no trace.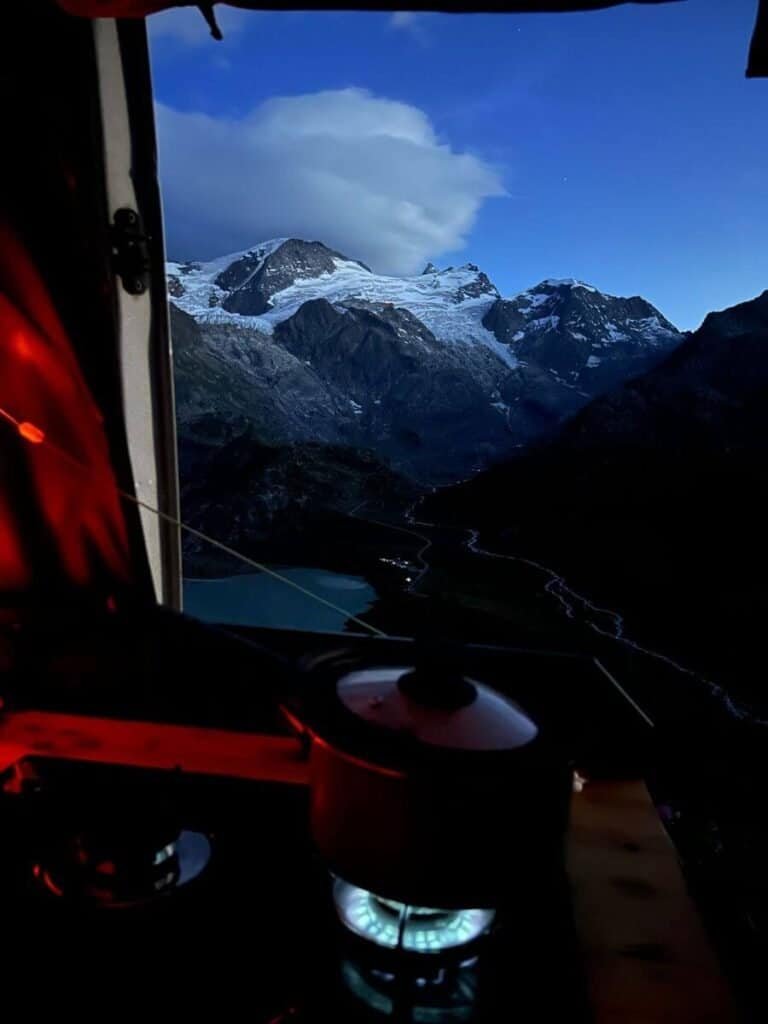 Is Switzerland Good For Campervans & Motorhomes?
Switzerland is an amazing place for campervans and motorhomes, vanlife is arguably the best way to travel around Switzerland, especially in the summer. It's not only more economical and budget-friendly than traditional accommodation options, but it also gives you the freedom to explore the country at your own pace.
No need to rush to catch that morning train or worry about missing out on a hidden gem because it's not on your tour itinerary. With a campervan, you're in control of your Swiss adventure.
Switzerland also boasts some fantastic campsites ranging from well-maintained holiday parks to rustic farms. These sites are perfect for a campervan, offering all the amenities you need while letting you wake up to the sight of the majestic Swiss Alps.
When To Visit Switzerland In A Campervan
There's never a bad time to visit Switzerland, it's a country that effortlessly transforms into a wonderland with each passing season. Let's break down each season:
Spring Vanlife In Switzerland
As winter loosens its icy grip and spring starts to bloom, the Swiss countryside comes alive with vibrant colours. Between April and June, the meadows are lush, and the alpine flowers are in full bloom. It's an excellent time for bird watching too, so don't forget your binoculars!
Our favourite spots for spring? The picturesque valleys of Interlaken and the stunning Lauterbrunnen. While you're in this region, we would definitely advise a trip to Mürren and Gimelwald.
There are plenty of campsites to park your van and spend the night. Spring is a little less hectic than the peak season of Summer.
Summer Vanlife In Switzerland
​​From July to September, the Swiss summer boasts perfect weather for exploring. The days are long and sunny, the lakes are shimmering, and the trails are ripe for hiking, biking, or just leisurely strolling. And the best part? The "Swiss Terroir" scheme allows you to find safe havens around the country, giving you the chance to discover the authentic Swiss countryside.
Lake Geneva, Lake Zurich, and the Matterhorn region are not to be missed. They offer well-maintained campsites with all the amenities you need.
Autumn Vanlife In Switzerland
Autumn in Switzerland is like stepping into a painting—crimson and gold leaves, crisp air, and the sweet scent of ripe fruit. It's the perfect time for hiking and appreciating the natural beauty of Switzerland.
The time between September and mid-October is ideal for a campervan trip. The Bernese Oberland is a must-visit, with its stunning fall foliage and great campsites.
Another favourite of ours for early autumn hiking and climbing is Zermatt.
Winter Vanlife In Switzerland
​​While winter might not be the first season you'd think of for a campervan trip, it can be surprisingly magical in Switzerland. Yes, driving requires extra care, but the snow-laden landscapes are absolutely worth it.
The Swiss cities are adorned with twinkling lights, and the Alps become a playground for winter sports enthusiasts. Just make sure your campervan is winter-ready with proper tires, chains and heating.
If you're looking for a great place to park up and ski tour, The Bernese Highlands and Andermatt are the perfect locations for this.
Don't miss the magical Christmas markets at this time of year.
Want to know the best places to ski in Europe this winter? Check out our helpful guide here!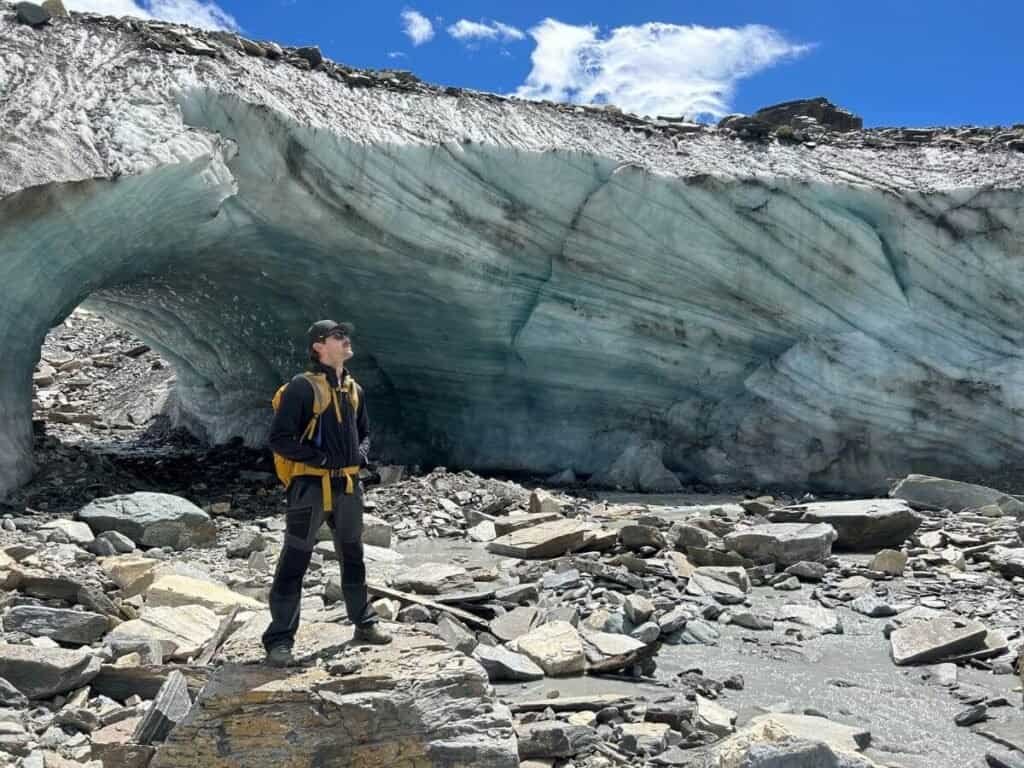 Vanlife Switzerland – Best Places To Visit
After living in Switzerland on and off over the past 16 years and travelling the country extensively, here are our favourite places to visit and things to do.
Interlaken, Lauterbrunnen & Grindelwald
As these three places are so close together, they can easily be explored from one park up.
Interlaken is nestled between Lake Thun and Lake Brienz. The city is famous for its adventure sports, making it the unofficial extreme sports capital of Switzerland. Popular with paragliders in the summer and snow sports enthusiasts in the winter.
Interlaken also has a rich history that is visible in its architecture. The neo-renaissance style Interlaken Castle and the Romanesque-style St. Beatus Caves are just a couple of examples.
Did I mention the views? The panoramas of the Eiger, Mönch, and Jungfrau mountains are simply breathtaking. You know those postcards you see with the perfect Swiss landscapes? Yeah, those are probably taken here.
Lauterbrunnen is located in one of the most impressive trough valleys in the Alps, it's the kind of place that makes you pinch yourself to make sure you're not dreaming. I mean, where else can you find a village flanked by gigantic rock faces and mountain peaks?
And did I mention the 72 thundering waterfalls? Yes, you read that right – 72! It's no wonder this place is often referred to as the "Valley of 72 Waterfalls". The village itself is a quintessential alpine paradise, dotted with charming chalets and surrounded by lush green pastures.
Grindelwald, no, not the dark wizard from Harry Potter, but the stunning Swiss village nestled in the Swiss Alps. And before you ask, yes, it's just as magical as it sounds!
Grindelwald is a charming little village that looks like it's been plucked straight out of a fairy tale. It's surrounded by a commanding mountainscape, including the north face of the Eiger.
But don't let its quaint charm fool you. Grindelwald is a hub for adventure and outdoor activities. In summer, it's all about the glider, mountain cart, and scooter, making it a hotspot for adrenaline junkies. In winter, it transforms into a snow-covered paradise with slopes for all experience levels, perfect for skiing, snowboarding, and other snowy activities.
And if you're more of a "take in the scenery" kind of person, don't worry, Grindelwald has got you covered too. The unique Alpine landscape here is simply breathtaking, and there are plenty of spots to sit back, relax, and soak in the beauty of it all.
What To Do
Of course, no visit to these places would be complete without exploring the village itself. Think charming chalets, friendly locals, and a warm, welcoming atmosphere that makes you feel right at home.
With so many adventure sports on offer here, why not give something a go? The options range from paragliding to whitewater rafting in the summer and a whole variety of snowsports in the winter.
Hiking is one of the most popular activities in this region. From day hikes to thru-hikes, there's plenty of choice, no matter what level or length you are looking for. For backpacking trips, it's possible to set up camp as long as you are not in a restricted area and above the tree line.
Where To Park
There are lots of great campsites in this area as it is a very popular camping destination in the summer months. The most popular place is Camping Jungfrau, so make sure to book early if you're travelling in peak season.
There are very few Park4Night or 'free' options in this entire region. We managed to find one centrally located spot by the river in Wilderswil that asked for a donation of 10chf. This was perfect for us as it gave us flexibility without having to book a spot in the busy summer months, while also saving a chunk of change on campsite fees.
​​💡 Top Tip: If you find a good Park4Night spot, get there early on Friday and Saturday nights. These places get crowded and when the spots are gone, the options are limited.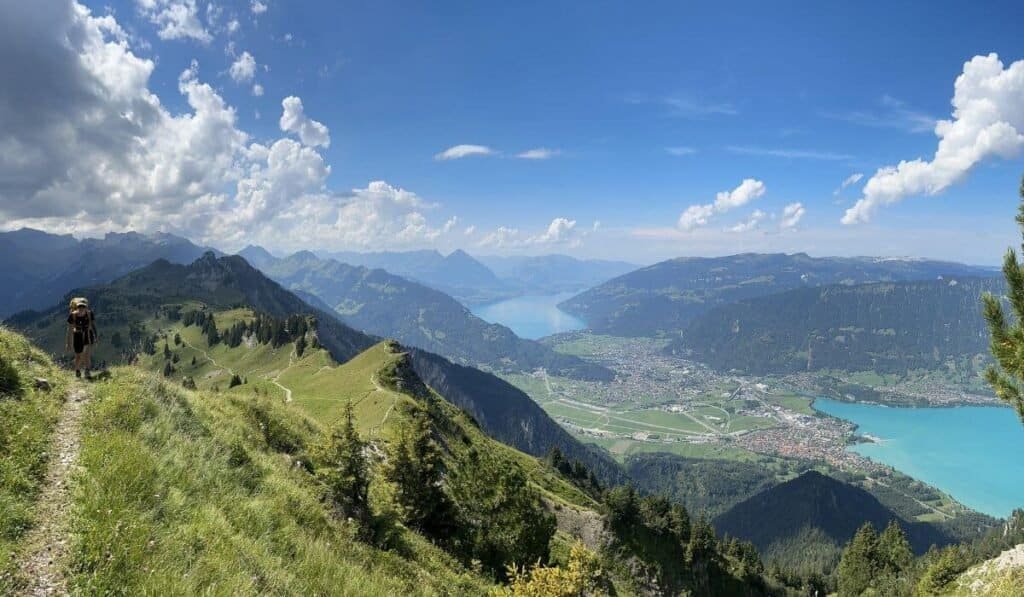 Mürren & Gimmelwald
Ah, the enchanting duo of Mürren and Gimmelwald! These two Swiss villages are like siblings—alike and yet so distinct in their own ways. If you're a lover of scenic beauty, breathtaking views, and hiking trails that leave you awe-struck, then these two are a must-visit.
Mürren, perched high on a cliff overlooking the Lauterbrunnen Valley, is a car-free village that's as charming as it gets. It offers stunning views of snow-capped mountains right outside your window and easy access to cable cars, funiculars, and trains.
Gimmelwald is a smaller but equally captivating sibling. The hike from Mürren to Gimmelwald is an easy downhill stroll that anyone can take part in. It overlooks the one-of-a-kind Lauterbrunnen Valley and takes about 30 minutes. The path is well-marked, and the views are spectacular the whole way.
What To Do
The Mürren Via Ferrata – This 2.2 km journey is part via Ferrata and part hiking trail where you'll cling to a cliff, climb down steep ladders, and walk on a wire bridge. The via Ferrata is open from June until October.
We hiked up from the car park in Stechelberg which takes roughly 1hr 45mins, and had breakfast at Skyline cafe opposite the coop. The via Ferrata opens at 9 a.m. We wanted to be the first ones on it as we had heard it gets extremely busy in the summer, so we arrived at 8:45 a.m.
If you're looking for a more relaxing time, both of these villages are beautiful and well worth a stroll around. Soak up the cute Swiss chalets and friendly local hospitality.
Where To Park
There are parking lots and campsites next to the cable car station and the walking path that takes you from Stechelberg to Mürren. We parked here for the day, but this is not a car park you can sleep in. We stayed the night before in the Park4Night donation spot by the river in Wilderswil and drove here early in the morning.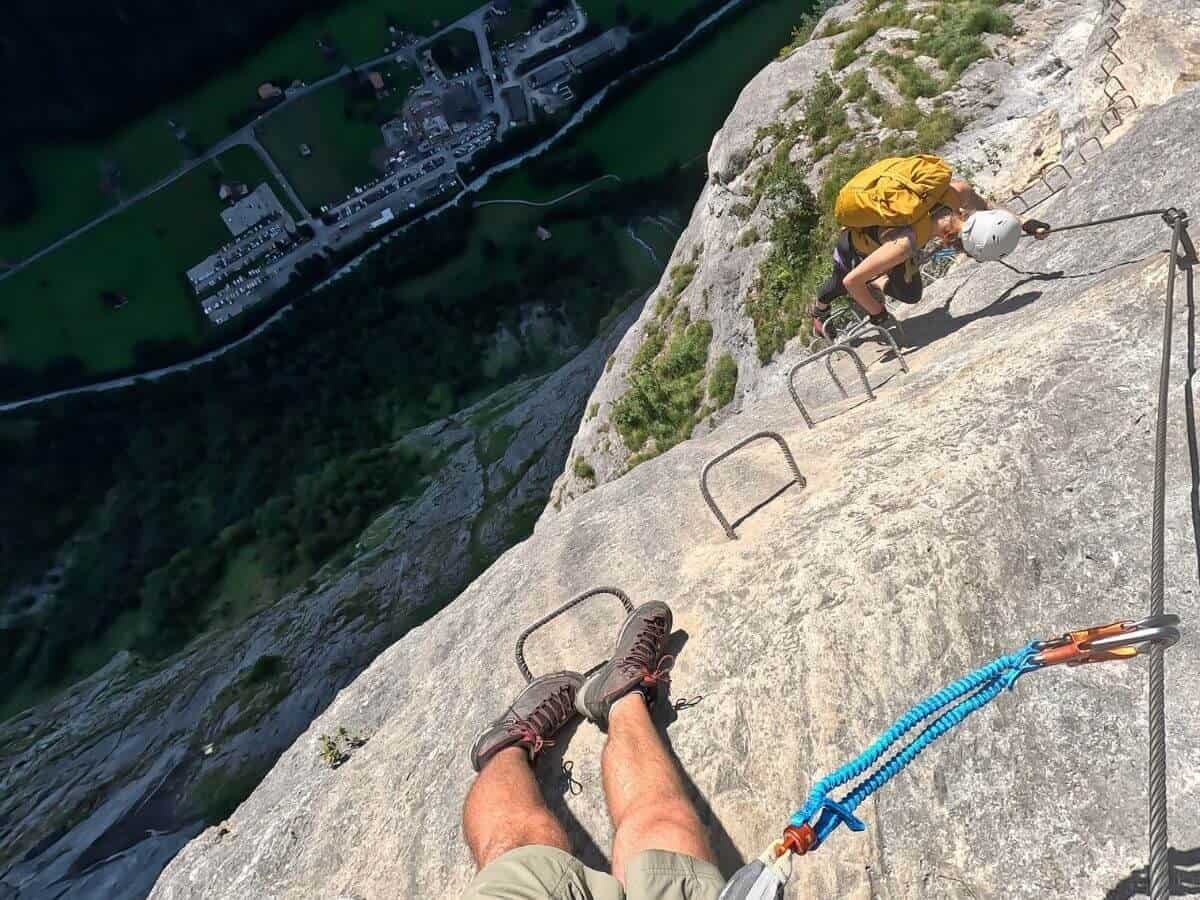 Zermatt
After living in Zermatt on and off for many years, we're always going to advise a visit to this stunning mountain village, no matter what time of year.
Zermatt is the superstar of the Swiss Alps. Picture this: You wake up in a cosy chalet, open the window and BAM! There's the mighty Matterhorn, looming over you with all its glory. Talk about a room with a view!
Zermatt is like the Hollywood of mountain towns. It's got the looks, the charm, and the fan following. But it's not just about the Matterhorn. Nope, there's a whole lot more to this place than meets the eye.
Did you know that Zermatt is a car-free zone? No noisy traffic, no honking horns, just peace and tranquillity. Instead, you've got electric taxis and horse-drawn carriages. How cool is that?
What To Do
Gornergrat offers panoramic views of the surrounding mountains and glaciers. Accessible by the Gornergrat Railway, which runs all year round.
Matterhorn Glacier Paradise is Europe's highest cable car station. Whether you're a skier, a hiker, or simply someone who loves a good view, this place is a must-visit and now a link to the Italian resort of Cervinia.
In the winter months, Zermatt is buzzing with all kinds of snowsports enthusiasts. In the summer it's teeming with hikers, bikers and climbers. Spring and autumn are great times to visit if you're looking for fewer crowds in this popular destination.
And when you're done with all the sightseeing, head over to Bahnhofstrasse. This bustling shopping street is where you can get your retail therapy. From high-end boutiques to quaint little souvenir shops, it's got everything you need.
Where To Park
With Zermatt being a car free village, the closest places to park are Täsch and Randa. Both villages offer a variety of options for long-term parking and campsites. Unfortunately, there are no free parkup options in this area.
The best value parking is Matterhorn Parking in Randa.
Leukerbad
​​Situated in the canton of Valais in the south of Switzerland, Leukerbad is perched at an impressive 1,411 m (4,629 ft) above sea level. It's tucked away in a cosy corner of the world, surrounded by breathtaking mountain scenery.
Leukerbad is famous for two things, its thermal baths and the longest via Ferrata in Switzerland.
What To Do
Via Ferrata Gemmi Daubenhorn – From up here, with nothing but 216 meters of ladders, you've got an eagle's eye view of Leukerbad and the surrounding Valais region. This K5 rated via Ferrata, is extremely difficult. The entire journey takes about 9 to 12 hours, depending on your pace.
The Thermal Baths are the largest thermal and wellness resort in the Alpine region. Imagine soaking in a warm thermal bath, sipping on a cold drink, and just letting all your worries melt away. Sounds heavenly, doesn't it?
The Leukerbad Torrent Ski Resort is a delightful combination of skiing and spa. You can spend your day swooshing down the slopes, and then unwind in a thermal bath. Talk about the perfect day!
You can also enjoy hiking, biking, and climbing in Leukerbad. Once you've worked up an appetite, head over to one of the local restaurants and indulge in some delicious Swiss cuisine.
Where To Park
With limited options in Leukerbad for campervans, we'd advise staying over at the Sportarena Campground.
Ticino
Nestled in the southernmost corner of Switzerland, Ticino is the only canton where Italian is the official language. It's a place where Swiss precision meets Italian flair and the result? "La Dolce Vita" at its finest.
Imagine sipping on a cup of perfectly brewed espresso in a quaint little cafe in Lugano, the region's largest city. You're watching the world go by, and everything feels…just right. That's the magic of Ticino.
But don't be fooled by its laid-back vibe. Ticino is also a haven for thrill-seekers.
And if you're a fan of water sports, Lake Lugano and Lake Maggiore have got you covered.
And let's not forget about the food. Ticino is a culinary paradise where Swiss classics meet Italian favourites. Think hearty polenta, creamy risotto, and of course, the famous Ticinese Merlot. It's like a symphony of flavours that'll make your taste buds dance with joy.
For movie buffs, if you time your trip right, you can also visit the Locarno Film Festival, which takes place every August.
What To Do
Hike in the rugged valleys of Verzasca and Maggia and head to the River Verzasca to cool off in its refreshing waters.
Explore the churches and monuments of Bellinzona's three Unesco protected castles. Take a cable car ride up to Monte Tamaro for some spectacular views. And kayak or paddleboard on Lake Maggiore or Lake Lugano.
Eat Like A Local and sample some delicious regional wines, cheeses, and cured meats.
Where To Park
There are lots of campsites and free parkups dotted around Ticino, especially in the Locarno area. Use your parking apps for the most up to date information on what's currently available.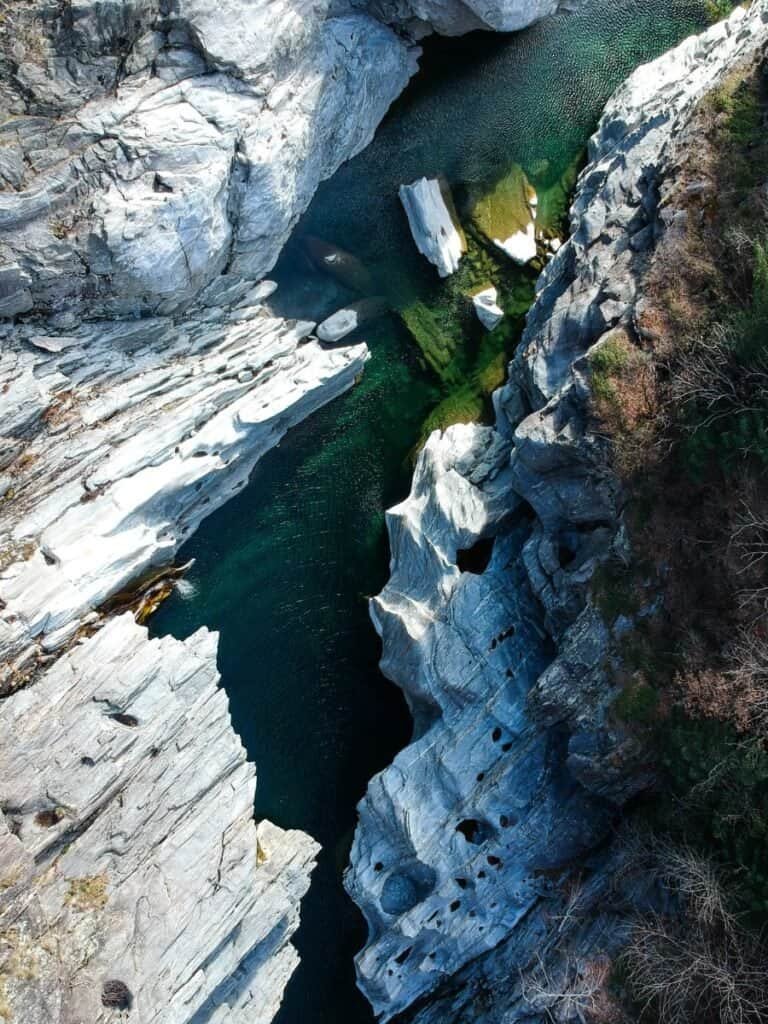 Süstenpass
The Susten Pass, or "Süstenpass" as the locals call it, stands tall at 2,264 meters (or about 7,428 feet for those who prefer 'feet' over 'meters'). It's nestled right on the boundary between the Uri and Bern cantons of Switzerland. This high mountain pass is part of what's known as the "Big 3," alongside Furka and Grimsel passes.
The road was built from 1938 to 1945, and it connects Innertkirchen in the canton of Bern with Wassen in the canton of Uri. And fun fact? During the war years of 1798 and 1799, the Susten Pass was used as an approach route by the French to trap the Austrians and later the Russians.
From the top of Susten Pass, you can see the Reuss Valley at the foot of the Gotthard Mountain and the Hasli Valley in the Bernese Oberland. This is a scenic drive and a popular one, you'll be sharing the road with motorbikes, sports cars and fellow campers.
Just one word of caution though. The pass is usually closed due to heavy snowfalls from November until the second week of June. So, plan your trip accordingly.
What To Do
Enjoy The Drive around this incredibly scenic mountain pass.
Stargaze from a high vantage point, with an incredible alpine backdrop.
Via Ferrata Tierbergli is a stunning route that offers incredible views of the surrounding glacier.
Where To Park
There are plenty of paid and free overnight parking places at the top of and along the Süstenpass. We parked in a layby on the way down the Süstenpass. If you plan to do the via Ferrata Tierbergli, you have to pay an entrance fee of 20chf to access the car parks.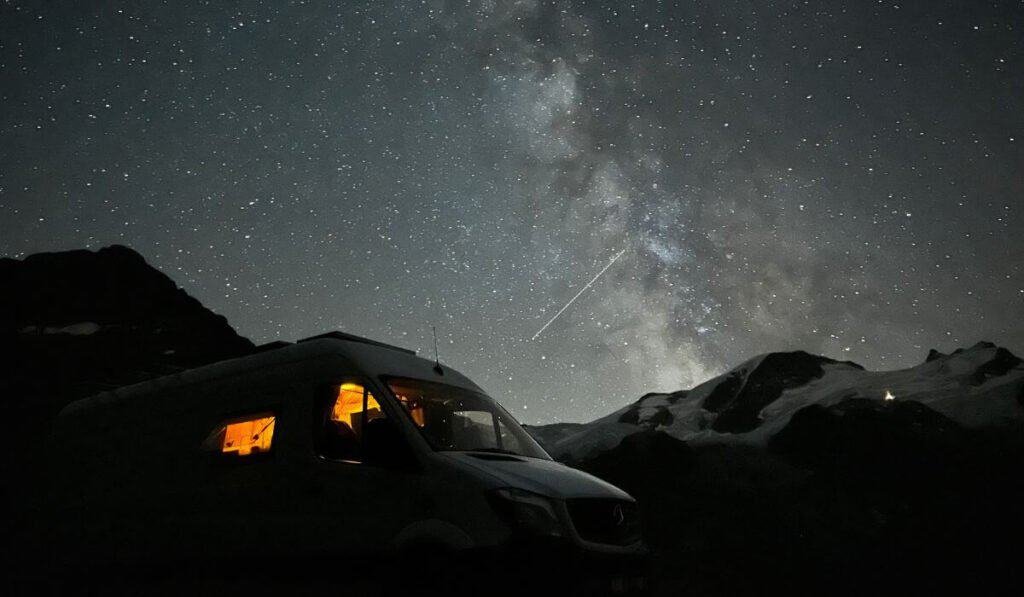 Where To Hire A Campervan or Motorhome In Switzerland
If you're planning to hire a camper for your trip, there is a huge variety of vans and companies to choose from in Switzerland.
First up is Yescapa. These guys have more than 15,000 RVs available for rent. Whether you fancy a motorhome, campervan, or converted van, they've got you covered.
Next, we have Roadsurfer. They're located near the Swiss border, so you can just hop over, pick up your campervan, and start your extraordinary outdoor adventure.
Indie Campers are also worth checking out. They offer 24/7 assistance, insurance, and 100 miles per night. Plus, they promise the best deals on campervan and RV rentals across Switzerland.
Auto Europe also offers motorhome rentals in Switzerland. You can book online or give them a call.
Last but definitely not least, check out Motorvana. These folks are RV rental specialists.
How Long Does It Take To Drive Around Switzerland?
Well, if you're the type who likes to zip from point A to B, driving lengthwise across Switzerland can take about 6 hours, and from top to bottom about 4 hours. This is, of course, assuming it's regular traffic and not taking into account any mountain roads.
But let's face it, who wants to rush through such a beautiful country? If you've got the time, why not turn this into an epic road trip? We recommend a minimum of 3 weeks to fully appreciate the beauty of Switzerland.
If that sounds a bit too long, don't worry! The Grand Tour of Switzerland, a popular route that showcases the best of the country, can be completed in seven days with at least five hours driving each day. Of course, if you want to take your time and savour the experience, you could stretch it out to 10 or 14 days.
So, whether you're planning a quick dash across the country or a leisurely tour, the choice is yours. Just remember to enjoy the journey as much as the destination. After all, in a place as beautiful as Switzerland, it's all about the ride!
Vanlife Switzerland Tips
Each country comes with its own specific rules of the road and Switzerland is no different. Here are some of the unique things you need to know about when driving in Switzerland.
Vignette
A vignette is required to drive on motorways, this is essentially the Swiss equivalent of toll roads. A vignette lasts from when you buy it until the end of January the following year. They are generally different colours each year and have the number of the year on them.
There are additional fees to use certain roads, tunnels and car trains, but the vignette covers most of the main highways. They cost 40chf for vehicles 3.5 tonnes and under. If you choose to drive back roads only and are under 3.5 tonnes, you don't need a vignette.
For vehicles over 3.5 tonnes, you need to download the VIA app to pay the heavy vehicle charge.
Driving
The Swiss drive on the right side of the road. The roads are well-maintained, the views are stunning, and the signage is clear.
However, like any other country, it has its own rules and regulations. So, if you don't want to end up paying hefty fines, keep an eye on your speedometer. Swiss traffic police don't mess around when it comes to speeding.
Some nationalities may require an International Drivers Permit to drive on Swiss roads. If you're an international jet-setter living abroad and your license doesn't show the vehicle categories in Latin characters (you know, the ones we use in English and most European languages), you're going to need an international license to drive in Switzerland.
You will also require an IDP if you have a paper licence or one issued in Gibraltar, Guernsey, Jersey or the Isle of Man (I feel personally attacked). 🇮🇲
Documents
Make sure you have the following documents:
A valid driving licence.
Motorhome Insurance documents that cover you for driving in Europe.
A green card, which comes from your insurer and is valid in 47 countries.
Breakdown cover.
A Passport that is valid for at least 3 months after the day you plan to leave the country (or identity card).
Your vehicle V5 logbook – which must show your current address.
An International Driving Permit (if required).
Your personal travel insurance docs.
The vehicle must have up to date tax and MOT.
Trailer certification (if necessary).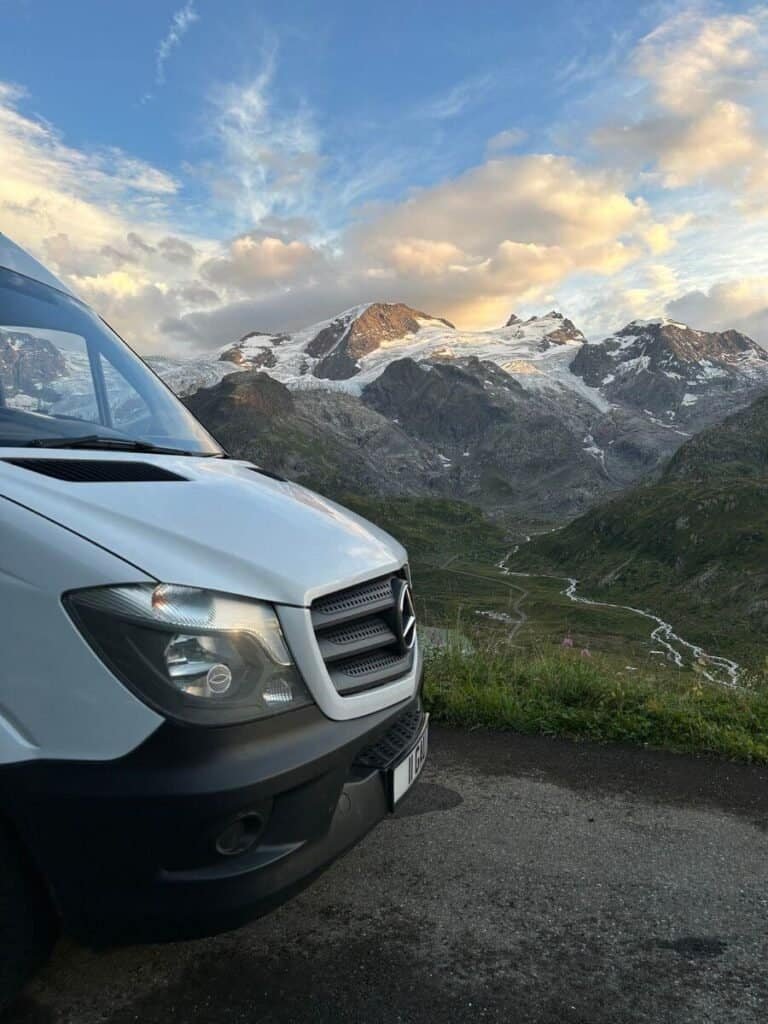 Safety Gear
If you are in a British vehicle remember to swap out your old GB/EU car sticker for a UK one. You will also need to add headlight beam converter stickers to your lights to avoid dazzling other road users.
If you're braving vanlife in Switzerland during winter, there are two things you're going to need – snow chains and winter or all-season tyres. Swiss roads can get as slippery as a banana peel on a wet floor, and without these items, your motorhome might just decide to take a detour into a snowy ditch.
So, make sure your snow chains fit your vehicle like Cinderella's glass slipper. Signs saying 'Ketten obligatorisch' means 'Chains obligatory.' When you see this sign, it's time to pull over and attach your snow chains.
You need to carry a warning triangle and a spare wheel or if your bolts are anything like ours, there's no chance of changing it by hand, so have a repair kit and have the breakdown number handy.
If you wear glasses, you must carry a spare pair and two-wheel riders require a helmet.
Apps
Our most used apps for vanlife in Switzerland are:
Vanlife Switzerland Useful Information
Emergency Number: 144
Currency: Swiss Franc (CHF)
Languages: German, French, Italian, Romansh & English
Switzerland Authorities: https://www.ch.ch/en/
Time Zone: GMT+1
The Wrap-Up: Vanlife Switzerland
Well, my adventurous amigos, we've reached the end of our Swiss vanlife journey. I know, I know, it's as heartbreaking as the last bite of a Swiss chocolate bar. But, don't worry! The adventure doesn't have to end here. After all, Switzerland is always just a daydream (or flight) away.
So, what have we learned from this wild ride? First off, driving in Switzerland is like navigating through a real-life postcard. It's all breathtaking views and smooth roads, with a side of strict speed limits. And let's not forget about those parking rules. Remember, wild camping might sound fun, but it's a big no-no in Switzerland. Stick to those designated spots.
And of course, we can't ignore the all-important winter driving tips. Snow chains and winter tyres are as essential as yodelling at a Swiss music festival. Without them, you're just another tourist stuck in the snow. So, remember: 'Ketten obligatorisch' isn't just a fancy German phrase, it's a lifesaver!
But above all, vanlife in Switzerland is about embracing the unexpected. It's about waking up to a new view every morning, meeting new people, and discovering the beauty of a country that's so much more than just chocolates and watches.
So, grab your map, pack your bags, and get ready to hit the road. Because in the end, it's not about the destination, it's about the journey. And trust me, the journey through Switzerland is one you won't want to miss. Now, who's up for some fondue?
Check out some of our other Vanlife guides: