Thinking About An Isle Of Skye Road Trip?
We've got all of the planning info and the 17 best things to do in 2023!
Adorned with a rugged coastline, teaming with wildlife and home to the Cuillin Range, it's no wonder the Isle of Skye is one of Scotland's biggest tourist destinations. Whether in a car or a camper, the best way to explore the Isle of Skye is on a road trip.
Being raised on the Isle of Man where we believe in fairies, giants and Celtic gods, I easily get caught up in folklore and fairytales. I've never come across a better place to feel smack bang in the middle of a fantasy than the Isle of Skye.
The Island is the only one of Scotland's 900+ Isles to be connected by a bridge, making it also the most accessible. Skye is located on the West coast of Scotland and is the largest island in the Inner Hebrides at 50 miles long. With burning sunsets, crashing waterfalls and home to 12 Munros within the Cuillin Range, the Isle of Skye is an adventurer's paradise.
The name Isle of Skye or an t-Eilean Sgiathanach in Gaelic, comes from the old Norse sky-a, meaning 'cloud island', a Viking reference to the mist-coated Cuillin Hills.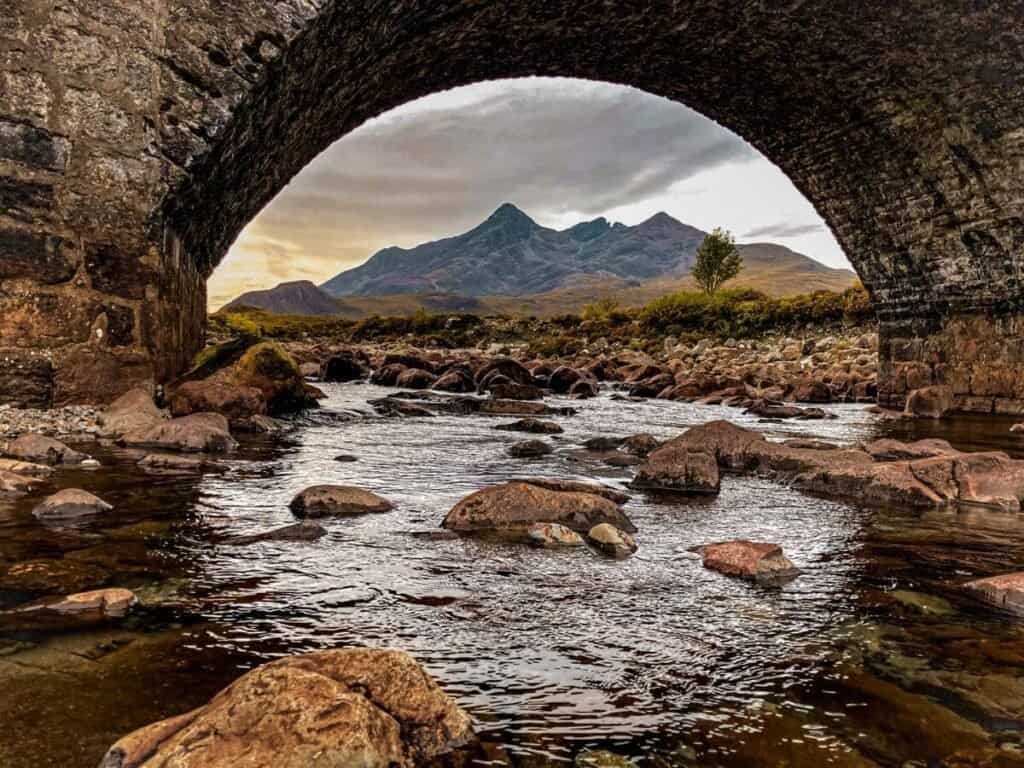 Isle of Skye Facts
Population: 10,008
Island Size: 639 sq mi
Capital City: Portree
Isle Of Skye Road Trip | 17 Best Things To Do In 2023
If you're planning an itinerary for the Isle of Skye, here are the 17 best things to do in 2023 to add to your planner:
1. Wildlife Spotting At Loch Dunvegan
Loch Dunvegan is a captivating sea loch nestled on the west coast of the Isle of Skye. This tranquil body of water is a haven for nature enthusiasts. Loch Dunvegan is home to a colony of around 500 seals, so if wildlife spotting is high on your list, this is one of the best things to do on the Isle of Skye.
As keen new owners of an inflatable kayak, we were eager to get into the water at any opportunity. Loch Dunvegan is a stunning location for a kayak, a wild swim or a wander around the shores.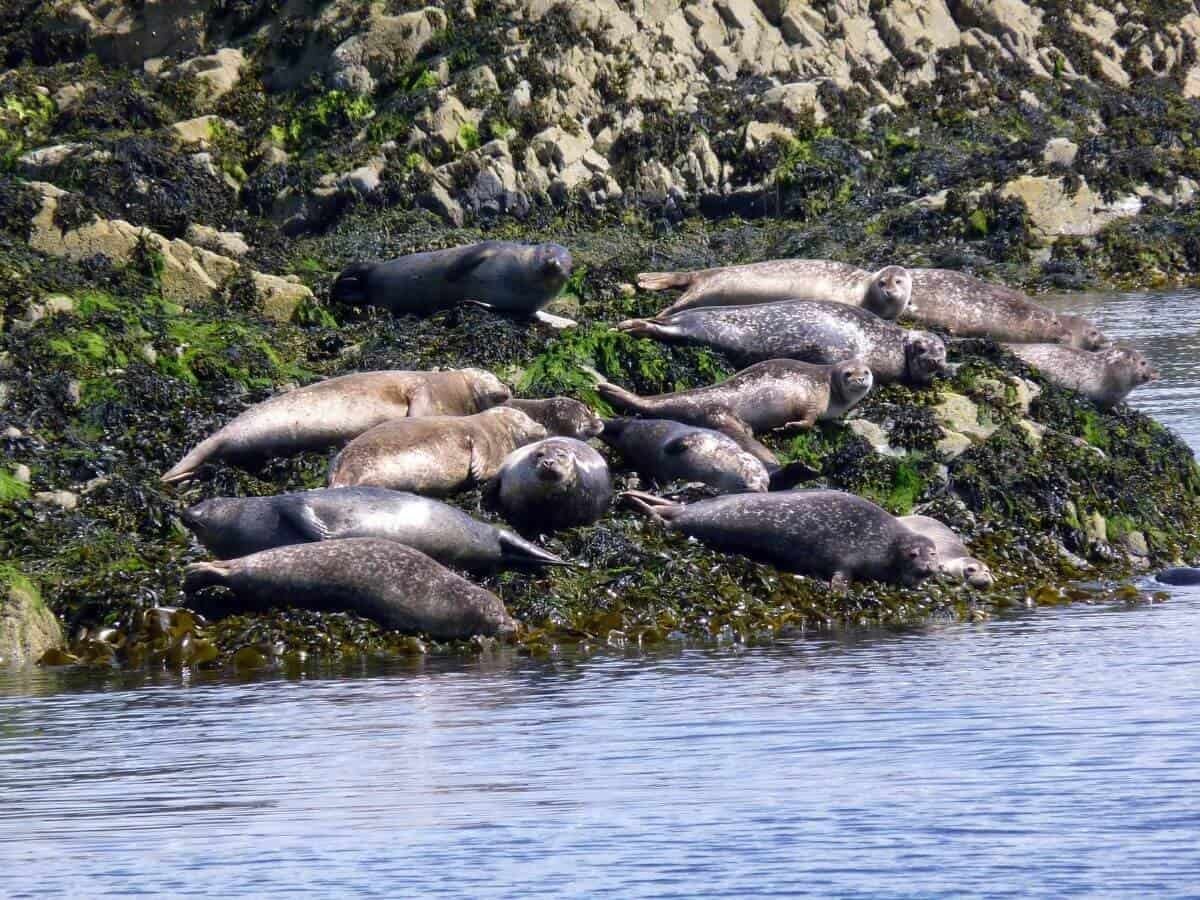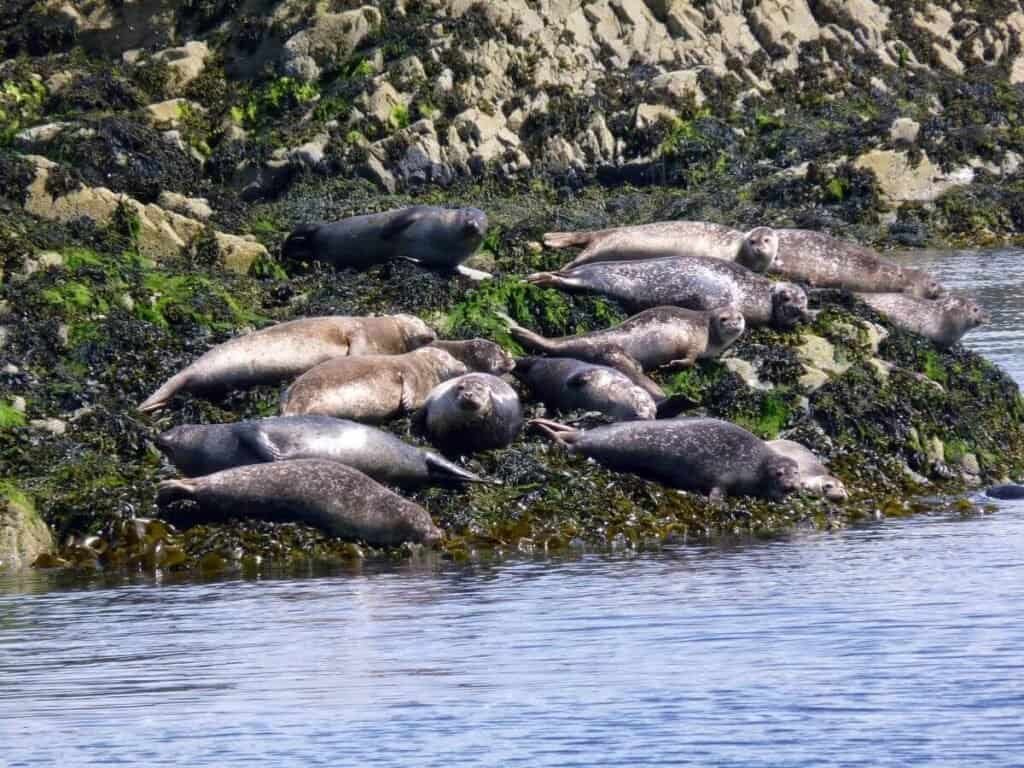 2. Visit Dunvegan Castle
Perched on a rocky outcrop, overlooking the serene waters of Loch Dunvegan, stands Dunvegan Castle, the oldest continuously inhabited castle in Scotland. It's been the ancestral home of the Clan MacLeod for over 800 years – talk about a family heirloom!
This castle isn't just old, it's got stories to tell. Imagine the secrets those ancient walls could spill if they could talk! With a history spanning centuries of construction, demolition, and rebuilding, this place is a living testament to the resilience of the MacLeods.
Nestled in the heart of the 42,000-acre MacLeod Estate on the Isle of Skye, the castle and its gardens are a must-see. The gardens are beautifully maintained acres of lush greenery that will make any nature lover swoon. And the views? Breathtaking doesn't even begin to cover it.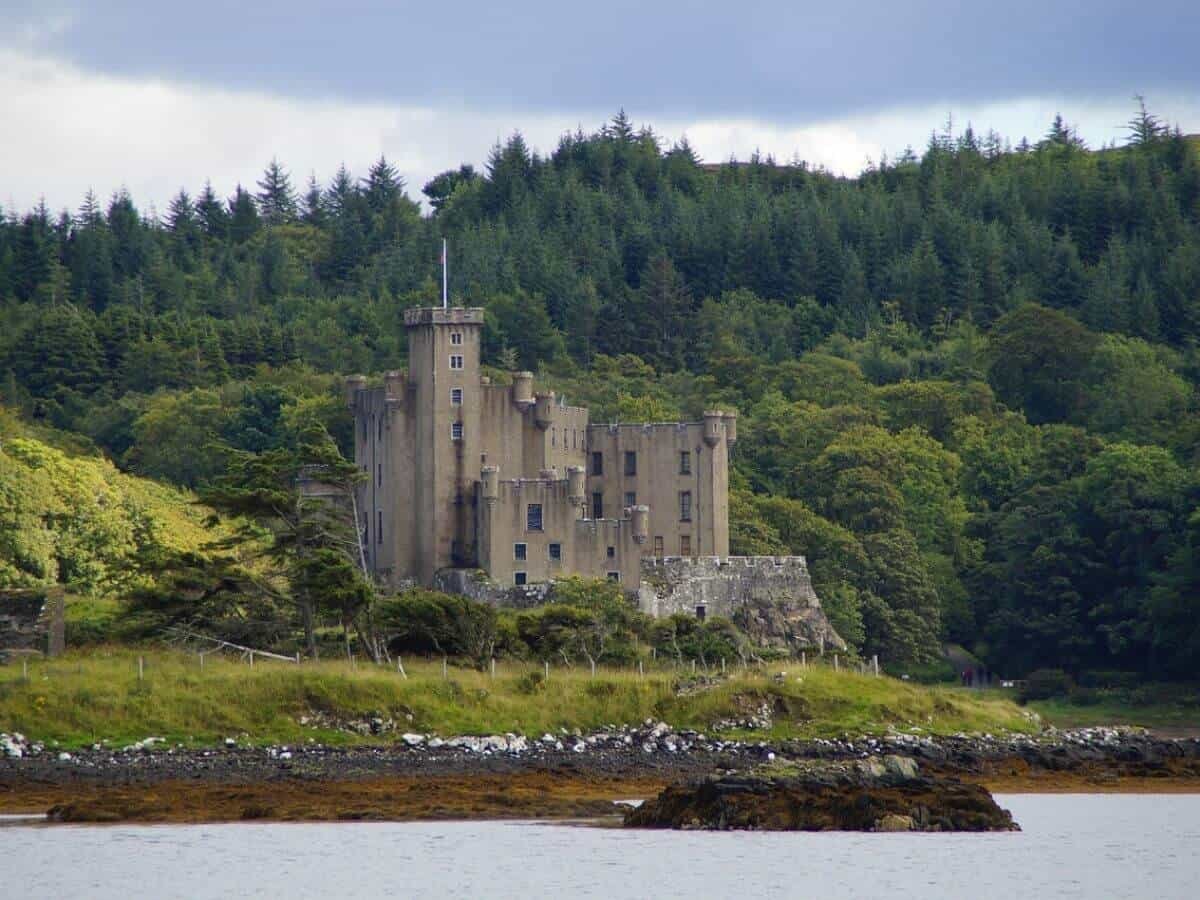 3. Get Enchanted At The Fairy Glen
Entering the Fairy Glen is like entering a fantasy land, a landscape so whimsical and peculiar, you'd think you've stepped into another world. I felt like my dr martens and leather jacket were very out of place here and that I should have been wearing a floaty fairytale dress. No joke, this is a real life Disney movie.
Located in the hills above the quaint village of Uig, the Fairy Glen is a geological wonder that stands out from the surrounding farmland. Wander around this fairytale land as long as possible. Soaking in the magic of the Fairy Glen is definitely one of the best things to do on the Isle of Skye.
There is free overnight parking and a great grass pitch off the road with tree cover, this is a great place to wild camp for the night. That way you can catch the glen at both sunset and sunrise.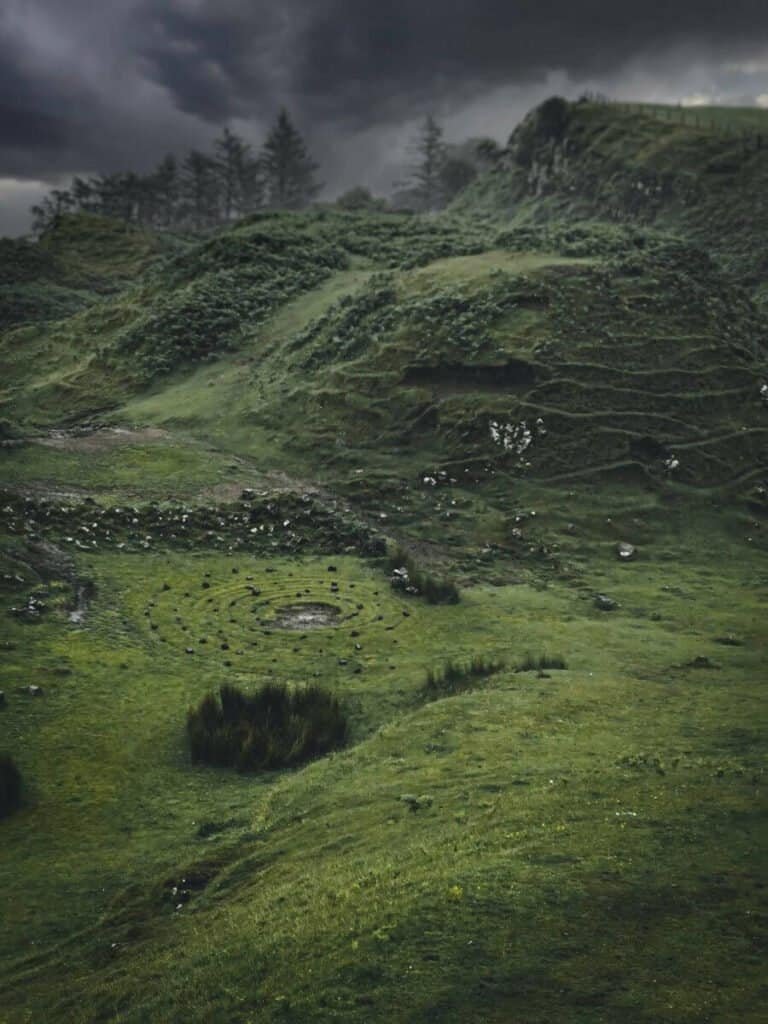 4. Watch A Sunset At Neist Point
Neist Point Lighthouse is perched on the most westerly tip of the Isle of Skye, near the township of Glendale. It's one of the most famous lighthouses in Scotland and for good reason.
Designed by David Alan Stevenson, the lighthouse was first lit in 1909 and has been guiding ships ever since. Its light, equivalent to a staggering 480,000 candles, can be seen from up to 24 miles away. Talk about a bright idea!
The journey to the lighthouse is just as impressive as the destination. A scenic clifftop walk leads you there, offering panoramic views of the sea and cliffs.
At the car park the path to the left takes you to the lighthouse, but head right to get the best view of the cliff face. Remember to bring your camera because the lighthouse provides a stunning backdrop for photos, especially during sunset.
The area is regarded as the best place on Skye to see whales, dolphins, porpoises, and basking sharks. So keep your eyes peeled for these underwater residents. This was definitely one of our favourite things to do on Skye.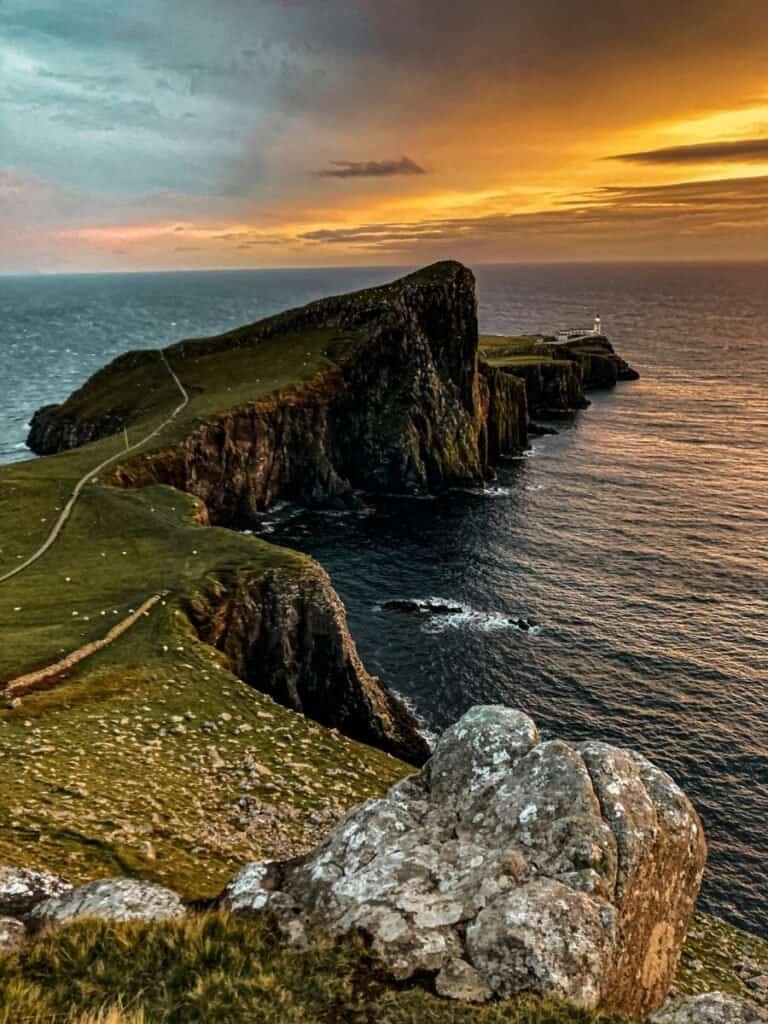 Isle Of Skye Road Trip | 17 Best Things To Do In 2023
5. Take A Dip In The Fairy Pools
As the most popular tourist destination on Skye, the Fairy Pools won't be short of humans, and I can see why. This magical place made me want to strip off in the freezing temperatures and swim. The only problem? We didn't bring wetsuits and didn't fancy our chances against the cold.
The Fairy Pools are a natural waterfall phenomenon in Glen Brittle, an enchanting location at the foot of the Black Cuillins. They're a series of crystal clear blue pools on the River Brittle, which have become famous for their ethereal beauty.
The pools are a vivid aqua blue and are fed by a series of waterfalls, each more picturesque than the last. It's like stepping into a fairy tale – hence the name, Fairy Pools.
💡Top Tip: If you want to beat the crowds I suggest visiting the pools at sunrise or sunset. The light during these times also paints the landscape in hues that are simply out of this world.
6. Stomp Through Glen Sligachan
This rugged glen runs from sea to sea, dividing the Red Cuillin from the Black Cuillin mountains. It's a deep gash between two of Skye's most majestic mountain ranges. It's also home to some of the top walks in the United Kingdom, with many considering it one of the world's best hikes, treks, and climbs.
The Elgol to Sligachan trail spans a whopping 22.8 miles and takes an average of 9 hours and 32 minutes to complete. So, make sure to pack plenty of water and snacks! The route is considered challenging, but the stunning views of the surrounding landscape are more than worth the effort.
Don't forget to check out the small lochs peppered around the glen. They're perfect for a refreshing dip after a long trek. And if you're lucky, you might even spot some local wildlife along the way.
Located nearby is Sligachan, a small settlement that provides a fantastic viewpoint for seeing the Cuillin mountains. This is also where you can see the Sligachan bridge that graces many postcards and canvases.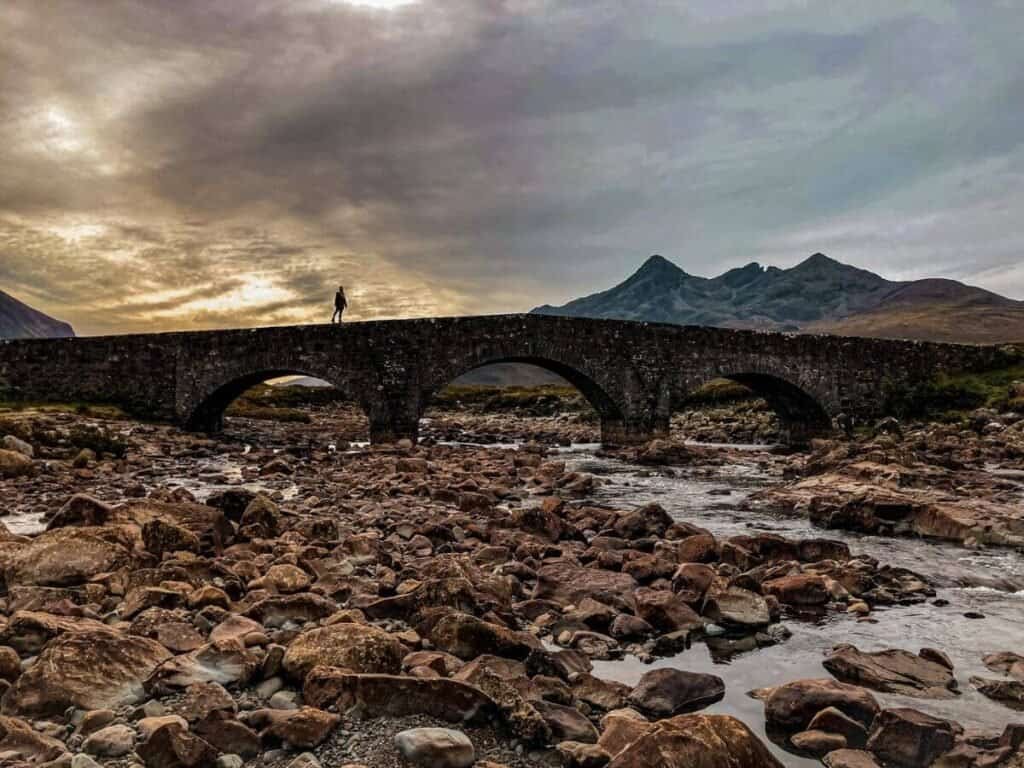 7. Visit The Cuillin Mountains
The Cuillin Range is a mountaineer's dream and a photographer's paradise! It's divided into two main sections: the Black Cuillin and the Red Cuillin, each with its own unique character.
The Black Cuillin is known for its dark, jagged peaks which are mainly composed of basalt and gabbro, hence their dark colour. This section of the range contains 11 Munros (Scottish mountains over 3,000 feet) and is often considered the most challenging mountain range in the UK.
The Red Cuillin, on the other hand, are gentler in appearance. They're formed of red granite and are rounded, offering less demanding climbs but equally stunning views. The Cuillin Mountains are the best thing to do on Skye for adventure lovers.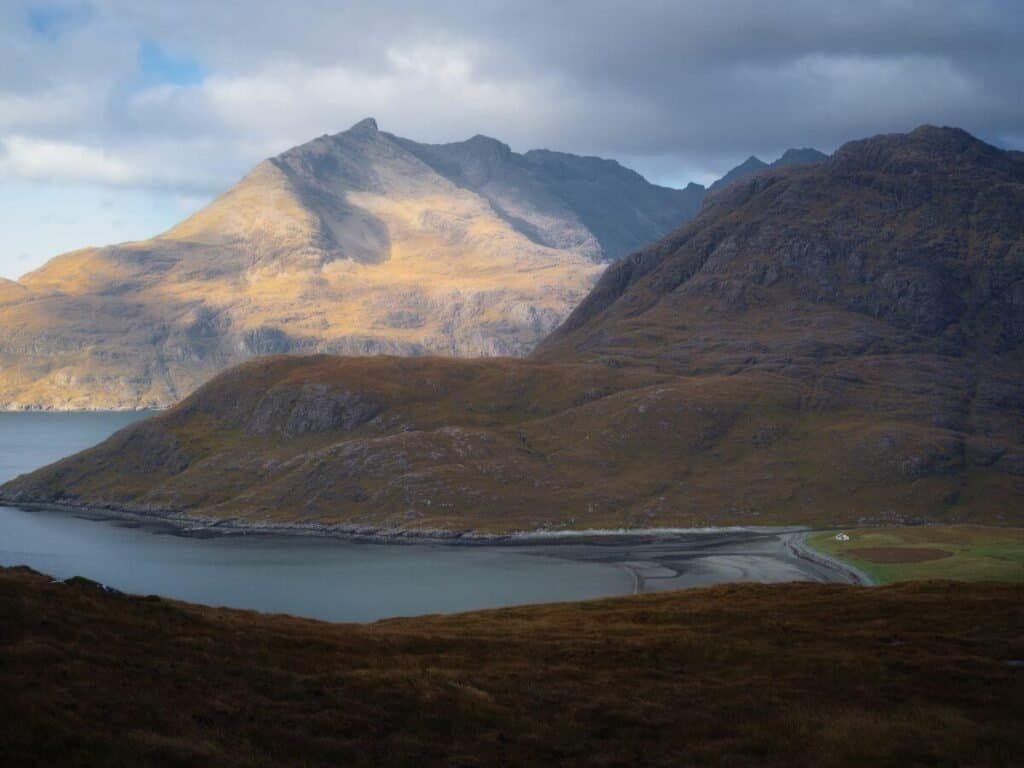 8. Enjoy The Beach And Fishing Port Of Elgol
Elgol is located on the shores of Loch Scavaig on the south coast of the Isle of Skye. This small, scattered settlement is renowned for its dramatic and panoramic views across the Cuillin Range. From here, you can see the mountains sweep around from the Isle of Rum to take in the main Cuillin Ridge and Bla Bheinn.
Elgol is also home to Spar Cave, a spectacular limestone cave accessible only at low tide. The cave is a natural wonder, with its stalactites, stalagmites, and marble-like flowstones. From here you can enjoy the boat trip to Loch Coruisk in the heart of the Cuillins. The boat ride offers a fantastic opportunity to enjoy the spectacular coastal scenery and wildlife such as seals, dolphins, and occasionally, eagles.
Accommodation options in Elgol range from cosy bed and breakfasts to self-catering cottages. There's also a local shop and a cafe where you can grab a bite and enjoy the tranquil surroundings.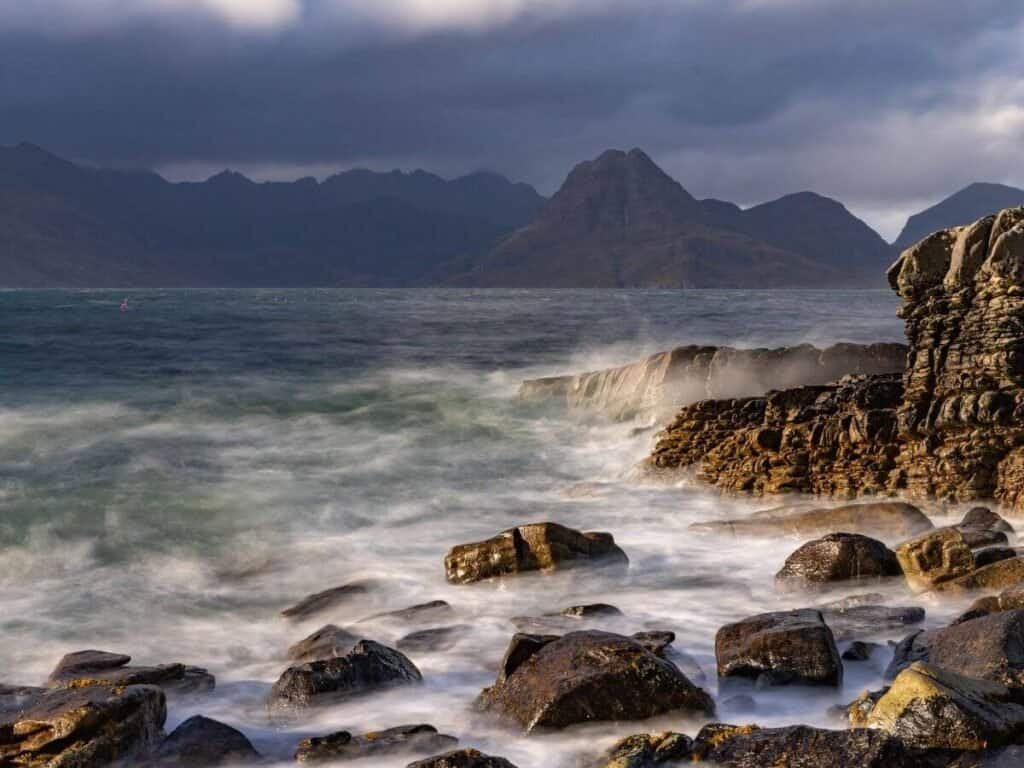 9. Experience Loch Coruisk
Loch Coruisk is an inland fresh-water loch that's beautifully cradled at the foot of the Black Cuillin mountains. The name Coruisk pronounced roughly "Korüschk", is a form of the Gaelic Corrie Uisg, meaning "the glen of water".
This breathtaking loch measures about 2.5 kilometres in length but only about 400 metres at its widest point. But don't let its size fool you, it's got a big character. The water is deep and inky blue, and the mountains cast shadowy figures that add to its atmospheric charm.
Getting to Loch Coruisk is an adventure in itself. It can be accessed via a long walk from Sligachan, or from Kilmarie or Elgol via the notorious 'bad step'. All these routes are long walks in remote terrain, making it a paradise for hikers.
Alternatively, you can reach the loch by boat from Elgol.
Keep a close eye on the weather and pack appropriate gear, even if not forecast the weather can change rapidly and dramatically in this area. This was one of my favourite parts of the trip and probably more so because we had packed ponchos and wellies, in anticipation of what the looming grey skies had in store for us.
Even when the skies opened and the rain came, we had so much fun walking into the loch for pictures and jumping in puddles. We learnt quickly that in Scotland wellies and waterproofs are always good to have to hand.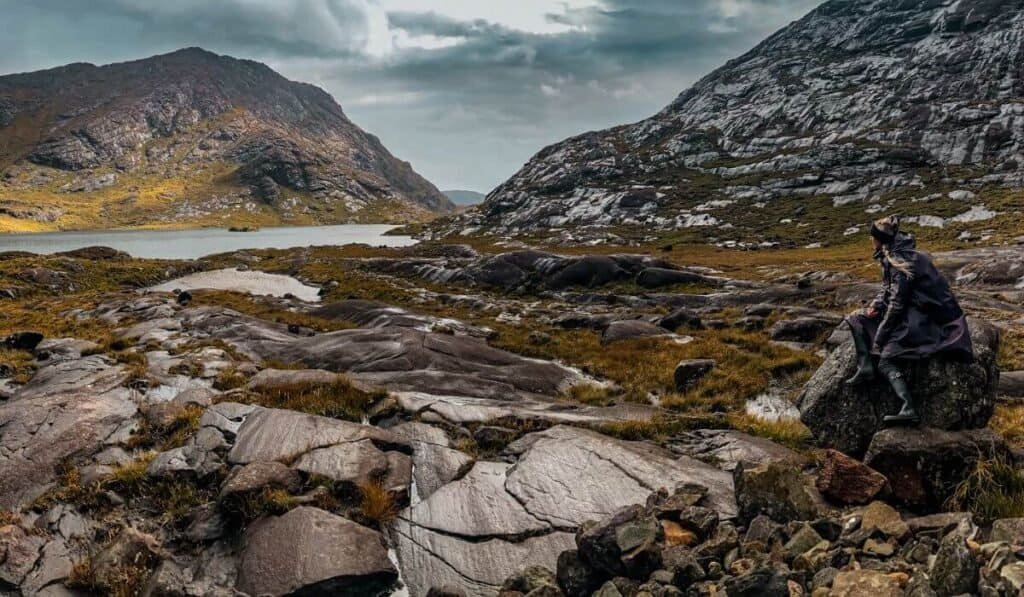 Isle Of Skye Road Trip | 17 Best Things To Do In 2023
10. Wander Around The Quiraing
Quiraing is a landslip on the eastern face of Meall na Suiramach, the northernmost summit of the Trotternish. It's part of the Trotternish Ridge, which was formed by a series of landslips creating high cliffs, hidden plateaus and pinnacles of rock, it's an absolute dream for photographers.
The name Quiraing comes from Old Norse "Kví Rand", which means "Round Fold". They used this 'round fold' in the landscape to hide cattle from Viking raiders. Nowadays, the only invaders are captivated tourists from around the world.
The Quiraing walk loop from the carpark covers a distance of 6.8km, with the average time to complete the walk being 2 hours. The route is reasonably challenging, but the panoramic views of the Skye landscape are well worth the effort.
As you wander through its rugged terrain, you'll encounter unusual landforms such as The Table, an elevated plateau hidden amongst the pillars, and The Needle, a jagged 120-foot high landmark that points majestically towards the sky.
11. Be In Awe At The Old Man of Storr
The Old Man of Storr is a large, iconic rock pinnacle that stands high and proud on the Trotternish Ridge. The 'Old Man' is a 55-meter tall pillar of rock that has been weathered over centuries into its distinctive shape.
This area is not only famous for its breathtaking views but also for its rich folklore. One legend says that the Old Man represents a giant who lived in Trotternish. When he was buried, his thumb remained above the ground, forming the famous rocky landscape.
The Old Man of Storr offers a popular 3.8km walking route with dramatic scenery along the way and is well worth the effort. As you ascend, you'll be rewarded with stunning views of the surrounding seascape and landscape. On a clear day, you can see as far as the Scottish mainland.
I love the outdoors, but I'm also very much a fair weather person. Growing up on an Island in the middle of the Irish Sea, that gets battered with wind and sideways rain, the type that hits you in the face from all directions, the type that renders umbrellas useless. It has made me avoid this weather at all costs as an adult.
But when we went to Storr I had planned some typically Scottish moody shots, for which I needed a typically Scottish gloomy sky. I've never been so disappointed to see blue skies before. But blue skies or moody skies, Storr is another magical location on the Isle of Skye.
12. Wander The Streets Of Portree
Portree is a charming harbour town, nestled amidst rolling hills and facing out onto a sparkling bay. The harbour is a constant hive of activity, with fishing boats bobbing up and down, and pleasure craft setting sail to explore the surrounding waters.
One of Portree's most notable features is its brightly painted houses that line the harbour. They add a splash of colour that contrasts beautifully with the green landscape and the blue waters.
Portree is also a thriving cultural centre. It's home to Aros, a popular visitor attraction that hosts a variety of film, music, theatre, dance, and comedy events.
If you're a foodie, you're in for a treat! Portree offers a range of dining options, from traditional Scottish cuisine to international fare. And of course, being a port town, the seafood is a must-try.
The town serves as a great base for exploring the rest of the island.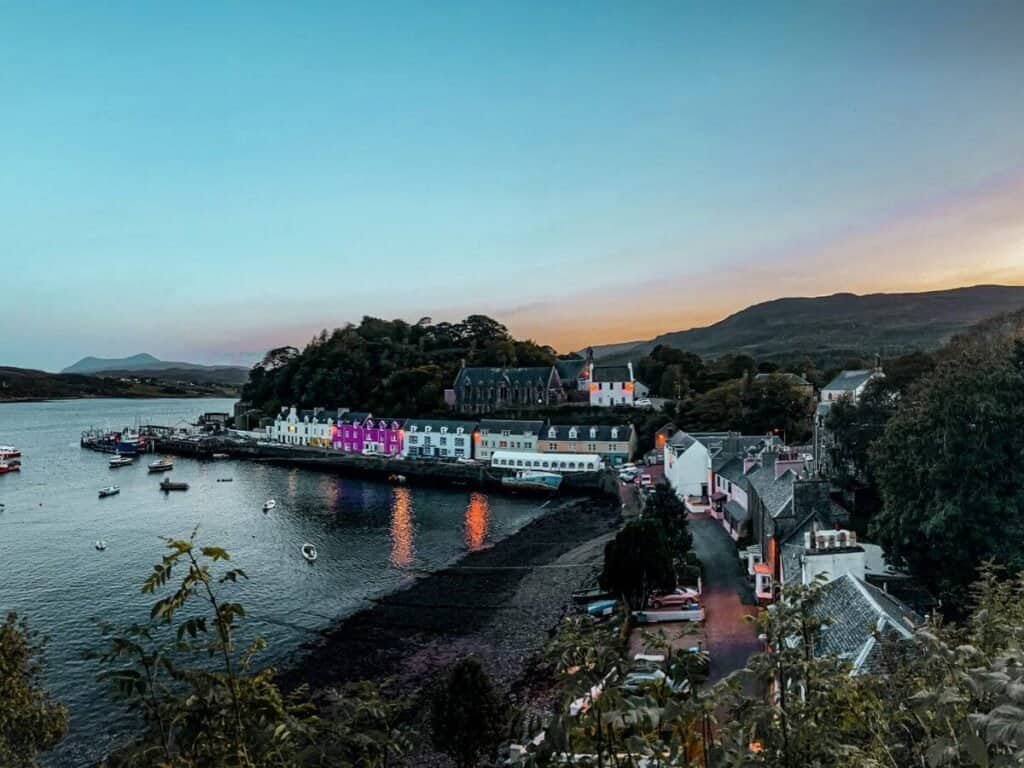 13. Kilt Rock & Mealt Falls
Kilt Rock, named for its striking resemblance to a pleated kilt, is made up of vertical basalt columns resting on a bed of sandstone. This gives it the appearance of the pleats in a kilt, with the different colours of the rocks contributing to the illusion.
Just north of Kilt Rock, you'll find the dramatic Mealt Falls. Loch Mealt feeds this waterfall and free-falls a whopping 55 meters into the sea below. On a windy day, the water seems to hang in the air, creating an entrancing spectacle.
One of the best ways to take in the beauty of these natural features is via the Kilt Rock and Mealt Waterfall Circular, a 0.2-mile loop trail near Grealin, Highlands. It's an easy route and takes an average of 5 minutes to complete.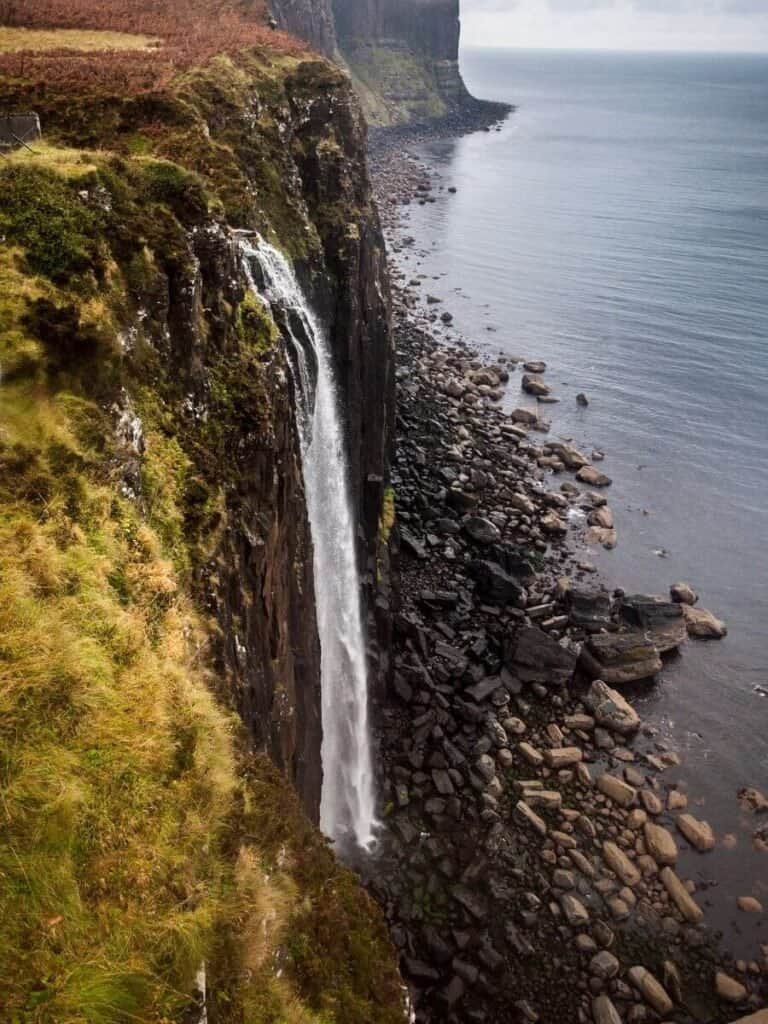 14. Go On A Kayaking Adventure
While kayaking, you can explore Skye's varied 350-mile coastline, which offers sheltered bays, mysterious lochs, enchanting islands, towering cliffs, and dramatic sea caves. Skye is also home to a wide variety of marine wildlife including seals, otters, dolphins, and numerous bird species.
Safety is paramount when sea kayaking. Always check weather conditions before setting out, and make sure you have the necessary safety equipment. If you're not an experienced kayaker, consider booking a guided tour.
You don't need a license to kayak in Scotland. However, if you live in Scotland and paddle regularly, you can join the Scottish Canoe Association for various benefits including liability insurance.
If you're not ready to tackle the rugged coastline, Skye offers plenty of lochs for you to launch a traditional or inflatable kayak
Best Kayak Experiences
South Skye Sea Kayak: They offer guided sea kayaking trips, coaching, and multi-day expeditions around the dramatic coastlines of Skye, Lochalsh, and the West Highlands.
Sea to Skye Xperience: This outdoor adventure company provides guided sea kayaking experiences along the coastlines of Skye and the North West Highlands of Scotland.
Skye Adventure: Offer a variety of sea kayaking trips around the Isle of Skye, tailored to your skill level and interests.
Otter Lodge: Located in Broadford Bay, it offers easy access to around 500 miles of Skye's coastline for kayaking adventures.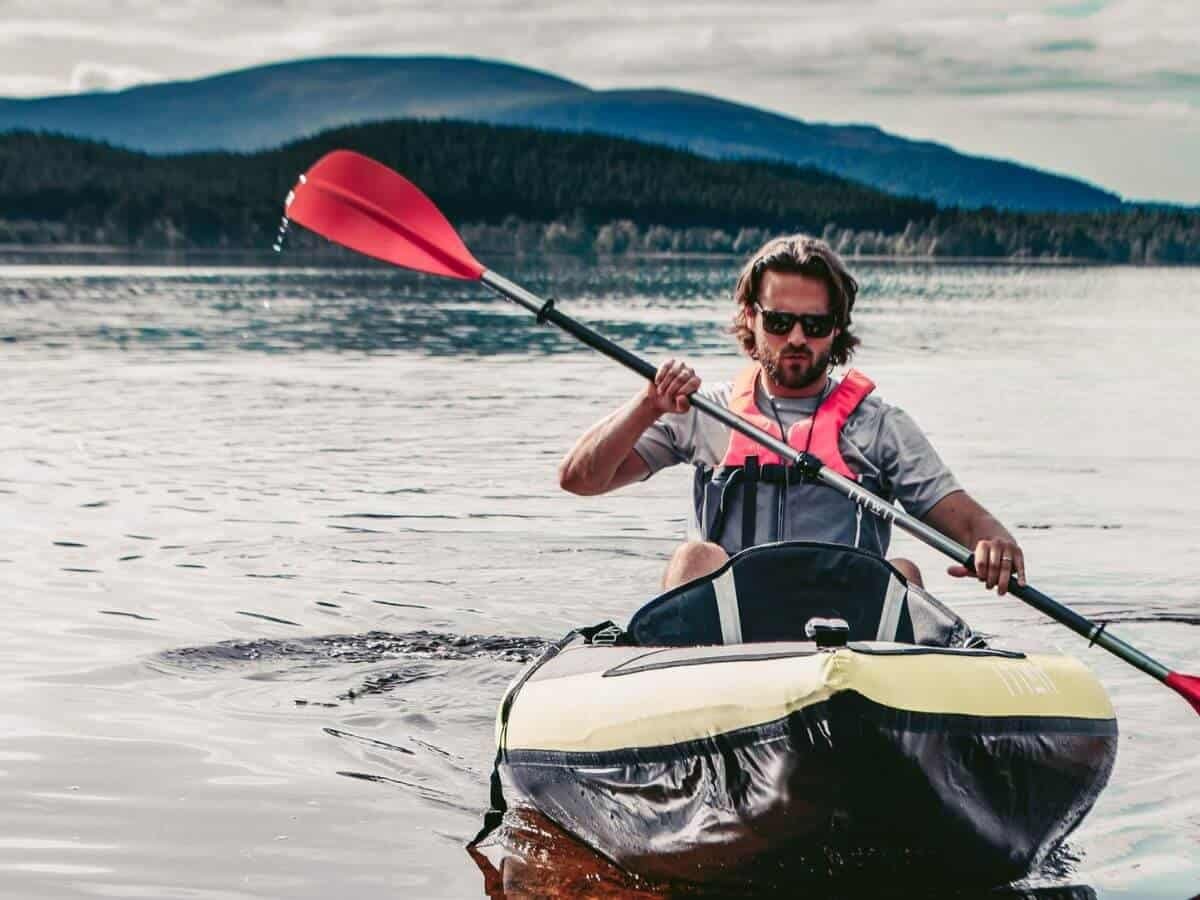 Isle Of Skye Road Trip | 17 Best Things To Do In 2023
15. Visit A Whisky Distillery
The Isle of Skye is a haven for whisky lovers. Visiting distilleries can be a great way to immerse yourself in the local culture, learn more about the whisky-making process, and of course, sample some excellent spirits!
Here are some notable distilleries on the island:
Talisker Distillery: As the oldest working distillery on the Isle of Skye, Talisker offers a unique opportunity to witness the crafting of whisky that carries the taste of the sea. It's set on the shores of Loch Harport with dramatic views of the Cuillins.
Torabhaig Distillery: The newest distillery on the island, Torabhaig offers a different perspective on Skye whisky. Their expressions are shaped by Skye as much as by the distillers themselves.
Isle of Skye Distillers: Located in Portree, they produce Misty Isle Gin using local botanicals, but they also have plans to make whisky.
Praban na Linne – The Gaelic Whiskies: While not a distillery, this company based on Skye produces a range of blended whiskies and liqueurs.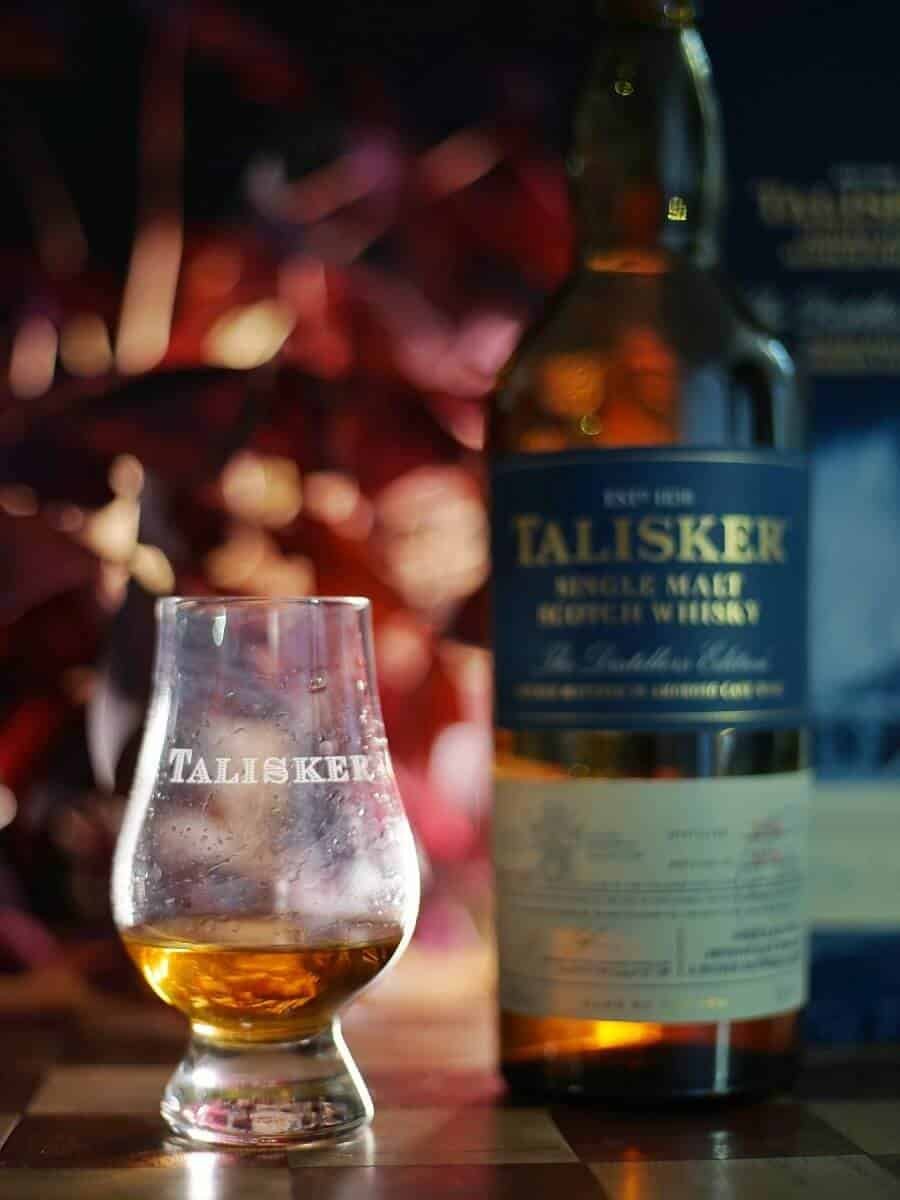 16. Make Friends With Some Highland Cows
Highland cows, also known as "Heilan Coos", are a popular sight on the Isle of Skye and across Scotland. These adorable creatures, with their long shaggy hair and curved horns, are well adapted to the harsh Scottish weather.
Here's where you can find them on the Isle of Skye:
Broadford to Portree: This route is one of the best places to spot Highland cows.
Village of Sconser: This small village is home to large fields where you're likely to see these beautiful animals.
Duirinish: Close to the Isle of Skye bridge, Duirinish is a traditional Scottish village where you can find Highland cows roaming around freely.
Hector's Highland Cows: Located at Lodge on the Loch in Sconser, Hector's Highland Cows are a friendly herd that you can visit.
Romesdal Highland Cattle: Based in Portree, Romesdal offers a chance to see pedigree Highland cattle, including a bull looking for a new home.
Remember, while they might seem docile, Highland cows are still large animals. Keep a respectful distance, and do not disturb them or their environment. Happy cow spotting!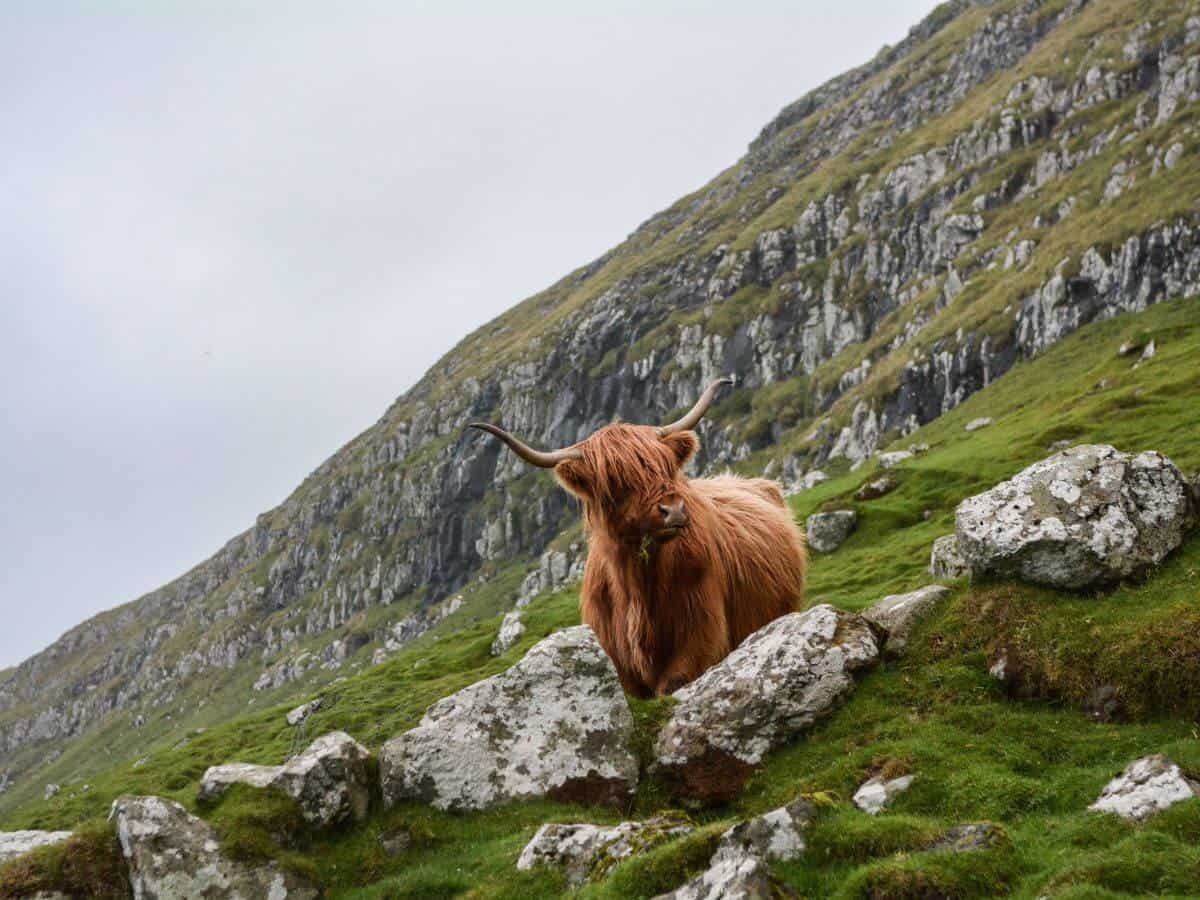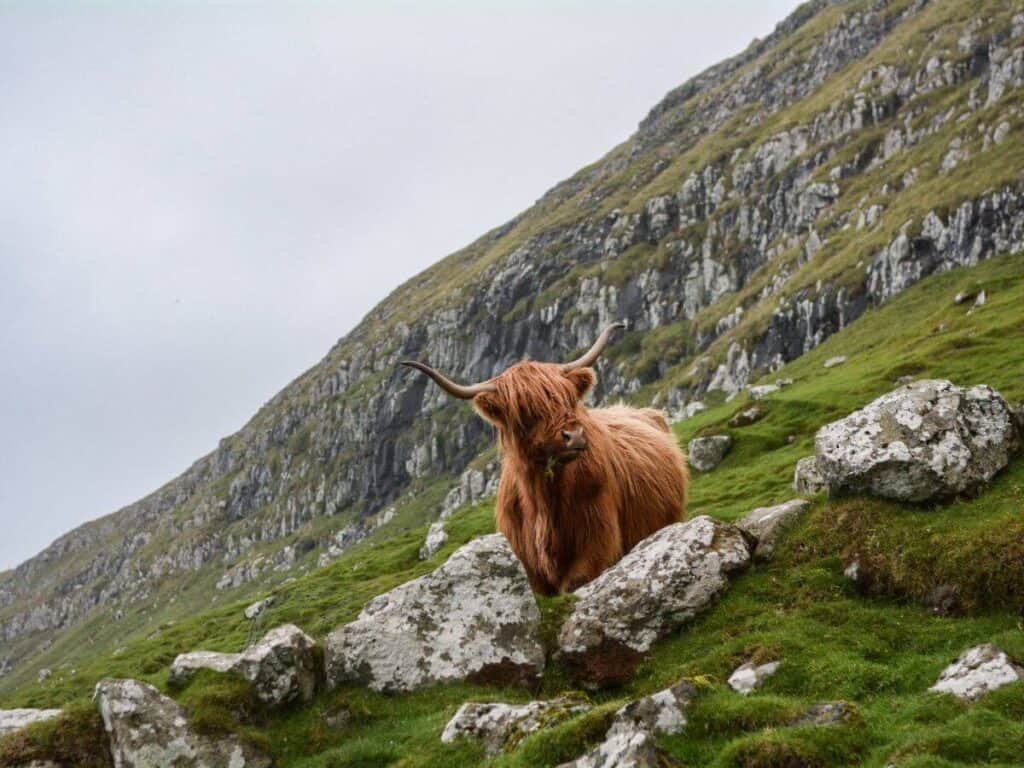 17. Go Coasteering
Coasteering on the Isle of Skye is an exhilarating adventure that offers a unique perspective of the island's stunning coastline. Combining swimming, climbing, and cliff jumping, it's a thrilling way to explore Skye's rugged landscapes.
Prepare to get immersed in the wild Atlantic, swim in crystal clear waters, scramble over rocks, and even jump off cliffs. You'll also have the chance to explore sea caves and rock faces that you wouldn't normally access.
If you're not experienced or don't know the area, it's always a great idea to hire a guide for coasteering. Skye Adventure offers coasteering experiences along a beautiful section of coastline in the northernmost part of Skye. They tailor their adventures to suit all levels of fitness and bravery, ensuring safety while maximizing fun.
Coasteering can be challenging, it requires energy and some level of fitness. However, with a little courage and the right guidance, it's an unforgettable adventure!
Isle Of Skye Road Trip | 17 Best Things To Do In 2023
How Long Does It Take To Drive Around The Isle of Skye?
Driving around the Isle of Skye can vary greatly depending on your itinerary. If you're planning to drive non-stop around the main road that circumnavigates the island, it could take approximately 2-3 hours. However, Skye is a place of immense beauty, filled with stunning landscapes, and it's worthwhile to take your time to fully appreciate it.
If you're driving from point to point, taking in the major sights such as the Old Man of Storr, Quiraing, Fairy Pools, Neist Point, and more, it could easily take a full day or even two. A popular 50-mile circular road trip, known as The Loop, takes around two hours of driving to complete, not including stops.
However, if you're looking at a more comprehensive journey, encompassing all the key attractions and some hiking, it could easily extend into a three or four-day itinerary.
Is Driving On The Isle Of Skye Difficult?
Driving on the Isle of Skye isn't overly difficult, but it does require some preparation and awareness.
Here are a few things to consider:
Single Track Roads: Many roads on Skye, especially those leading to popular sites like the Quiraing and Fairy Pools, are single track with passing places. This means you'll need to be comfortable navigating these and giving way to oncoming traffic.
Popular Sites: Some areas can get congested, particularly during the peak tourist season. Popular sites like the Fairy Pools and Old Man of Storr can have heavy traffic.
Driving on the Left: If you're not used to driving on the left side of the road, this can take some getting used to.
Wildlife: Keep an eye out for local wildlife which can occasionally wander onto the roads.
How Many Days Are Enough For An Isle Of Skye Road Trip?
The number of days you should spend on an Isle of Skye road trip really depends on your interests and how much time you want to spend at each attraction. You can see much of the Isle of Skye on anything from a two to seven day itinerary.
Two Days: A two-day trip allows you to see the major attractions such as the Old Man of Storr, Quiraing, Fairy Pools, Neist Point, and Dunvegan Castle. This is a bit of a whirlwind tour, but it ensures you hit all the highlights.
Three to Four Days: This gives you more time to explore and take in the sights without feeling rushed. You could spend a whole day hiking, visit a whisky distillery, go wildlife spotting, or even enjoy a boat trip.
One Week: If you have more time, a week on Skye allows you to truly immerse yourself in the island's natural beauty. You could visit lesser-known spots, try different outdoor activities like kayaking or coasteering, and really get to know the local culture.
Isle Of Skye Road Trip | 17 Best Things To Do In 2023
What Is The Most Scenic Drive Around The Isle Of Skye?
The most scenic drive on the Isle of Skye is the Isle of Skye Loop. This circular route covers many of the island's highlights, including the Fairy Pools, Neist Point, and Dunvegan Castle.
Other scenic routes you can take:
Portree to The Old Man of Storr: Start your journey in Portree and head north on the A855. The route takes you past the Old Man of Storr, a large pinnacle of rock that's one of the most famous images of Skye.
Broadford to Elgol: From Broadford, take a left on the B8083, a narrow road renowned as one of the most scenic drives on Skye. This route offers spectacular views of the Cuillin Mountains.
Staffin to Quiraing: North of Staffin, take the road on the left through the Quiraing, an otherworldly landscape of cliffs and pinnacles. This route is a top contender for the most scenic drive on Skye.
What Is The Best Time To Visit The Isle of Skye?
The best time to visit the Isle of Skye largely depends on what you're looking for from your trip. Overall the best month for fewer crowds, less midges (tiny biting insects) and warmer water is September.
May and June: These months are often considered the best times to visit the Isle of Skye. The weather is typically pleasant, and the midge population is usually lower than in the later summer months. Plus, you'll get to enjoy long daylight hours.
July and August: These are the warmest months, but also the busiest due to the school holidays. Accommodation can be more expensive and harder to find, and popular attractions may be crowded.
Late Spring (May) and Early Autumn (September, early October): These periods are favourite times for many as they offer a good balance of decent weather, fewer crowds, and less midges.
Off-Peak Season (October to April): If you prefer solitude and don't mind unpredictable weather, the off-peak season could be an option. You may also get cheaper rates for accommodation. However, keep in mind that some attractions and services may be closed or have reduced hours.
Always remember that weather on Skye can be changeable, and it's possible to experience 'four seasons in one day,' so pack accordingly!
What Is The Weather Like On The Isle of Skye?
The Isle of Skye experiences a temperate oceanic climate. The average annual temperature for the Isle of Skye ranges between 2°C (36°F) to 16°C (61°F). The warmest month is typically July, with an average high of around 15°C (60°F), and the coldest month is usually January, with an average low of around 2°C (36°F).
The weather on the Isle of Skye can be quite variable, with changes occurring rapidly. In terms of climate, the Island experiences cool and windy summers, while winters are long, very cold, wet, extremely windy, and mostly cloudy year-round. Rain is always expected, with 11 to 14 days of precipitation per month.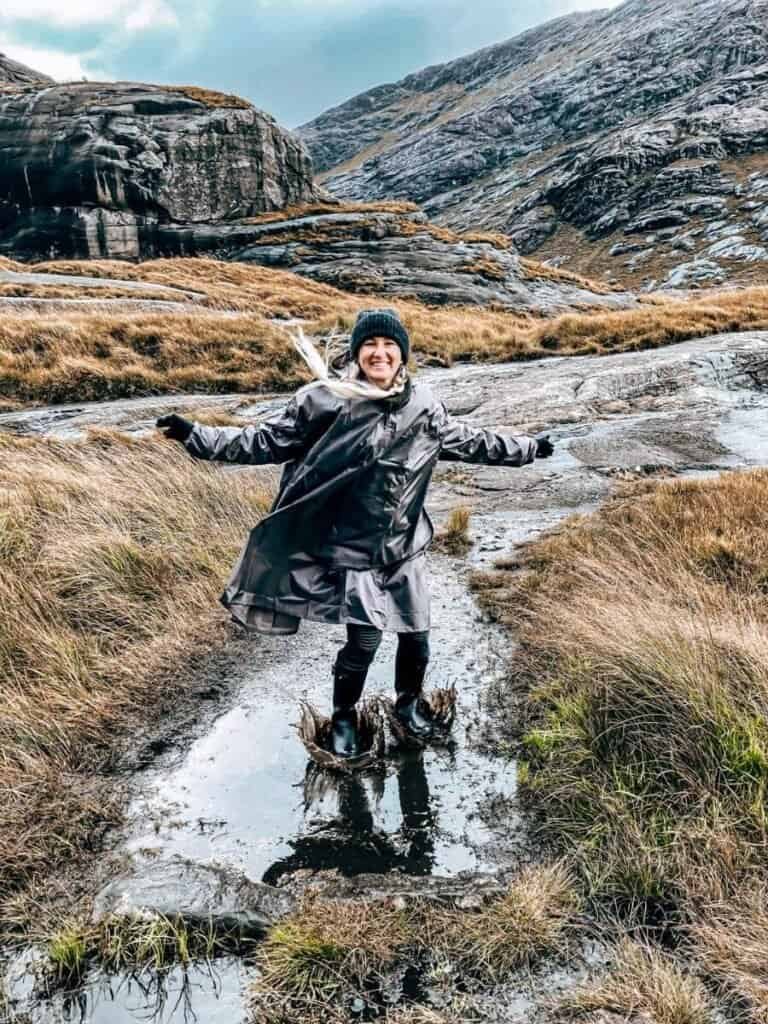 Isle Of Skye Road Trip | 17 Best Things To Do In 2023
How To Get To The Isle of Skye
Car: If you're driving, you can reach the Isle of Skye via the Skye Bridge, which connects the island to the mainland at Kyle of Lochalsh.
Train: There's no direct train to Skye, but you can take a train to Mallaig and then a ferry to Skye, or a train to Kyle of Lochalsh and then a bus or taxi to Skye.
Bus: Citylink operates services from Glasgow, Fort William and Inverness to Kyle of Lochalsh and Portree.
Ferry: You can take a ferry from Mallaig on the mainland to Armadale on Skye. There's also a small, community-owned ferry that runs from Glenelg to Kylerhea on Skye between Easter and October.
Air: The closest airports are in Inverness and Glasgow. From there, you can rent a car or use public transportation to get to Skye.
Where Is The Isle Of Skye?
The Isle of Skye is the largest and northernmost major island in the Inner Hebrides of Scotland. It's connected to Scotland's northwest coast by the Skye Bridge at the Kyle of Lochalsh.
Where To Go On A Scotland Road Trip
As well as the Isle of Skye, here are some of our other favourite Scotland Road Trips:
The North Coast 500: This is one of the most famous road trips in Scotland. Starting and ending in Inverness, it takes you around the north coast of Scotland, passing through stunning landscapes, beautiful coastal towns, and historical sites.
The South West Coastal 300: This circular route in the southwest of Scotland offers gorgeous coastal views, charming towns, and plenty of opportunities for outdoor activities.
The Scottish Borders: This area south of Edinburgh offers beautiful countryside, historical sites, and charming towns. You can visit places like Melrose, Jedburgh, and Kelso.
Edinburgh to the Highlands: This road trip can take you from the capital city of Edinburgh to the stunning landscapes of the Scottish Highlands, with stops at places like Loch Lomond, Glencoe, and Fort William.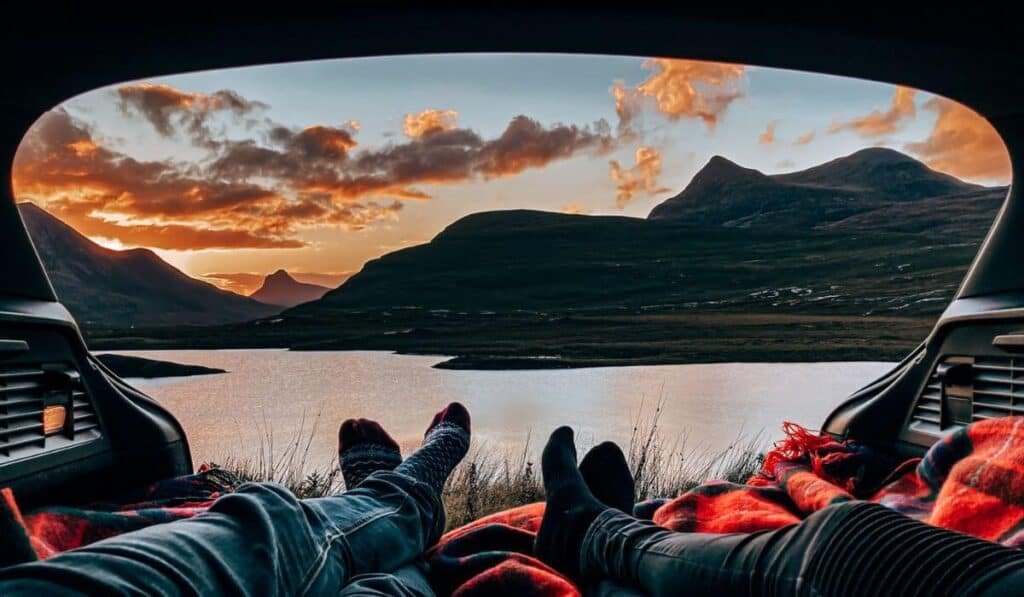 The Wrap-Up: Isle of Skye Road Trip | 17 Best Things To Do In 2023
An Isle of Skye road trip is a bucket list-worthy adventure for anyone visiting Scotland. With its dramatic landscapes, fascinating history, and charming local culture, the Isle offers a wealth of experiences sure to enchant any traveller.
From the mystical Fairy Pools to the majestic Quiraing, and from the historic Dunvegan Castle to the breathtaking views at Neist Point Lighthouse, Skye has something for everyone. Whether you're an avid hiker, a history buff, a nature lover, or simply someone in search of tranquillity, you'll find it here on this magical island.
So pack your bags, plan your route, and get ready for an unforgettable journey across the Isle of Skye. Safe travels!