Wondering If You Should Visit Zermatt In October?
Weather, hikes, activities and what to pack. We've got the details!
After seven years of living in Zermatt, I can safely say October is the best time of year to visit. I may be a tad biased, as autumn is my absolute favourite season. But if, like me, you prefer fewer crowds and golden hues, then October might be the best time to see the magical Swiss village of Zermatt.
Zermatt In October | Your Complete Guide 2023
As the hues of autumn paint the Swiss Alps in a riot of colours, the quaint village of Zermatt comes alive, offering an enchanting blend of tranquillity and adventure. Visiting Zermatt in October is a magical experience that transcends the ordinary. Imagine sipping hot chocolate in a cosy chalet, as you gaze at the majestic Matterhorn, its snow-capped peak glowing in the autumn sun.
Or, picture yourself hiking through vibrant forests, their leaves signalling the changing seasons. From the crisp mountain air to the breathtaking panoramic views, get ready to embark on an unforgettable journey as we explore the wonders of Zermatt in October.
Is Zermatt Worth Visiting In October?
Visiting Zermatt in October offers the best value, you get to enjoy the same stunning landscapes, without burning a hole in your pocket. Zermatt is a great choice for autumn hiking in Switzerland, with beautiful fall colours and fewer tourists than in summer.
Zermatt is worth visiting any time of the year. The train to Gornergrat runs all year round, offering panoramic views that will leave you spellbound. And if you're an autumn fan like me, you'll absolutely love the golden hues of the foliage changing colour.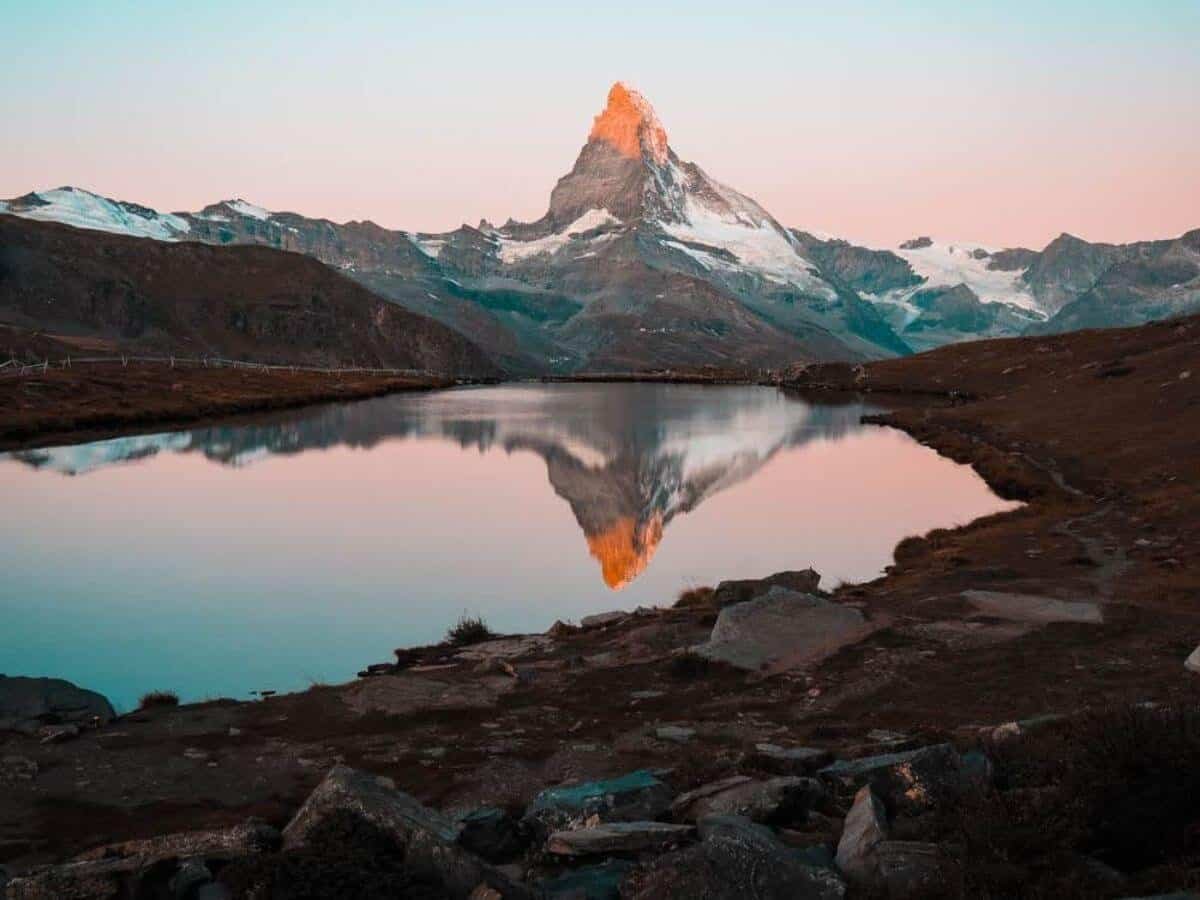 Are Shops & Restaurants Open In Zermatt In October?
October used to be a time of year when a lot of things closed down for a pre peak-season break. With an increase in shoulder season tourism, things are now changing and more things are open during late autumn.
💡 Top Tip: If planning a visit mid-late October, check if your preferred activities and restaurants are available to avoid disappointment.
​​Does Zermatt Have Snow In October?
On average, Zermatt experiences snowfall for about 5.5 days in October. But unlike winter, this is more of a dusting and due to warmer temperatures, often melts pretty quickly. So, if you're hoping for a winter wonderland, you might want to reconsider your timing.
There is however snow all year round on the glacier above Zermatt which links the neighbouring resort of Cervinia in Italy. You can ski here 365 days a year, and while it's only a small ski area, it's great for exam and race training and park skiers. The new beginner area on Plateau Rosa is a unique option for first-timers.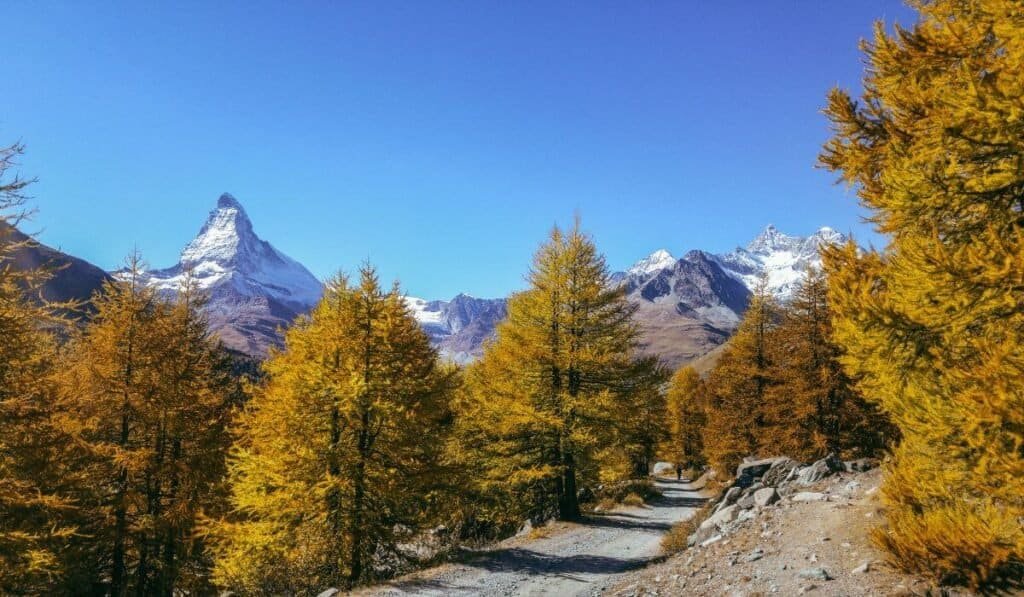 Weather In Zermatt In October
Zermatt in October is a rollercoaster of weather delights. You might be basking in the sunshine one moment at a balmy 55°F (12.8°C), and then bundling up the next as the mercury dips to 27.7°F (-2.4°C). There's also the chance of a surprise snowfall or rain shower and the wind is mostly mild, but if you venture higher up, it can get a bit gusty.
Temperature
Zermatt's average daytime temperature in October ranges from a high of 46°F (8°C) to a low of 31°F (-1°C). However, it's not uncommon for temperatures to dip down to around 27.7°F (-2.4°C), or even climb up to 55.04°F (12.8°C) on a particularly sunny day.
Precipitation
October in Zermatt can be a bit wet, with an average of 6.9 inches of precipitation spread over 7 days. It could be a gentle drizzle, a sudden downpour, or the first dusting of snow.
Sunlight and Wind
While Zermatt in October does see its fair share of cloudy days, there's also plenty of sunshine to bask in. As for the wind, it's usually quite mild, but it can pick up speed at higher altitudes.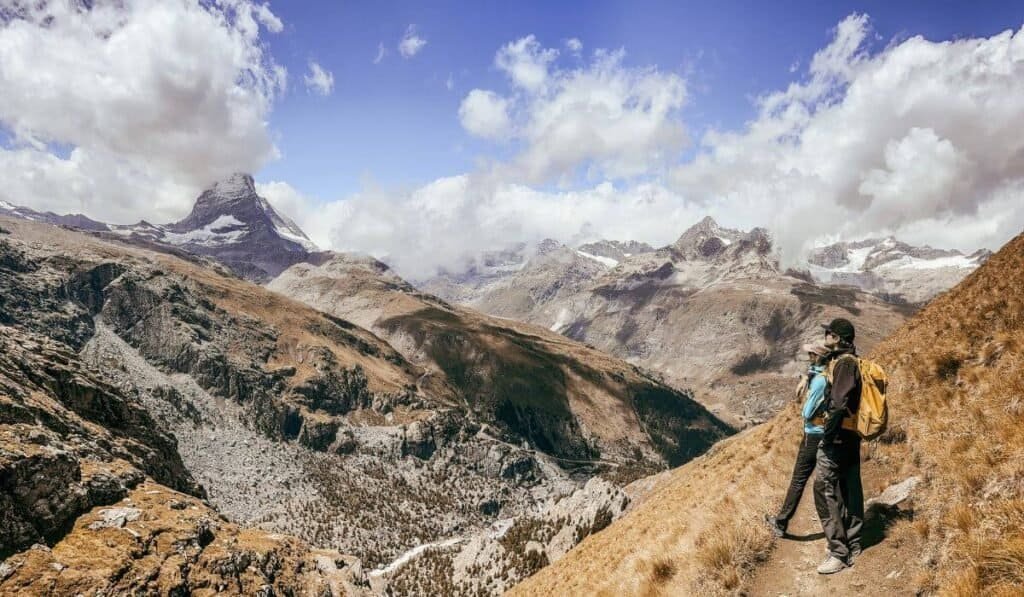 If you want to know about the best ski resorts to visit this winter, check out our European Guide.
Can You Visit The Matterhorn In October?
There are many ways to view the Matterhorn in October, from the Zermatt village, Gornergrat, the Matterhorn Glacier Paradise or up close and personal on the mountainside itself. However, mountaineering outside of the summer months is reserved for experienced mountaineers and is dependent on the conditions.
October is one of the best times to visit this Swiss icon. The weather is usually perfect for hikes – not too cool, but not too hot, and the lush landscapes are adorned with vibrant autumn colours. Plus, there are fewer tourists than in summer, meaning you'll get to enjoy the serenity of the Alpine wilderness without the usual crowds.
The Hörnli Hut closes in September, so unfortunately autumn hiking to the hut is not possible in October. The safest time to climb the Matterhorn is usually between June and August, once all of the winter snow has melted.
One of the most unforgettable experiences is taking the cogwheel train to Gornergrat, which runs all year round. This journey offers up-close views of the Matterhorn and other majestic peaks. Some cable car routes may be closed after October 11th, so plan accordingly.
Another option is taking the cable car to the Matterhorn Glacier Paradise for panoramic views of many 4000m peaks from the 3883m viewing platform. With average temperatures ranging from -2°C to -7°C on the platform in October, make sure to wrap up appropriately!
What Is The Best Time To Go To Zermatt?
If you're looking for the best time to visit Zermatt, you're in luck because there isn't just one "best" time, but several! It depends on what you're looking for. From winter sports to summer adventures to serene autumn hikes, Zermatt has something for everyone, every time of the year!
If you're all about the pow and love the idea of carving your way down pristine slopes, then you might want to consider visiting between the end of November and mid-April. This is when Zermatt turns into a winter wonderland, offering some of the best skiing, snowboarding, and winter hiking opportunities in the world.
But maybe you're more of a warm-weather person. In that case, you'll want to pack your bags for a summer trip between June and August. During these months, Zermatt offers a variety of outdoor activities such as hiking, mountain biking, and paragliding. Plus, the weather is just right – not too hot, not too cold.
However, if you're like me and prefer to avoid the peak tourist season, I've got a secret for you. Late autumn is a fantastic time to visit Zermatt. The summer crowds have started to thin out, and the winter rush hasn't quite kicked in yet. And let's not forget the stunning autumn colours that paint the town in hues of gold and red.
Things To Do In Zermatt In October
While Zermatt is seen as a summer or winter destination, there are still so many things to do when visiting in autumn. Here are some of our favourite activities.
Visit The Matterhorn Museum
Zermatlantis is not your average museum. It's located underground, beneath the village square, bringing to life a world of powerful images and incredible stories within a staged archaeological excavation.
The museum offers a deep dive into the development of Zermatt, tracing its evolution from a small farming village to one of the world's most renowned ski resorts. But it's not all roses and sunshine. The museum also chronicles the victory and woe surrounding the first ascent of the Matterhorn.
Enjoy Incredible Restaurants
Zermatt is the culinary hotspot of the Swiss Alps! This enchanting mountain village is not just famous for its majestic Matterhorn view, but also for its delectable Swiss cuisine. It's home to 4 Michelin Star restaurants and a further 14 Michelin preferred restaurants.
Zermatt boasts a myriad of restaurants that serve traditional Swiss dishes with a modern twist. From cosy alpine huts to elegant gourmet restaurants, there's something to satisfy every palate.
Go Paragliding
October is a great time to go paragliding, as the weather is still mild enough for you to enjoy a thrilling flight without freezing your feathers off. Gentle autumn thermals also ensure a gentle flight over the golden hues below.
For the best tandem paragliding flights over Zermatt, contact Fly Zermatt.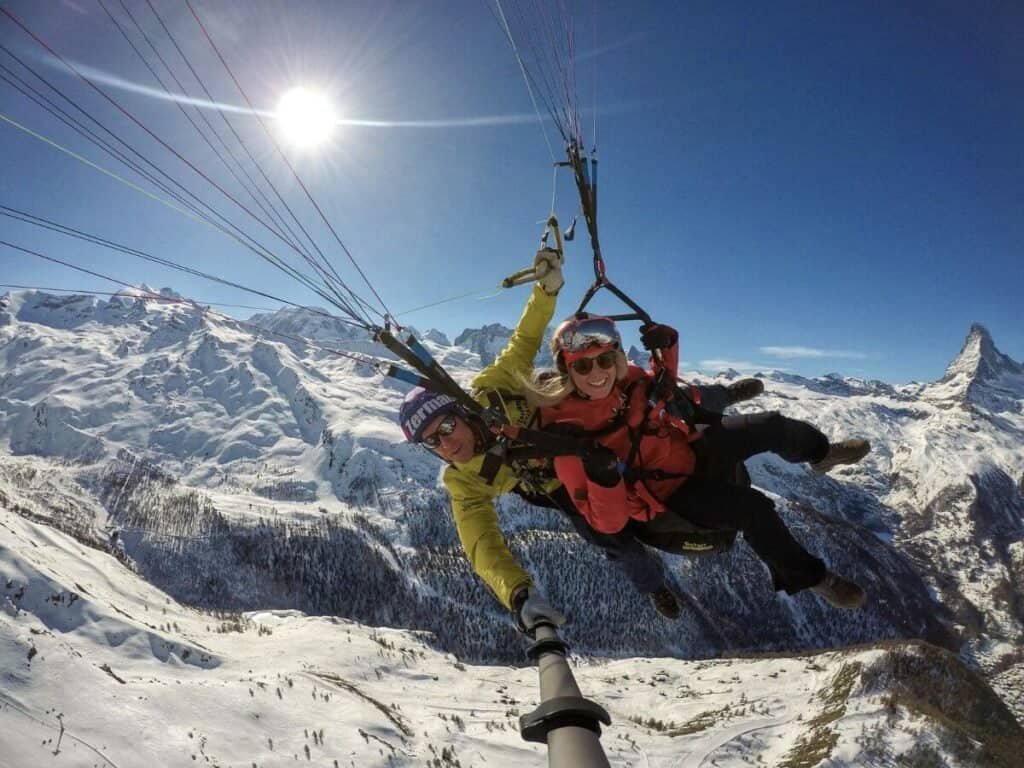 Take A Train To Gornergrat & The Gorner Glacier
Gornergrat is a mountain ridge located above Zermatt. It is accessible by a cogwheel railway, which takes about 35 minutes to reach the top. From Gornergrat, you can enjoy stunning panoramic views of the Matterhorn and other peaks, including the Monte Rosa massif, the Weisshorn, and the Liskamm.
The Gorner Glacier is a valley glacier located below the Gornergrat. It is the third longest glacier in the Alps, and it is also one of the most visited glaciers in Switzerland. The glacier is constantly changing, and it is unfortunately retreating at an alarming rate due to climate change.
Visit Matterhorn Glacier Paradise
At a dizzying height of 3,883 meters above sea level, the Matterhorn Glacier Paradise is Europe's highest mountain station. Now, imagine stepping into a lift, and in a matter of minutes, you're transported to a world of snow and ice even in summer. This is a place where you can ski, snowboard or just have a snowball fight, while the rest of the world sweats it out in the summer heat.
There's also the Matterhorn Glacier Ride, the world's highest 3S cableway. This isn't your regular cable car ride. This is a state-of-the-art, Ferrari of cable cars, offering stunning panoramic views of the Swiss Alps. If you thought the Matterhorn was impressive from the ground, wait till you see it from up here.
Ever been inside a glacier? No? Well, at the Matterhorn Glacier Paradise, you can do just that. The Glacier Palace, a palace made entirely of ice, is a magical world of icy sculptures, crevasses, and an ice slide. It's like stepping into Narnia, minus the White Witch.
Go Stargazing
The Matterhorn doesn't just dominate the skyline during the day; it also makes for a stunning backdrop against the Milky Way at night. In early October you can take the funicular to Sunnegga and hike to Flualp for an overnight stay. It is also possible to wild camp in designated areas.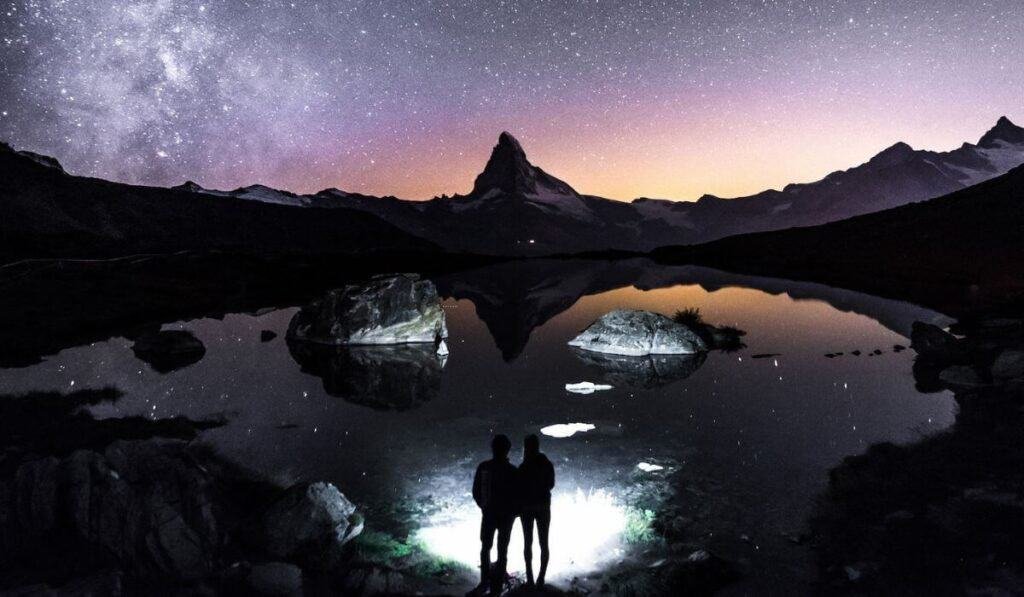 Mountain Biking
Take advantage of the crisp autumn weather and the less crowded trails in autumn. October is the end of biking season in Zermatt so make sure to check if the trails you wish to ride are open.
Here are some of the best mountain biking trails in Zermatt:
Sunnegga Flowtrail: This is a beginner-friendly trail that is perfect for families. It is a flow trail, which means that it is smooth and easy to ride.
Gornergrat Classic: This is a more challenging trail that offers stunning views of the Matterhorn. It is a long and winding trail, so it is important to be in good condition.
Furi-Riffelalp: This is an intermediate trail that is a lot of fun. It is a mix of singletrack and doubletrack trails, and it offers some great downhill sections.
Blauherd-Rothorn: This is an advanced trail that is only for experienced riders. It is a technical trail with a lot of steep sections. This route may be closed later in the month, be sure to check availability and conditions.
Sport Climbing
There are so many great areas for sport climbing in Zermatt, our favourite being Riffelhorn. This mountain offers many climbing routes of varying grades from 3B to 6A, with single and multi-pitch options and the possibility to summit this 2928m mountain.
For the best guidebook on Sport Climbing routes in Zermatt, pick up the Oberwallis Guide Book.
For guides and sport climbing lessons head to Zermatters.
Explore The Old Town Hinterdorfstrasse
Exploring Hinterdorfstrasse is like taking a step back in time. This quaint street is home to a collection of unique old houses, some of which date all the way back to the 15th century. Just imagine, these structures have been standing tall, witnessing the ebb and flow of life for over 500 years.
But it's not just the old houses that lend Hinterdorfstrasse its charm. The street is also known for its historic barns, stores, and stables.
As you stroll down this cobblestone street, you'll see wooden huts, known as 'mazots,' typical of the Valais region. These huts are an integral part of Zermatt's architectural heritage and add a rustic touch to the scenery.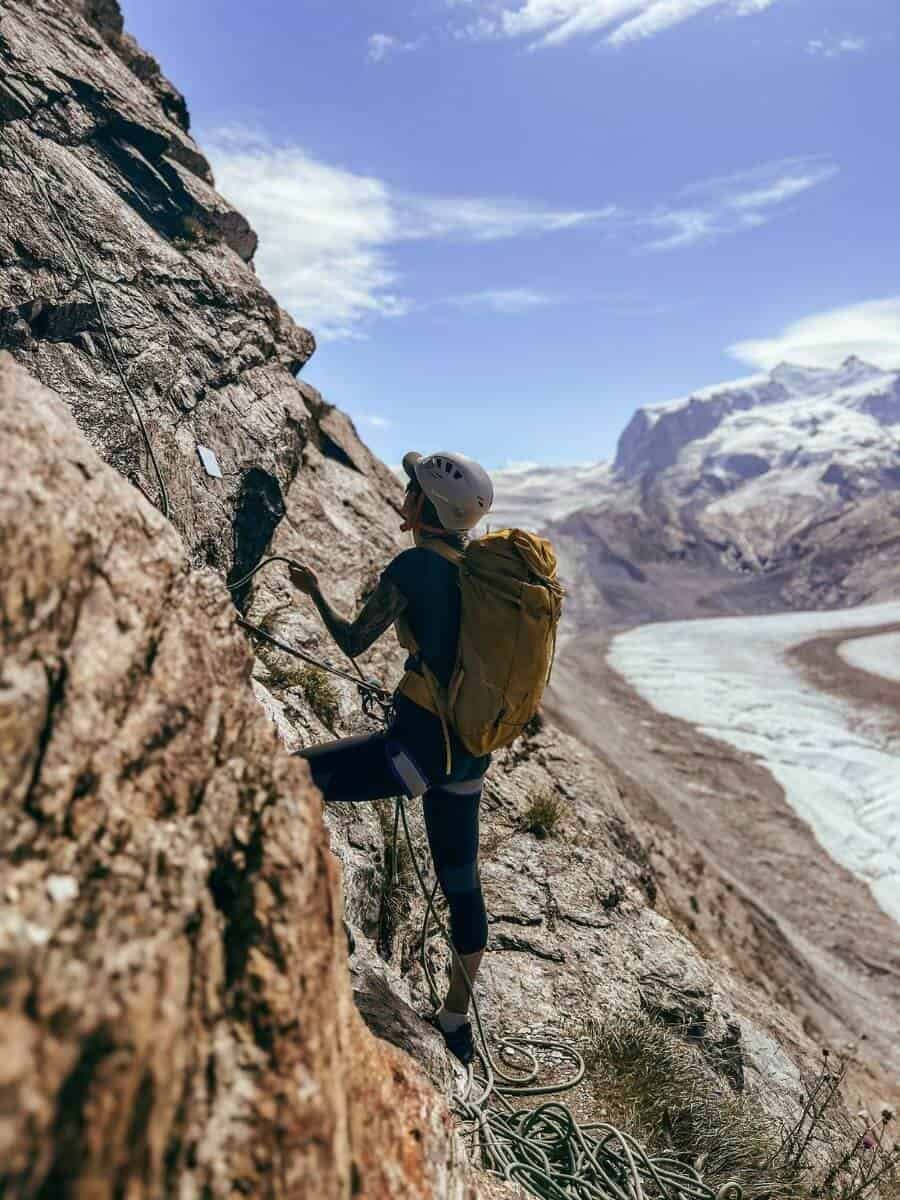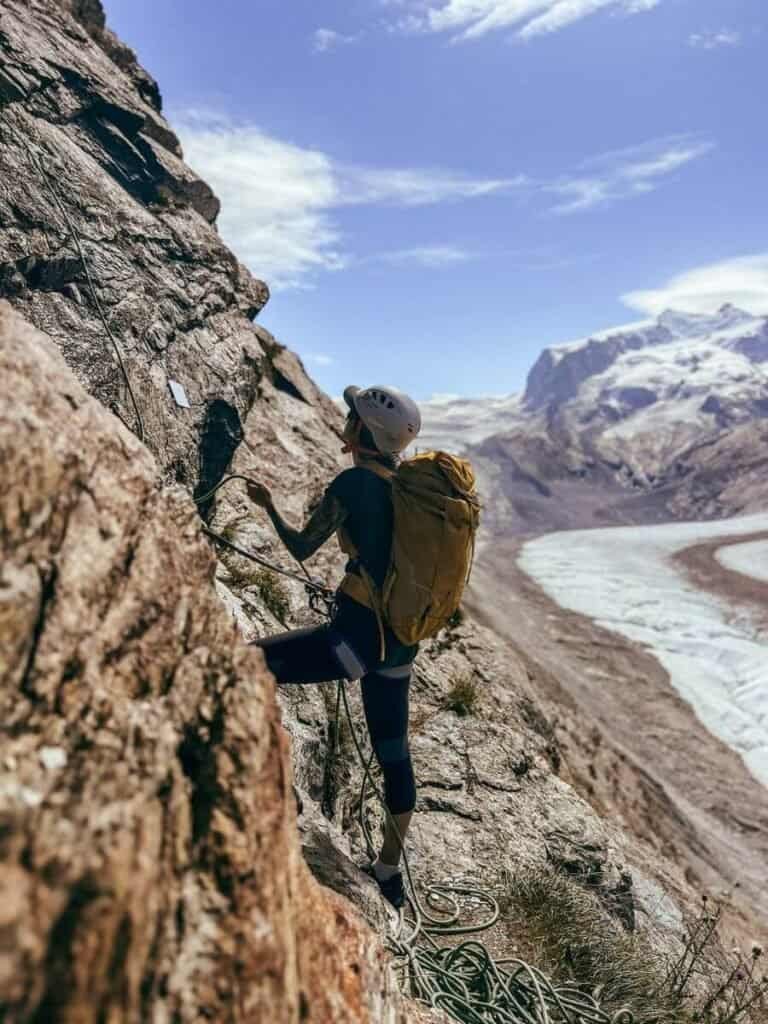 Best Hikes In Zermatt In October
If hiking in the sweltering summer heat isn't your thing, perhaps the cool fresh air of autumn is more up your street. Autumn is a great time to hike in Zermatt. Here are some of our favourite routes.
4 Lakes: Sunnegga – Riffelalp
This is my favourite autumn hike in Zermatt. You'll pass by 4 of the famous 5 lakes, through tonnes of golden larches and around a large stone path with unique views of the Matterhorn.
Take the funicular railway to Sunnegga and follow the signs to each lake in order – Leisee, Stellisee, Grindjisee, Grünsee. From here follow the route to Riffelalp, passing Ze Sewjinu Mountain Lodge.
Once you arrive at Riffelalp, we'd advise lunch at Alphitta, who often have live acoustic music out on their terrace, with a very impressive, up-close, backdrop of the Matterhorn.
From here, you can choose to take the Gornergrat railway or a walking path back to Zermatt.
Distance: 10.2 km
Duration: 3.5 hrs
Difficulty: Medium
Conquer A 4000m Peak
Zermatt sits in an amphitheatre of 4000m peaks, so there are many to choose from. Being able to summit will depend on the conditions at the time. Early October can still be a great time to reach the top of the likes of Breithorn if the conditions are right.
These peaks are glacial, so only plan a route if you are an experienced mountaineer or have hired a professional mountaineering guide.
Breithorn Height: 4,164 m
Duration: 3 hrs
Distance: 6 km
Difficulty: Medium/Hard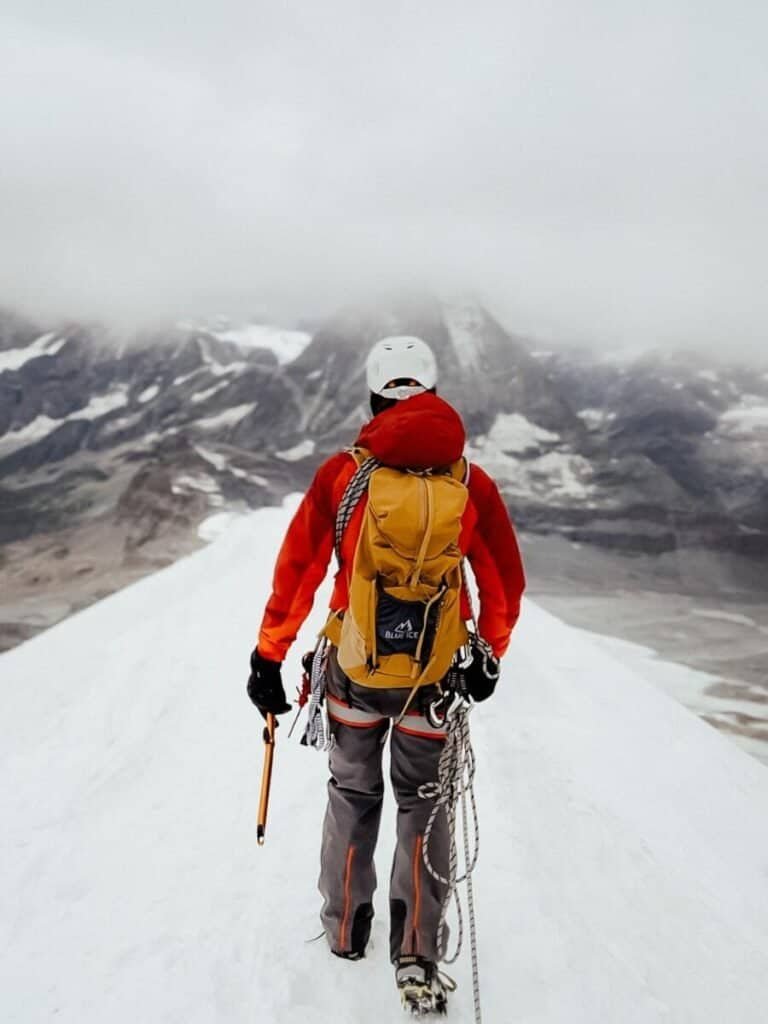 Gornergrat – Riffelsee – Zermatt
If you're looking for a more challenging hike, you can take the route from Gornergrat to Riffelsee, through the Gletschergarten, down to Furi and back into Zermatt. This path is all downhill from 3089m to 1600m but can also be done in reverse.
Note: This route is quite steep in parts and probably not recommended downhill for people with knee issues. R.I.P knees.
Distance: 12.6 km
Duration: 5 hrs
Difficulty: Medium/Hard
Check the train times for the Gornergrat Railway Here.
Zermatt – Zmutt – Furi
This is a relatively easy but equally picturesque hike. Starting in Zermatt, this hike takes you up to the charming little hamlet of Zmutt, from here, head towards the Zmutt Dam and then down towards Furi.
Distance: 10 km
Duration: 3 hrs
Difficulty: Easy/Medium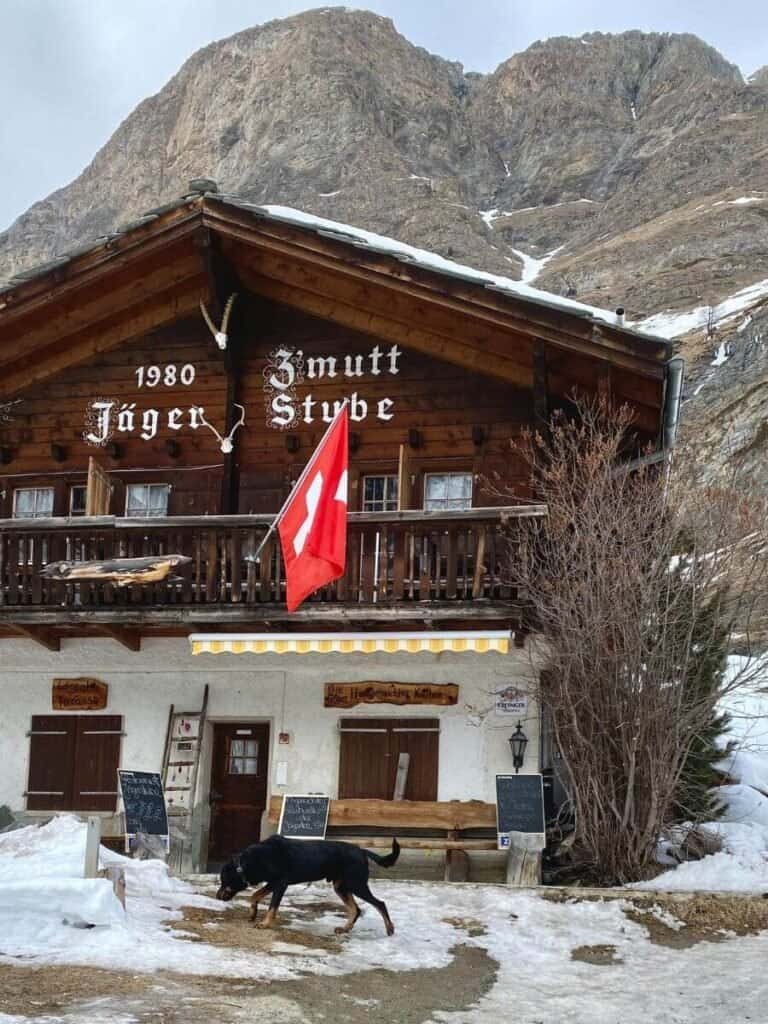 Zermatt – Gorner Gorge
For those wanting an easy hike, with some geology thrown in, a walk to the Gorner Gorge is a must in early October. This hike can be done in a loop if you walk up via Winklematten and down via Furi.
This hike can also be extended up to the Furi suspension bridge, across into the play park and BBQ area, towards the glacier garden and back down to Furi.
Note: The gorge closes mid-October but you could skip this section by walking past the Gorner Gorge and continuing to the Furi Suspension bridge.
Cost: Gorner Gorge Entrance Adults CHF 5.50, Children CHF 3, Groups CHF 5
Distance: 2.3 km
Duration: 45 minutes
Difficulty: Easy
Charles Kuonen Suspension Bridge
The Charles Kuonen Suspension Bridge is the longest pedestrian suspension bridge in the Alps and the third longest in the world. This is a steep climb that we recommend doing anti-clockwise and starting early in the morning.
Check if the bridge is accessible before your journey.
Distance: 8.6 km
Duration: 4 hrs
Difficulty: Medium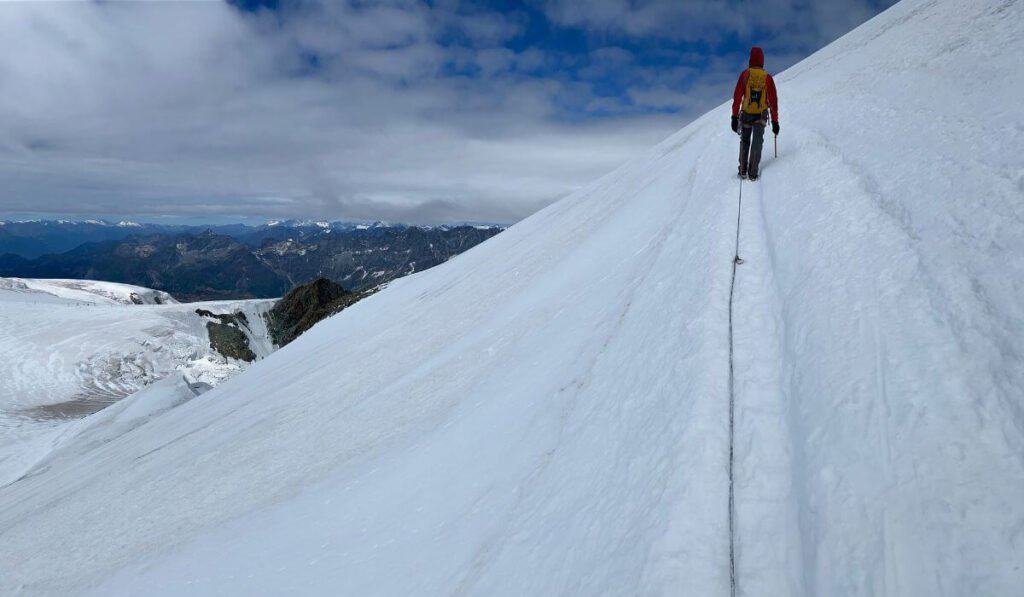 Getting To Zermatt
Zermatt is a car-free town. But don't worry, this only adds to its charm. You have several options to reach this stunning destination: train, taxi, or if you're feeling particularly James Bond-ish, helicopter.
Flying in? The nearest airports to Zermatt are Sion, Geneva, Zurich, and Milan. From these airports, you can either arrange a private transfer, car hire or a train. The train takes roughly 3.5 hrs from each airport, with the exception of Sion which is less than 2.5 hrs.
For those driving, you need to park your car at Täsch, a town down the valley from Zermatt. From there, it's a short 12-minute train ride to Zermatt. Or, if you prefer, you can arrive in comfort by taxi to the Parking Kiosk Urania and then an electric taxi to your accommodation.
For more detailed information on How To Get to Zermatt, check out our guide here!
Where To Stay In Zermatt In Autumn
We always stay with Zermatt Holidays when visiting Zermatt. They have a huge variety of apartments and chalets in excellent locations around the village and should have something to fit every budget.
If you prefer to stay in a hotel, we suggest these highly rated places based on budget:
Hotel Bahnhof – $
This hotel is in a fantastic location right between the Zermatt main train station and the Gornergrat Railway. Across the street is a supermarket and close by, is the electro bus stop to access the Matterhorn Glacier cable car.
Unique Hotel Post – $$
Located in the centre of the main high street, The Unique Hotel Post is the centre of entertainment in Zermatt, with multiple bars and restaurants to choose from on the premises and plenty of alternative options a few steps from the front door.
BEAUSiTE – $$$
For a classic Zermatt hotel experience, you will want to stay at the hotel BEAUSiTE, located centrally and close to the river. If you're a meat lover, you must try their restaurant named The Grill.
What To Wear In Zermatt In October
Firstly, let's state the obvious: Zermatt is located in the Swiss Alps. This means that even during autumn, the weather can be unpredictable, and temperatures can range from pleasantly mild to downright chilly. So, layering is your new best friend.
Boots/Runners: Let's start from the bottom. Warm boots or good trail runners are a must. Whether you're strolling around town or hiking up the mountains, you'll need something sturdy and comfortable. And hey, they can be stylish too!
Bottoms: Next up, jeans, trousers or leggings. They're versatile, durable, and perfect for those cooler days in Zermatt.
Tops: At this in-between time of year, you're going to want a variety of short and long-sleeve tops. There can be warm sunny days and frosty evenings.
Outerwear: A jacket or coat is essential. One of the hardest things to get right in the mountains is your layering system. We always suggest a multiple lightweight jacket system, that you can adjust depending on the temperature, especially for outdoor activities.
Accessories: A cap might come in handy on those sunnier days or a woolly hat for cooler nights. Thin gloves are always a good idea to have in the mountains. For hiking, we always carry a lightweight waterproof jacket.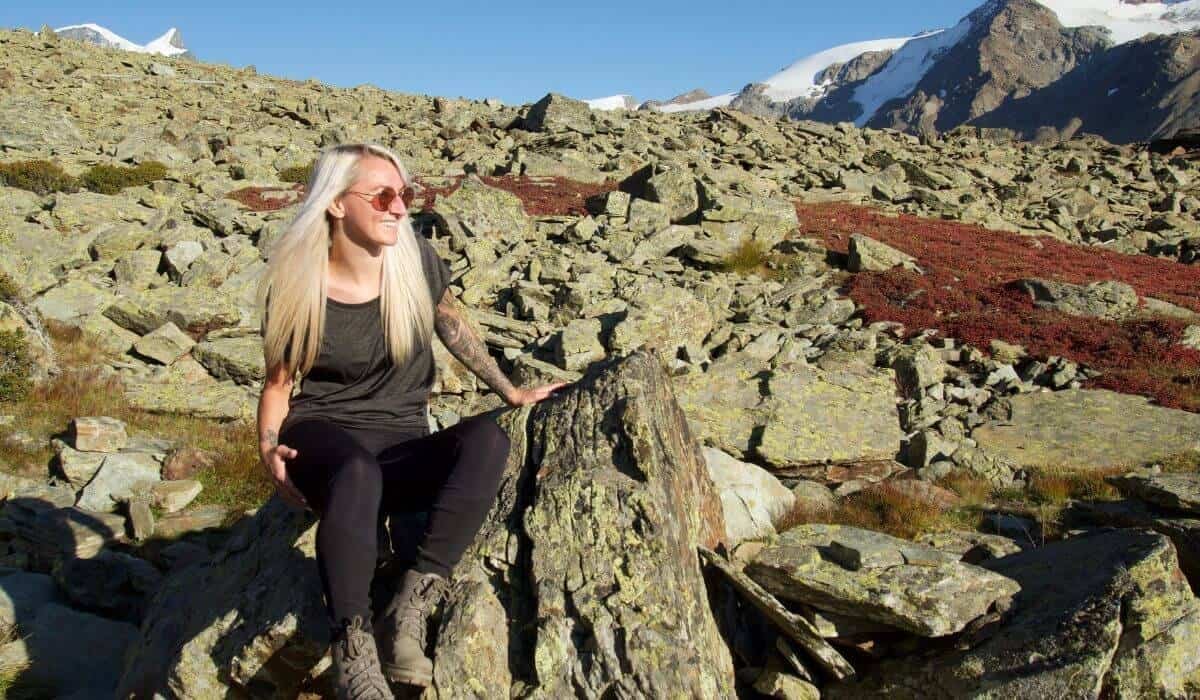 The Wrap-Up: Zermatt In October
Alright, folks, let's wrap this up. As you've probably gathered by now, Zermatt in October is a no-brainer. It's like that secret menu item at your favourite café; not everyone knows about it, but once you do, there's no going back.
You get the stunning beauty of the Matterhorn without the winter crowds. You get to experience the Swiss Alps in all their autumnal glory, with the added bonus of potentially seeing the first snowfall of the season. And let's not forget about the incredible hiking opportunities and the warm Swiss hospitality.
Sure, you'll need to pack smart – think layers, waterproofs, and good shoes. But let's be real, any excuse for a shopping spree, right? Plus, who doesn't love the feeling of being cosy and warm while the temperatures drop outside?
In the end, it's not just about visiting a place, it's about experiencing it. So, take that leap of faith, book that ticket, and prepare yourself for an unforgettable autumn adventure in Zermatt. Because life's too short for 'what ifs', and the world is too beautiful not to explore. See you on the other side of the Matterhorn!
One of our other favourite destinations for Autumn is Scotland! If you haven't been, definitely add it to your list.