Looking For The Best Snowsports Movies?
We've rounded up 18 of our favourite snowsports movies guaranteed to fuel your shredding appetite before winter even begins.
For snowsports lovers, there's nothing quite like a good movie to get you excited for another epic season on the slopes. Whether it's an adrenaline-filled ski or snowboard competition flick, a biographical story of your favourite athlete, or just lighthearted fun filled with lots of laughs and wild adventures – it all adds up to one thing: incredible snow-filled entertainment!
From classics like 'Hot Dog' to newer fan favourites such as 'Where the light shines', this list has something for everyone – let's strap in and hit play!
9 True Event Snowsports Movies
Lhotse (2019)
This 2019 production by North Face is a 23-minute film which follows athletes Hilaree Nelson and Jim Morrison on a journey to summit and ski Lhotse, an 8,516m mountain which sits in the shadow of Mount Everest. The expedition is as much about the climb as it is about the route down. The journey follows the same route climbers would take towards Everest, including crossing the Khumbu glacier, and passing through three Everest camps. Then there's the descent, which was the first in history of the exceptionally narrow couloir followed by the Lhotse face.
Jeremy Jones: "If you think of all the thousands of little things that need to line up for that to happen, and not only to succeed but get it in what I would call Himalayan A-plus conditions, it's truly a mini miracle."
Watch the full movie below: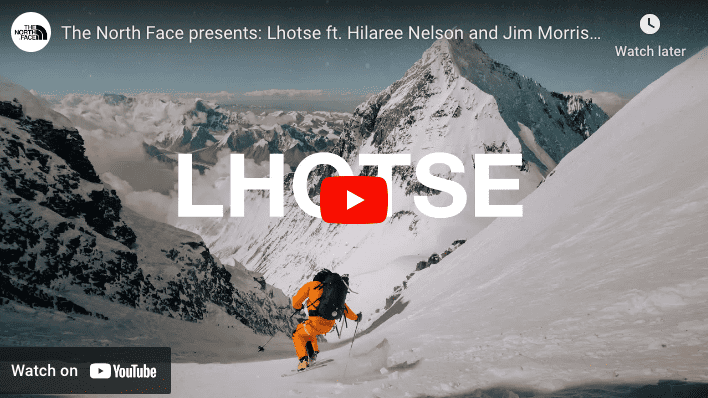 Claim (2008)
Nailed it? Claim it!
The "greatest ski movie ever" featuring some of freeskiing's biggest stars, making fun of themselves and the industry. It's the last feature length film to star Canadian skiing icon Shane McConkey.
Final Countdown and Fist Pumps!
Fourth Phase (2016)
The Fourth Phase is about nature's influence on snow sports, researched and narrated by Travis Rice. It took Rice and his crew, including Victor de le Rue, Jeremy Jones and Mark Landvik, five years to produce in various resorts, around the North Pacific. This isn't a film about snowboarders conquering the mountain; it's about Mother Nature showing us who's boss. Something I think we can all agree on in the current uncertain times.
Pretty Faces (2014)
The name Pretty Faces is a play on words, a double entendre, referring to the mountain faces in a feminine way.
This all female ski film is about pushing the sport of skiing and living up to our fullest potential as a supportive community. Inspired by the desire to offer young girls role models and inspiration to play outside, this film aims to capture all the girl stoke from the pioneers who have paved the way to the "never evers" who will continue to define what it means to ski like a girl.
Blizzard of AAHHH'S (1988)
This movie was the first of its kind, marking the beginning of the freeskiing movement, Blizzard of AAHHH'S put "extreme" skiing on the map.
Featuring punk rocker Glen Plake and cliff jumping Scot Schmidt, skiing North America and the Chamonix Valley. Blizzard of AAHHH'S was the first ski movie to be set to pop soundtrack.
Loud outfits and cheesy 80's music, what's not to love?
All In (2018)
Matchstick Productions 2018 epic ski film delivers a first of its kind experience. This concept is spearheaded by a talented group of hard-charging women who wanted to disrupt the male-dominated ski film formula. Skiing isn't exclusionary, true fun in the mountains can be shared equally by everyone. Note: Not a skiers chick flick.
Shot in classic spots like Revelstoke, BC, Snowbird, Utah, and Girdwood, Alaska. Featuring a heavy dose of snowmobile-accessed big mountain lines.
Where The Light Shines (2019)
Most people when they think of Afghanistan think of war, but it's so much more than that. This film tells the story of Sajjad Husaini, who is bidding to become Afghanistan's first ever Winter Olympian at the Winter Games in Beijing in 2022. With very little infrastructure it takes Sajjad and Alishah four hours to climb the Bamyan peaks, and just four minutes to ski down again.
Filmed over four years, Where the Light Shines paints an intimate portrait of life in Afghanistan and shows the difficulties of trying to create change in a country that for generations has only seen war.
G.N.A.R (2011)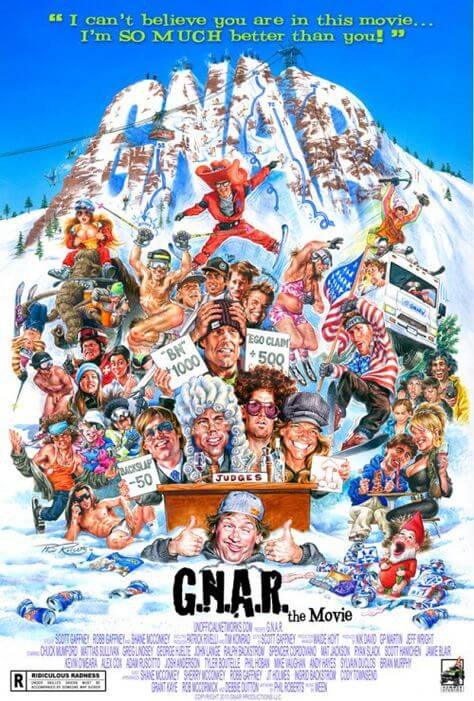 The history of Squallywood and the creation of the game of G.N.A.R.
Urban Dictionary
GNAR
"A shortened version of the word gnarly, meaning high on the scale of dangerousness and coolness."
While that definition is suits the game of G.N.A.R. it is actually an acronym for:
Gaffney's Numerical Assessment of Radness.
G.N.A.R. is also the bonus chapter in Robb Gaffney's book, Squallywood, and was created by Shane McConkey.
Art Of Flight (2011)
Still to this day the only movie I have downloaded onto my iPad. I have watched this countless times while travelling. From the depths of Patagonia to the peaks of Alaska, The Art Of Flight pushes the boundaries of snowboarding. New lines, avalanches, accidents, the reality of the sport and the challenges freeriders face.
9 Fictional Snowsports Movies
Although Eddie the Eagle and Cool Runnings are based on true stories, some of the characters and part of the plot are entirely fictional. Either way, they are 2 of my absolute faves! Check out the rest of the list below for our favourite fictional snowsports movies.
The Wrap Up: 18 Best Snowsports Movies
So there you have it! All of our top picks for the 18 best snowsports movies, from nine real life films to nine fantasized films. Whether you're in need of a laugh, some chills and thrills, or just a feel-good blockbuster, we have movie suggestions to suit your mood.
There are lots of options here, so no matter what mood you're in – get your popcorn ready, start streaming and immerse yourself in the frozen world of snowsports films – you won't regret it!
Now if you're at a loss on what to watch this weekend or need some fresh ideas for winter viewing parties, make sure to save this post and add these titles to your movie list. Who knows? You might even find a new favorite!
While you're here check out some exploration books or take a look at how you can save a little extra to fund your next adventure. Even if that adventure is close to home.