I can only think of one thing better than a road trip around Cornwall. A road trip around Cornwall in a classic VW campervan named Barbarossa. In this itinerary, we'll guide you through a classic British road trip. Including popular local activities and traditional grub.
I found Barbarossa at O'Connor's Campers. He is a beautiful pale grey Classic Vdub with a double bed, cooking equipment and a retractable roof. Perfect for touring, sleeping, eating and star gazing. Our first night was spent at a nearby campsite in Okehampton.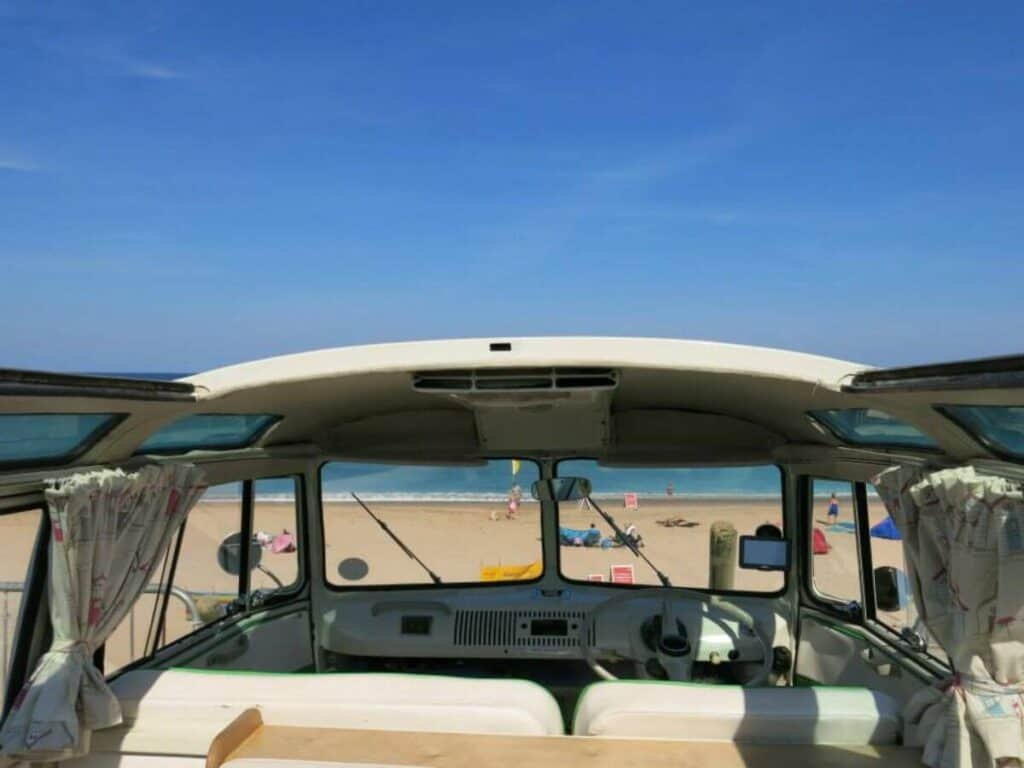 How Long Would It Take To Drive Around Cornwall?
It would take about 7-8 hours to drive around Cornwall, depending on how many stops you make. With its rugged coastline and charming fishing villages, there are lots of places to explore and attractions to visit along the way.
To make the most of your journey, plan ahead and find out where the best places are to stop for the night and break up your journey with a few sightseeing trips along the way.
How Many Days Do You Need For Cornwall?
Like any travel destination worth seeing, we'd always advise spending as much time as you can in a location to really soak it in. If you're short on time, 3 days are plenty to see the highlights, making Cornwall the perfect long weekend destination.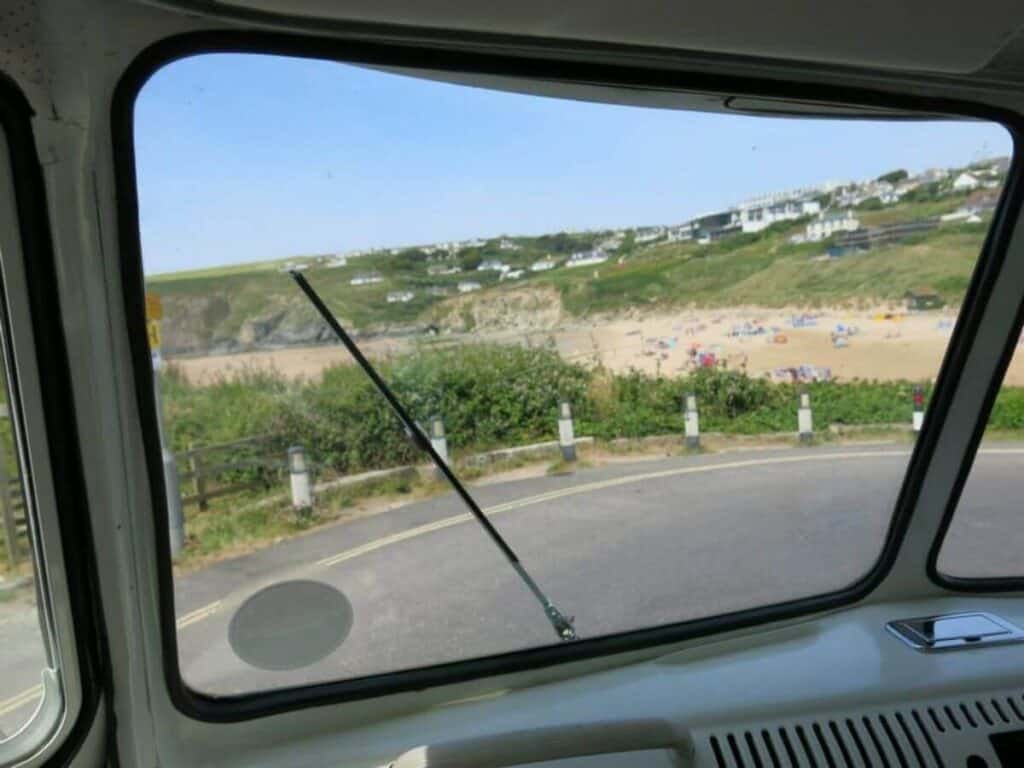 How To Plan A Road Trip To Cornwall
3 Day Itinerary
Day 1
Where to go?
St Ives – This was our first destination as it was the furthest away from Okehampton. As we only had a short few days, we decided to drive the furthest distance on day 1. Heading back along the coast via our other stopping points.
St Ives is a beautiful, peaceful, seaside town, filled with bars, cafes and restaurants. If like me, you are a foodie, you will love St Ives.
What to do in St Ives?
Potter around the village, take a walk on the beach and enjoy the views. Or peruse the many shops. But beware, seaside towns make you want to invest in a wardrobe full of hoodies, boardshorts and flip-flops.
Where to eat?
Porthmeor Beach Café – The perfect location to sit and relax, whilst enjoying the beach views. Here you can enjoy their full menu, or take it light and easy with Tapas and Prosecco Cocktails.
Sea Food Café – There are lots to choose from here! Choose your meat/fish, how you like it cooked and what sauce you would like to accompany it. We went for the Seafood medley to share. This is – one fish & sauce, pan-seared scallops, Cornish crab cakes, tiger prawn skewers, dips and your choice of potatoes. The desserts are also divine!
Where to pitch up for the night?
Ayr Holiday Park – This campsite overlooks the beach and has a lovely walk along the coast to reach the seaside.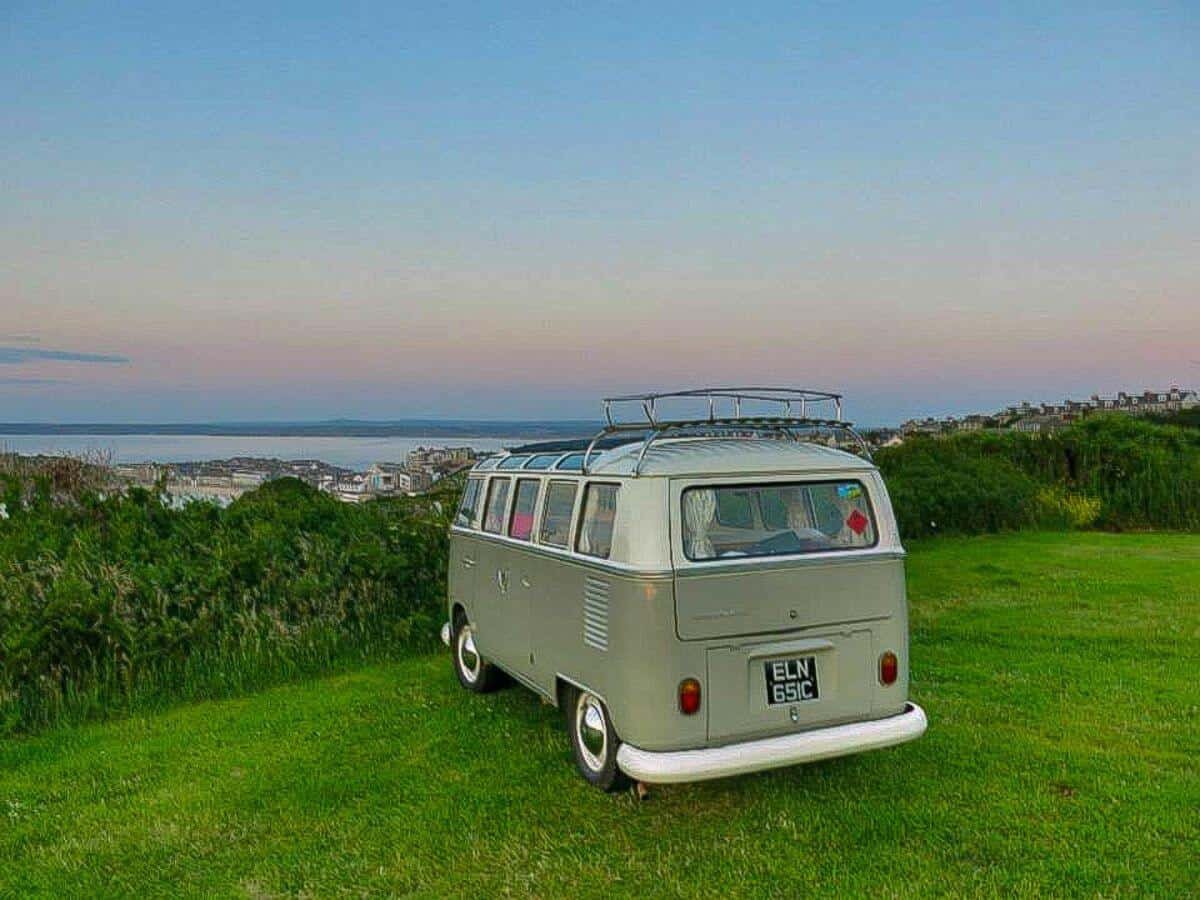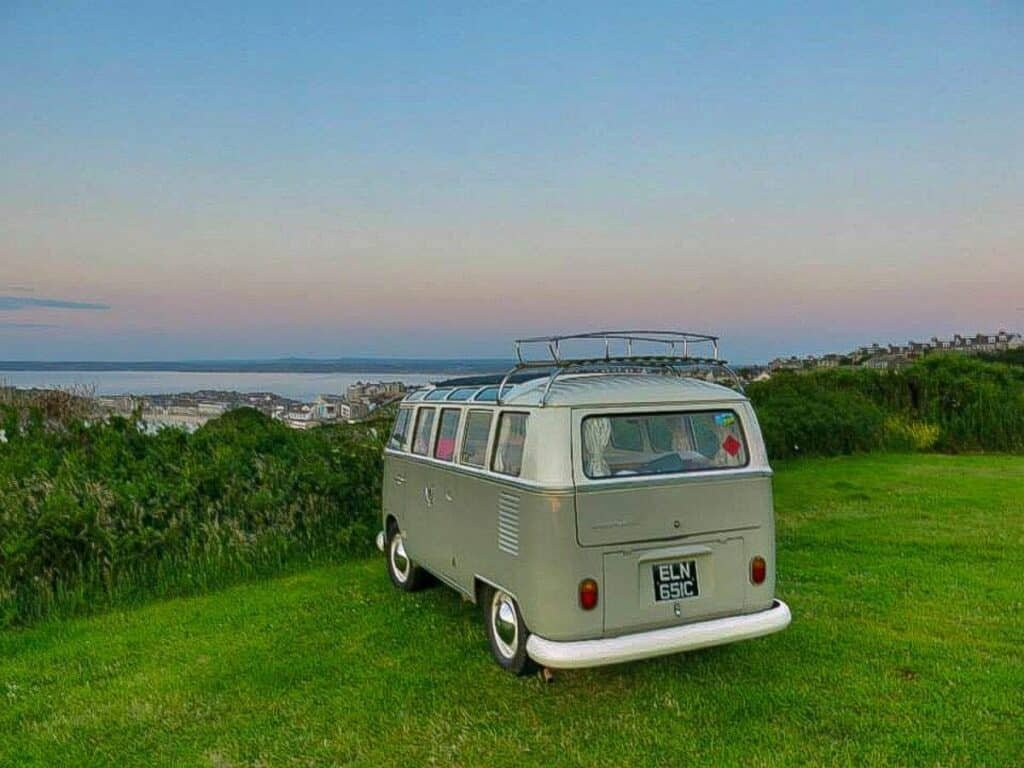 Day 2
Where to go?
Newquay – The surfing capital of the UK.
What to do in Newquay?
Surf, Paddle Board or soak up the rays at Fistral Beach.
You can hire surfing equipment and lessons from Fistral Beach Surf School
What to eat?
We parked up at Fistral Beach for breakfast. Popped open the roof, made bacon butties and a cuppa, whilst enjoying the view of the morning surfers. If you are travelling in a fully equipped camper you should definitely make use of the portable kitchen 😉
You can't come to Cornwall without having a Cornish pasty. So we headed to Pasty Presto, who not only claim to have THE BEST Cornish Pasty in the world but have actually won an award for it. As well as trying their award-winning traditional pasty, we gave 'The Curried Parsnip' pasty a try too. Both were delicious.
Where to pitch up for the night?
Padstow Touring Park – Instead of stopping the night in Newquay, we made our way to our next destination. This campsite is a little out of the way but offers lovely walks down to the village. If you are planning on getting a taxi anywhere, they are few and far between in Padstow, so you may have a little wait.
Day 3
Where to go?
Padstow and Wadebridge – an adorable fishing village and home to the Camel Trail.
What to do in Padstow?
Cycle or Walk along The Camel Trail From Padstow to Wadebridge. The trail is 5.25 miles long.
Hire bikes from Trial Bike Hire, which is situated at the beginning of the Camel Trail in Padstow.
What to eat?
Wild Bake – If you are lucky enough to catch them, you should try a Wild Bake pizza. A little portable outlet making wood-fired street food.
Stein's Fish and Chips – This is the best fish and chip shop I have ever had the pleasure of eating in. If you haven't booked a table for lunch or dinner, expect to queue. Trust me, it is well worth the wait.
As I am not a huge fan of fried food, controversial I know. I usually eat the fish and leave the batter. I loved how Stein's had the option of grilled fish. Which I could have accompanied by a glass of crisp white wine. The fish and chips are served in a traditional cardboard box. The perfect balance of chippy tea meets restaurant.
Chippy Tea = Evening meal from the chip shop.
A chippy tea is as British as Queen Elizabeth. I'd love to know if Lizzie dabbled in a Friday Night Chippy Tea.
Where to pitch up for the night?
The Laurel's Holiday Park – This campsite is en route back towards Okehampton. It's spacious, has friendly staff and has semi-private pitches.
13 Unmissable Destinations For Your Next Cornwall Road Trip
1. The Eden Project
This is an educational charity, built in a former clay quarry, that is home to two million plants and rainforest environments.
2. St Michael's Mount
This National Trust owned castle sits atop an island in Mounts Bay and can be reached by walking over the causeway during low tide or by boat at high tide.
3. Land's End
The most westerly point of mainland Britain, Land's End offers spectacular views across the Atlantic Ocean and beautiful rugged cliffs for those brave enough to venture out onto them.
4. Porthcurno Beach
This is one of the most beautiful and secluded beaches in Cornwall, perfect for those who are looking for some peace and quiet away from the crowds. With stunning clear waters and fine white sand, this beach is definitely worth a visit.
5. The Lost Gardens of Heligan
An enchanting garden nestled in the lush Cornish countryside, filled with secret pathways, botanical trees and a rich variety of plants that transform throughout the year.
6. Falmouth
Boasting a wide variety of attractions including its big wheel overlooking the harbour, maritime museum and breath-taking maritime activities available on the waterfront.
7. Tintagel Castle
It is believed that this was once King Arthur's birthplace, offering an unmissable combination of clifftop ruins with spectacular coastal views for visitors to explore.
8. Minack Theatre
Perched on a cliff top above Porthcurno beach, this open-air theatre offers some of the best natural performances in Cornwall complete with incredible ocean panoramas perfect for anyone who loves outdoor drama and music events in an idyllic setting.
9. Truro Cathedral
Sitting atop stands one of England's tallest Cathedrals – Truro Cathedral – offering awe-inspiring stained glass windows, gothic architecture and art installations inside one of Britain's largest cathedrals that dominates the Cornish skyline.
10. Bodmin Moor
Take a step off the beaten path into Cornwall's primal heartland which includes wild moors, prehistoric sites and interesting stone circles dotting this vast expanse of grassland surrounded by granite tors at every corner!
11. Kynance Cove
This stunningly beautiful cove on the Lizard Peninsula offers a wealth of hidden coves to explore, with crystal clear waters running through creeks and breathtaking sea cliffs providing fantastic opportunities for snorkelling, swimming or just enjoying a scenic walk along the coast.
12. St Mawes Castle
Located at the mouth of Fal Estuary, this 16th-century castle stands proudly on a hilltop surrounded by rolling green fields and fantastic views across the water – it's no wonder why this is one of Cornwall's most popular tourist attractions!
13. Mevagissey
Situated roughly 8 miles east of St Austell and 10 miles west of Fowey, it's one of the most picturesque places in the county. The harbour village is full of narrow winding lanes and characterful cottages, with plenty of shops and restaurants to explore.
There are several beautiful beaches nearby including Goran Haven, Portmellon and Portloe – all perfect for an afternoon stroll! Mevagissey also boasts a unique history – its name derives from two Cornish saints: St Meva and St Issey – making it one of the oldest settlements in Cornwall.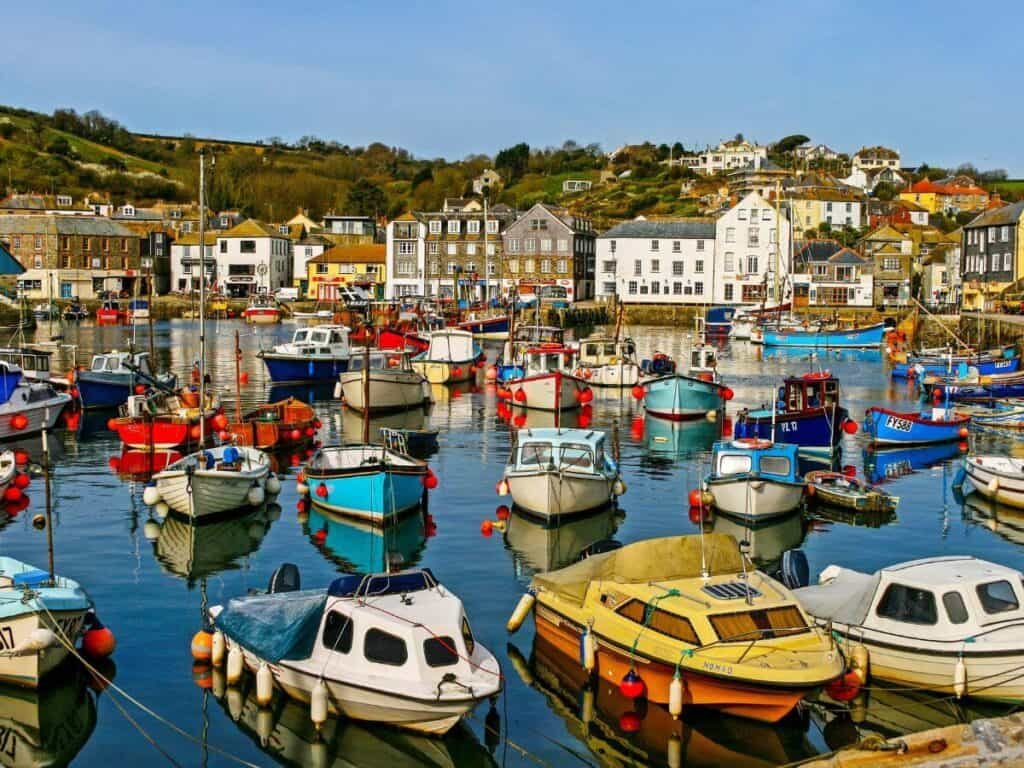 Tips For Driving In Cornwall
Check road signs and speed limits: Make sure to check the local speed limit and be aware of the different types of road signs when driving in Cornwall.
Take care on narrow roads: Cornwall's winding country lanes are often very narrow, with many blind corners and hidden dips – take care to drive slowly and keep an eye out for oncoming traffic.
Avoid sleepy towns during rush hour: If you're staying in one of Cornwall's small, sleepy towns it's best to avoid peak times as there can be a lot of traffic through these areas during the morning or evening rush hours!
Watch out for livestock: Farm animals have a tendency to wander onto roads, so be extra vigilant when passing through rural areas or farms.
Beware of sheep grates: Sheep grates are metal grids found on some Cornish roads which are designed to reduce accidents involving sheep – always watch out for them when driving at night!
What Adventure Sports Can You Do In Cornwall?
Cornwall offers a wealth of outdoor adventures and activities for thrill seekers. Whether you're looking to try your hand at surfing, wakeboarding, kitesurfing or windsurfing – Cornwall's Atlantic coastline is the perfect spot.
Other popular adventure sports are coasteering, rock climbing, sea kayaking and stand-up paddle boarding. For those looking for something a little more leisurely, there's whale watching, deep-sea fishing and wildlife spotting on the Cornish coast.
A Classic Cornwall Road Trip
This 3 day Cornwall road trip is the ultimate long weekend getaway in England. It was by far one of my most memorable trips in the UK. Not only does it cover some of the most iconic sights in the southwest of England. It also covers a variety of places to grab some traditional British grub. As a Brit who lives abroad, that's a pretty important factor for me.
Read More: How To Save For Travel | The Ultimate Guide