Is Ho Thuy Tien worth visiting? If like me, you love all things spooky, then I'd definitely add Ho Thuy Tien, Vietnam's abandoned water park to your itinerary. Wandering around this post-apocalyptic park, was one of my favourite days during my time in Vietnam.
As a lover of Halloween and all things creepy, the abandoned water park was one place in Vietnam that I knew I had to visit. With tales of wild alligators and the mystery of why the park closed, graffiti-covered attractions and murky waters, all hidden within the jungle. This all makes Hue's spookiest destination, hauntingly beautiful.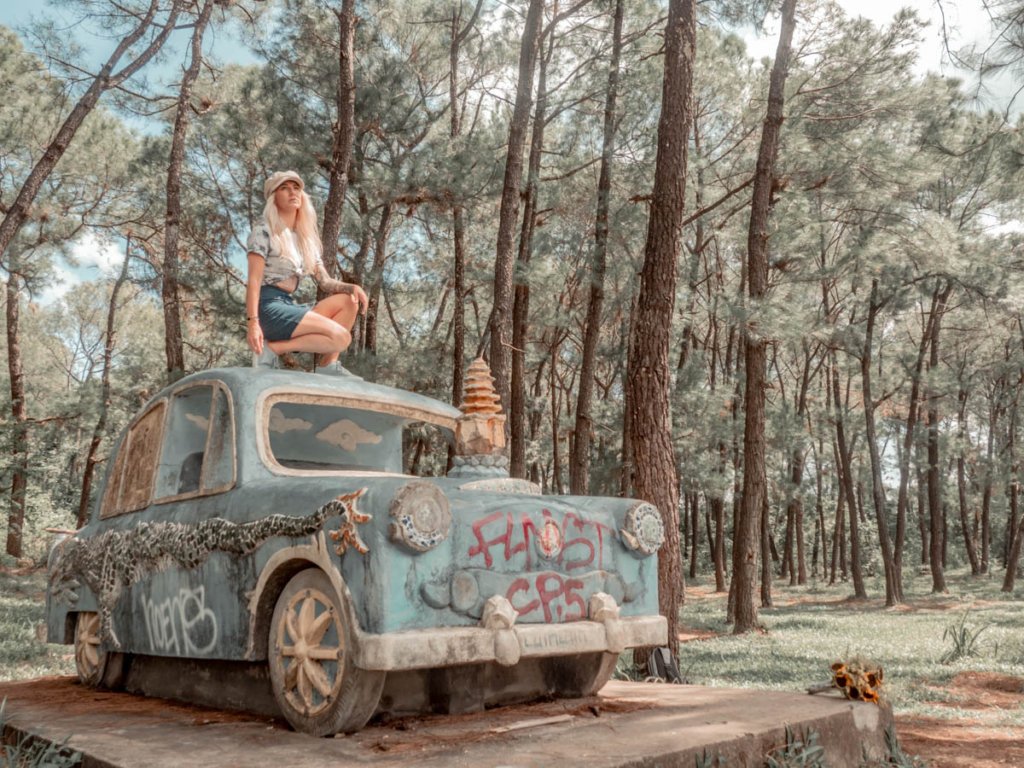 Where is Ho Thuy Tien?
Ho Thuy Tien is approximately 9km from the town centre of Hue.
How to get to Ho Thuy Tien
You can take a Taxi to this well-known destination. Always make sure in Vietnam that the price is on the meter. If the driver tries to pre-arrange a price, then it's likely he's ripping you off.
The most popular choice for getting around Vietnam is to hire a scooter. If you are confident to ride and follow google maps, this may be the cheapest option. Especially if you plan to visit many destinations on the same day.
Download the Grab app. Grabtaxi is really popular in Vietnam. You can order a taxi for numerous people or hop on the back of a Grab Bike for a cheaper option if you are flying solo.
Another interesting option in Vietnam is an Easy Rider. This is just like a Grab Bike. You hop on the back and let the local do the driving with a pre-arranged price.
Hit your 10 000 steps and walk to the park. It's approximately 9km from the town centre.
The Entry Fee and Access To Ho Thuy Tien
I was a little disappointed with our entrance to the abandoned water park. After hearing rumours of sneaking past guards. The possibility of having to pay a bribe to security. Or potentially having to sneak in through a forest entrance. When we strolled on through the front gate, not a guard in sight, I was a little underwhelmed.
Although thankful for a drama-free experience. I heard of other people having to pay 20 000 VND (less than $1) for entrance, so I was lucky to skip this hefty fee.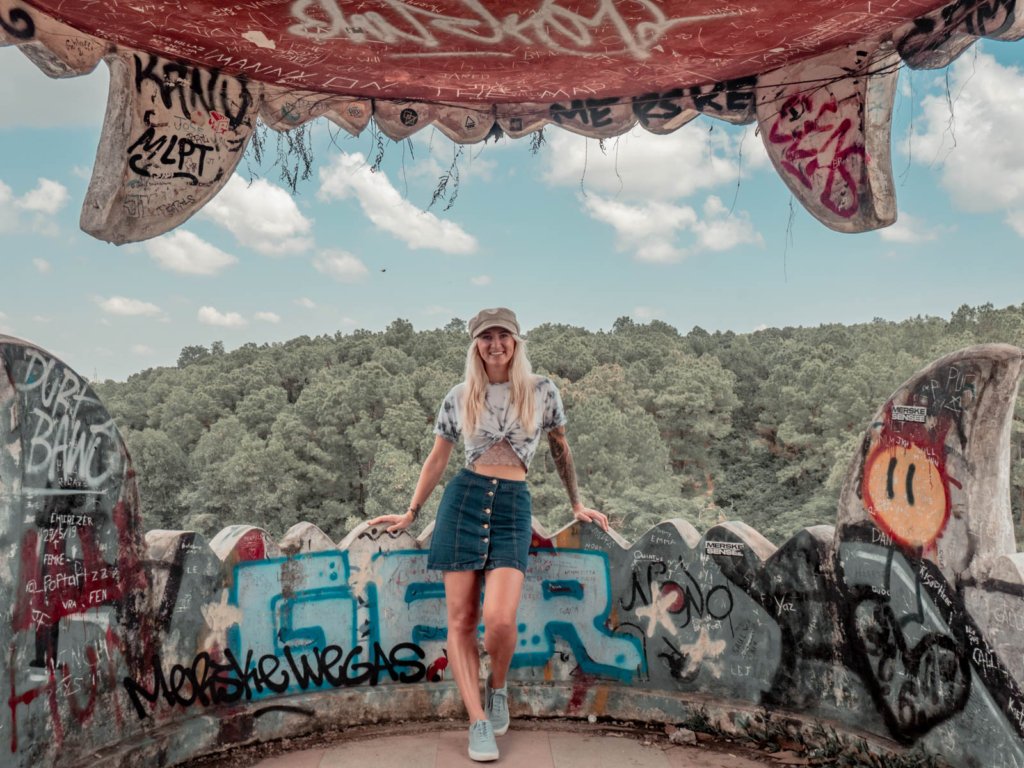 Must View Spots at Ho Thuy Tien
Mother of Dragons
The main attraction in the water park is the three-story dragon. Situated in the middle of the lake and towering over the neighbouring trees. This beautiful structure was home to aquariums, exhibitions and sea creature statues. Now it's a place for local teenagers to hang out and cover in graffiti, while the structure decays and mother nature slowly claims back her land.
Exploring Lake Placid
Inside Drogon is a staircase that winds up towards his mouth. When reaching the top the view opens up to Lake Thuy Tien. Surrounding it is a beautiful sea of green that is the forest. Wander down the paths to discover the deteriorating waterslides. The sight of what was once a fun place for children to play is now very eerie. With drowning sea creatures, crumbling climbing frames and polluted water. It's now more of a house of horrors than a garden of fun.
Strange Sightings In The Imperial Capital
It is rumoured that fish and alligators lived in the tanks within the dragon. They were left to rot along with the park. The alligators were supposedly sighted freely roaming the park, long after it had closed to the public. Whether you believe this or not, I would stay clear of those murky waters if I was you. The stories were enough to make me a little nervous when getting too close.
What happened at Ho Thuy Tien?
There are many rumours about why the park closed. The uncertainty adds to the mystery. But the most believable is that this huge project was never completed. They opened their doors in 2004 before the park was ready. Without sufficient funding and not enough custom, the park closed and remained unfinished. Over the last two decades, the park has deteriorated so much, that investment and restoration are now unthinkable.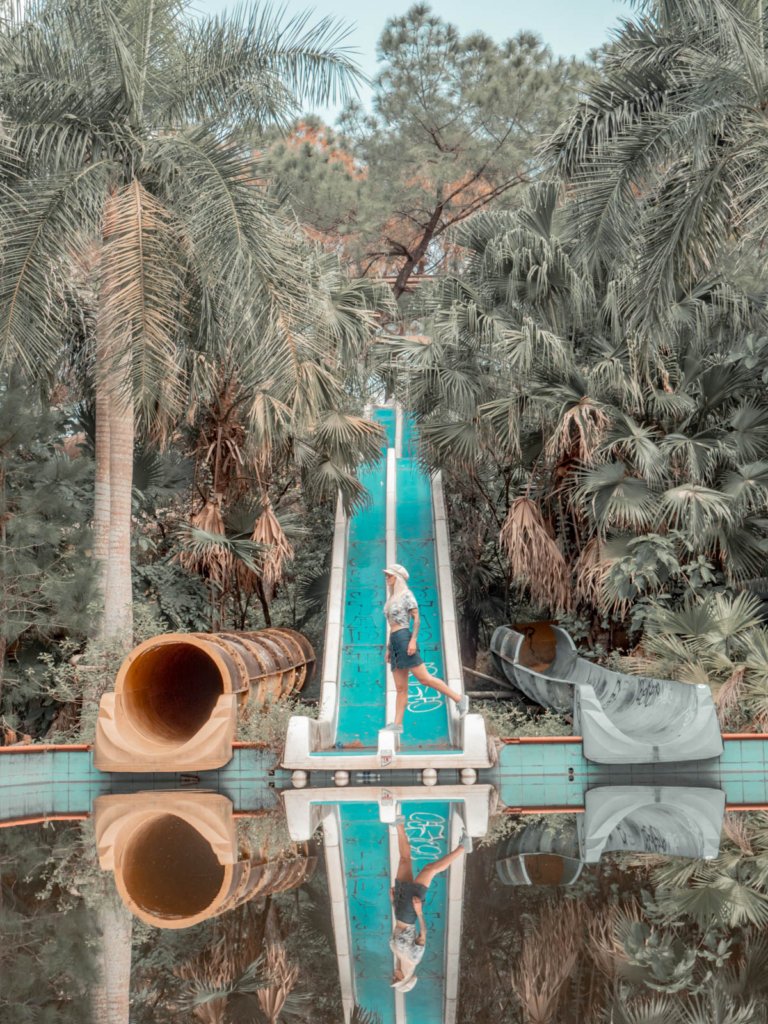 Where is Hue?
Hue is in central Vietnam, a 2-hour drive north of Da Nang. With a rich history of royalty, kings with over 500 wives and the Imperial city. Hue is a diversely interesting place to visit in Vietnam. You can fly to Hue from Hanoi or Saigon. There are also overnight buses from many cities or the sightseeing train along the Hai Van Pass.
Where to stay in Hue
I was a little taken aback by the town centre of Hue. The city teeming with so much culture and history was not the place I expected to find a Baskin Robbins. Hue is overflowing with modern bars and restaurants.
All are conveniently located in the town centre and within easy walking distance. Although you may be overwhelmed by the choice. If modern isn't what you are looking for ask a local for a good traditional spot to eat.
Agoda is great for booking accommodation in Asia. Not only will you get daily deals and money back. But they also have plenty of properties that offer a "pay cash upon arrival" option.
Is Ho Thuy Tien Worth Visiting?
This was an incredible experience and one I won't ever forget. Is Ho Thuy Tien worth visiting on your trip to Vietnam? I would definitely say so. Ho Thuy Tien, an abandoned waterpark in Hue, Vietnam, features an array of areas and paths to explore such as grandstands, water slides and the dragon aquarium. There are plenty of hidden spots here, making it a great destination for those who have the time to explore the darker side of Hue.
If you're looking for more great places to visit in Vietnam, check out the Floating Villages of Halong Bay.