My alarm goes off, it's 5:30 am. What on earth could be so important that I want to rise at this ungodly hour? But it wasn't the gods that arose me, it was the dragons on my doorstep. I rise on a floating village in Vietnam.
Still in darkness, the sleeping dragons of Ha Long Bay were yet to arise. Floating homes are far sturdier than I expected, with no movement or sound. My blurry vision manages to focus enough to grab my camera and leave the comfort of my bed. It's time to watch the sunrise over the limestone mountains of the sea.
Are there floating villages in Vietnam?
Yes, there are floating villages in Vietnam. These villages are located in Halong Bay, where the waters flow into the South China Sea. The people who live in these villages rely heavily on fishing for their livelihoods, and they have adapted to life on the water by building houses and markets that float on bamboo rafts.
Where are the floating Islands in Vietnam?
There are beautiful limestone islands and karst formations that rise majestically out of the water in Halong Bay, located in the northeast region of Vietnam. Halong Bay, a UNESCO World Heritage Site, features over 1,600 limestone islands and islets that are spread across an area of approximately 1,500 square kilometres.
Visitors can explore the bay on a traditional junk boat cruise or kayaking, and enjoy the stunning scenery of towering limestone cliffs, crystal-clear waters, and verdant forests.
Where are the floating villages located?
The floating villages are scattered in the Halong Bay region, here are our top 5:
Cua Van Floating Village
Vung Vieng Floating Village
Ba Hang Floating Village
Cong Dam Floating Village
Hoa Cuong Floating Village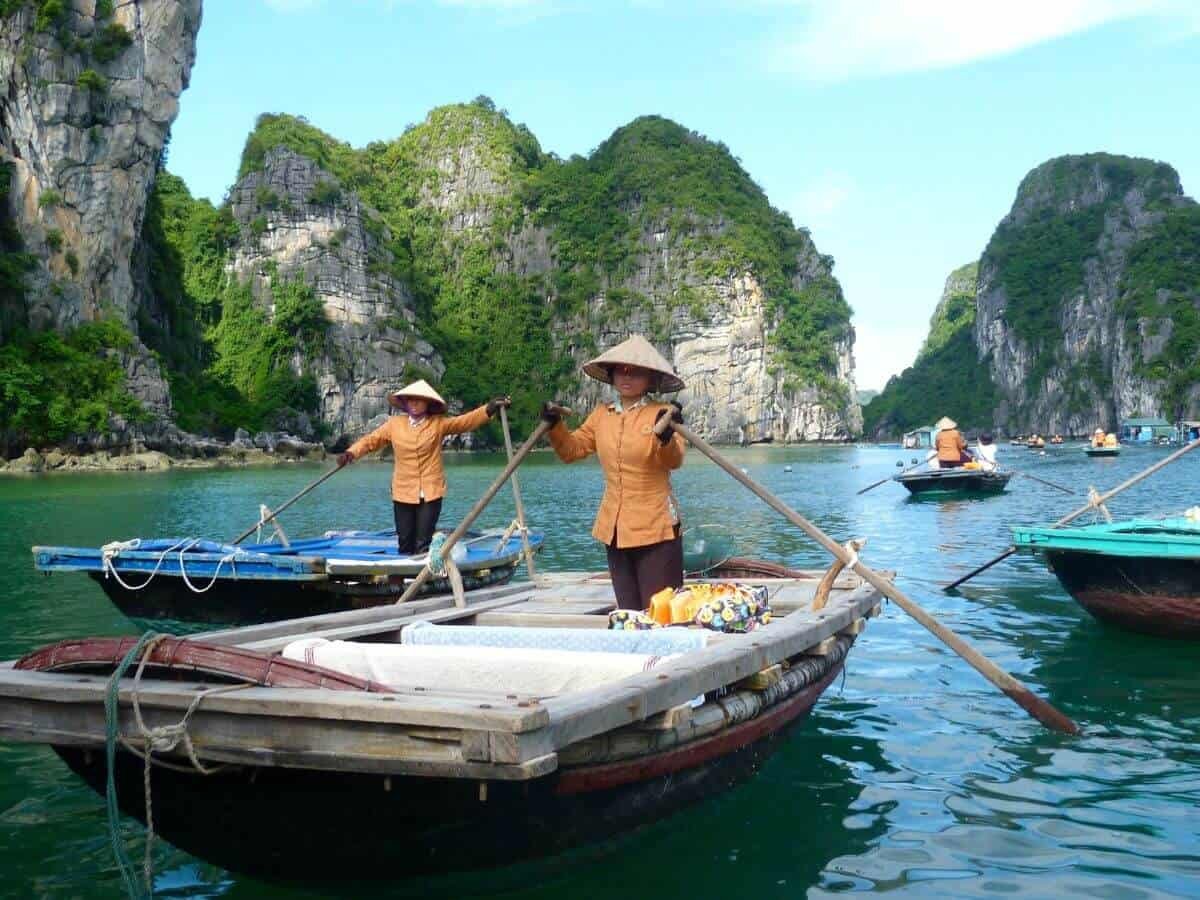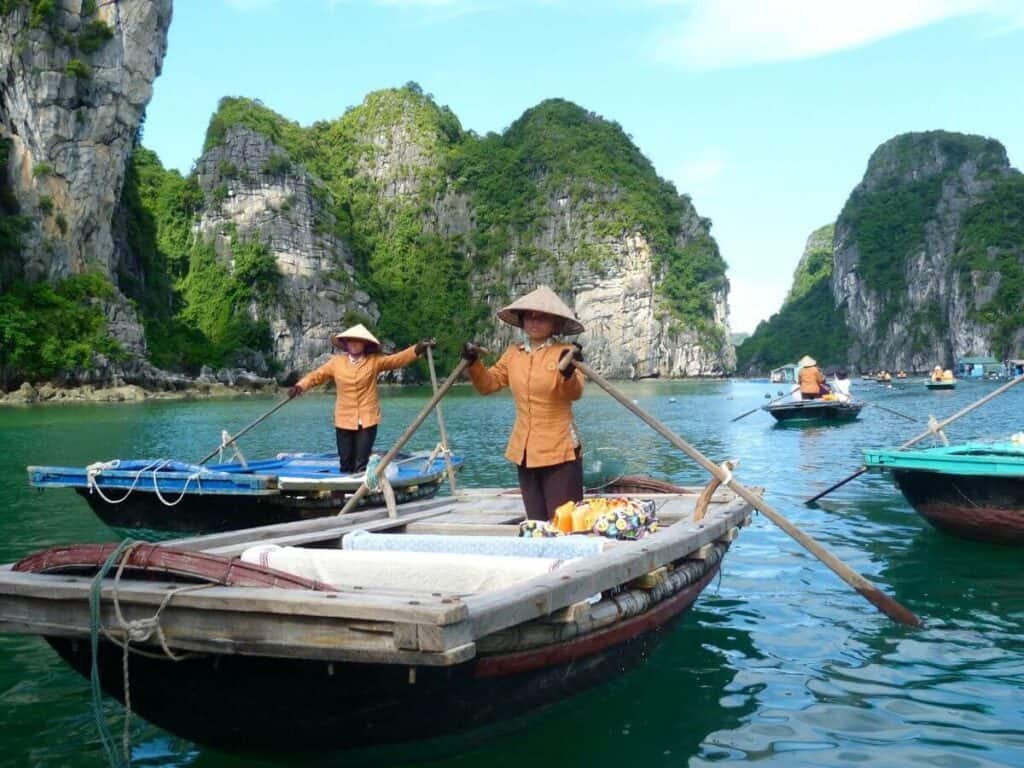 Cua Van Floating Village Vietnam
Cua Van is a charming fishing village located in a quiet lagoon on the edge of Halong Bay in Vietnam. It is one of the largest and oldest floating villages in the region, dating back over 200 years. The village is home to around 700 people who make their living primarily through fishing and aquaculture.
The village comprises many colourful wooden houses that stand on stilts or rafts, all connected by a network of meandering wooden walkways. One of the main attractions of Cua Van Floating Village is the opportunity to experience the unique lifestyle of the local people who have lived here for generations.
Visitors can take a boat tour or kayaking excursion to explore the village and its surrounding area, interact with friendly locals, watch them go about their daily routines and learn about their traditional ways of life.
In addition to the village itself, Cua Van also offers visitors stunning views of Halong Bay's towering limestone cliffs, crystal-clear waters, and verdant jungle-covered hills. Visitors can enjoy swimming, snorkelling, or simply relax and soak up the tranquil ambience of the village.
Vung Vieng Floating Village Vietnam
Vung Vieng is a small fishing village located in the heart of Bai Tu Long Bay, which is a part of the Ha Long Bay region in Vietnam. Like many other fishing villages in the region, Vung Vieng is built on the water and features floating houses and markets.
The village is nestled among beautiful limestone islands in a tranquil bay, making it a popular destination for tourists seeking a peaceful and authentic experience.
One of the highlights of visiting Vung Vieng is a tour of its floating markets, which offer an abundance of fresh seafood and produce. Visitors can take a boat tour to explore the village and enjoy a traditional seafood lunch.
Additionally, visitors can also participate in activities such as kayaking, swimming, and fishing. The village is also known for its friendly locals and hospitable atmosphere.
Ba Hang Floating Village Vietnam
Ba Hang is a small traditional fishing village located in the heart of Halong Bay, Vietnam. The village is nestled among the impressive limestone formations and towering cliffs that surround the bay, offering visitors a glimpse of the typical way of life of the local fishermen who have lived here for generations.
The village is composed of several floating houses and boats, with residents relying mainly on fishing as their livelihood. Visitors can experience the unique way of life of the locals by taking a guided tour of the village, where they can witness traditional fishing techniques, see how the villagers live and work, and even sample some of the fresh seafood caught daily by the fishermen.
Aside from the cultural experience, Ba Hang Floating Village also affords visitors some of the most breathtaking scenery found in Halong Bay. The bay's crystal-clear waters, dotted with jagged limestone cliffs, create a serene and peaceful environment in which to relax and enjoy the tranquil surroundings.
Cong Dam Floating Village Vietnam
Cong Dam is a small fishing village located in Bai Tu Long Bay, a quieter and less-crowded area northeast of Halong Bay in Vietnam. It is an off-the-beaten-track destination that offers visitors a glimpse into the peaceful and traditional way of life of the fishermen who have lived here for generations.
The village consists of several small bamboo huts built on stilts over the water, where the friendly local community makes its living through fishing and agriculture. Visitors to Cong Dam can take a boat tour or kayak excursion to explore the area and learn about local techniques and practices in fishing and shellfish farming. They can witness traditional hand-made brocade weaving and pottery making, and even participate in the process or purchase their own products.
Aside from the traditional activities, visitors can also explore the stunning natural beauty of the area, including the awe-inspiring limestone formations and pristine white sandy beaches. The village and its surrounding areas are also perfect for hiking and cycling activities or just enjoying a relaxing boat ride.
Hoa Cuong Floating Village Vietnam
Hoa Cuong Fishing Village, nestled on the rocky perimeter of the bay, is a rustic settlement of floating houses linked together to withstand storms. With 200 households and a population of 750, the locals have depended on fishing for their livelihoods for generations.
Simple bamboo boats adorn the fronts of these floating houses, the favoured mode of transportation for even the children of the village. Though their work primarily takes place out on the sea, the village remains full of life with distant calls and buzzing activity.
Festive celebrations and weddings call for catchy teaser songs that fill the air with laughter. Hoa Cuong Fishing Village proudly boasts the first floating classrooms of Halong Bay, providing training establishments for the children.
Additionally, the Hoa Cuong Floating Cultural Center in Bai Tu Long Bay exhibits information and images of the traditional fishing communities in Halong Bay.
Can you live in Halong Bay?
While there are many activities and attractions available in Halong Bay, it is not possible for visitors to live there permanently. Halong Bay is a UNESCO World Heritage Site and a popular tourist destination, with most visitors staying on boats or in nearby hotels for a few days during their trip.
However, there are some local people who live and work in Halong Bay, including fishermen and tour operators who offer boat tours and other activities to visitors. The local communities mainly have their homes in nearby villages on the mainland and commute to Halong Bay for work.

Descending Dragons

Legend has it that the dragons were sent from the gods. With tireless invaders trying to enter Vietnam through the sea. The mother dragon and her children were called upon to protect the Vietnamese. With the power of fire and giant emeralds, the dragons defeated their unwanted intruders.

Once the fire breathers had successfully protected their land. The emeralds from the dragons' mouths were scattered amongst the bay. They formed the landscape that we now call Ha Long Bay.

Ha Long Bay means "the bay of the descending dragon".
Bai Tu Long means "bow down to worship the dragon children".

The Mother Dragon and her children didn't return to the gods. They became mortal to help the Vietnamese culture thrive. Myths say that some Vietnamese people are descendants of dragons and fairies.
This explains why I resonate so much with these tales. No, not that I think I am a descendant of dragons or fairies. But Manx mythology and folklore have a lot of ties to giants and fairies. These are the stories of my childhood and the ones that I never want to grow out of.

Experience Sunrise Over Halong Bay

It's earlier than I would normally be happy being out of my bed. But the purple and peach hues creeping over the emerald peaks are worth it. The water in the bay is calm. It's far too early for the families on the floating homes or the tourist boats to be active.
This is the most peaceful place in Vietnam. Vietnam is a very hectic country. With over 50 million scooters buzzing around and their culture of constant beeping. It's difficult to find real peace and quiet in this country.
But here on a floating home in the middle of Ha Long Bay, no neighbours, no boats, no beeping. Just me and a few Limestone Dragons. It's the bliss I have been searching for.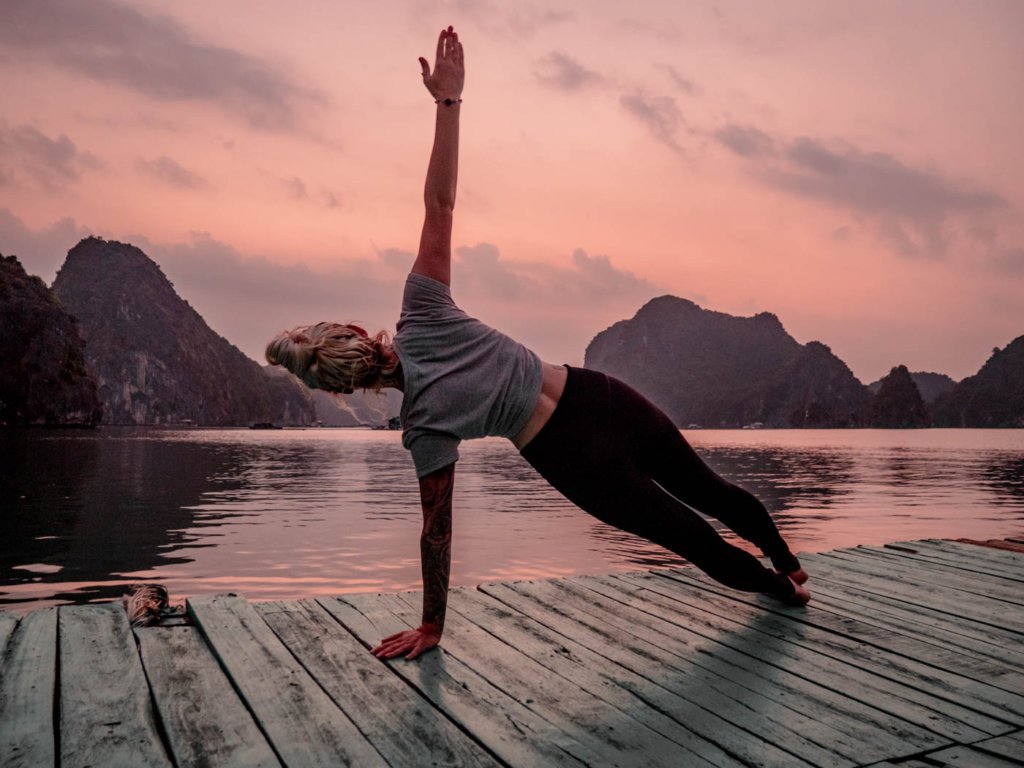 Floating Homes Amongst Limestone Dragons

When I did my research into visiting Ha Long Bay, I knew that above all other options, I wanted to stay in a floating home. I wanted to wake up in the shadow of the mountains, with the sea beneath my bed.
A lot of my trip was done on the fly. So when I stumbled upon a company in Cat Ba offering a tour with an overnight option on a floating home, I jumped at it. The day included kayaking, swimming, cruising around the bay, secret beaches and food.
The night tour was a short kayak to a nearby beach to swim amongst the glowing plankton. The stay on the floating home included dinner and breakfast. With a transfer back to Cat Ba whenever we wished to return. For a total of 70 USD, this seemed like a steal.
With the cost in mind and some research I had done into traditional Vietnamese homestays. I was expecting the most basic of accommodation, especially within floating homes. In my mind we would be in a mixed room, sleeping on yoga mats on the floor.
Imagine my surprise when I was greeted with a double bed in a private room. Tonight I will be sleeping soundly amongst the Limestone giants. I had visions of walking precariously on a moving platform. But this home was as sturdy as a rock. Like most things in Vietnam, it far surpassed my expectations.

Where is Halong Bay?


Halong Bay is located in northeast Vietnam, specifically in the Gulf of Tonkin. It is a part of Quang Ninh province and covers an area of approximately 1,553 square kilometres. Halong Bay is located around 170 km (105 miles) east of Hanoi, the capital city of Vietnam.
It is easily accessible by road and boat, with many tour operators and travel agencies offering day trips and overnight cruises to explore the stunning natural beauty of the bay. Halong Bay is a UNESCO World Heritage Site and one of the most popular tourist destinations in Vietnam.
How to get to Halong Bay

Flying – the nearest airport to Ha Long Bay is Noi Bai Airport

Driving – If you are driving, biking or taking a bus from Hanoi, It takes roughly 2hrs 45 minutes to get to Halong.

Via Cat Ba – A bus from Hanoi will also take you to Hai Phong and from there you can take a ferry to Cat Ba Island.

Tours can be taken from either Halong, Cat Ba or Cam Pha depending on which parts of Ha Long Bay or Bai Tu Long you wish to see.

Note: Cam Pha and Bai Tu Long are much further east. If you plan to see these as well as Ha Long Bay make sure to add a day or two to your itinerary.

Halong Bay Tour Options

Stay on a floating home
I compared tours from most of the tour companies scattered along the main harbour of Cat Ba Island until I found what I wanted. Good English and smaller tour groups are two things to look out for.

There are also options on Agoda and Booking.com for stays without tours.

Overnight ferries

These are generally the more luxurious and very touristy tours. You can opt for an overnight, 2-day or 3-day tour with a variety of companies. Take a look on Agoda for options. You can do a Google search for all cruise options, or alternatively, book through your hotel or hostel.

Day Trip

If you are short on time or sticking to a tight budget, lots can still be seen on a day trip. Each company will offer different parts of Ha Long Bay to visit. These will also include different activities. With the water being not too clear and an abundance of jellyfish, I would opt for Kayaking over Snorkelling.

The Wrap Up: Floating Villages in Vietnam
Halong Bay is a stunning natural attraction located in the northeast region of Vietnam. It consists of a vast area of water that is dotted with over 1,600 towering limestone islands and islets, which create a unique and dramatic seascape. The bay covers an area of approximately 1,500 square kilometres and is a UNESCO World Heritage Site.
Visitors can explore Halong Bay by taking a boat cruise, which offers breathtaking views of the towering, mist-covered limestone cliffs, peaceful coves, and sparkling turquoise waters. The bay is home to a variety of marine life, including rare species of fish, birds, and colourful coral reefs. Visitors can also enjoy kayaking around the limestone karsts, visiting hidden caves and grottos, and swimming in the calm and clear waters.
Aside from the natural beauty, Halong Bay is also rich in cultural and historical heritage, with a long and fascinating history of human habitation dating back thousands of years. Visitors can explore some of the local fishing communities, many of which have built their homes on the rocky islands, and learn about their way of life.
Halong Bay is a unique and awe-inspiring natural wonder that is rich in culture, history, and biodiversity. It is a popular destination for tourists seeking a truly unforgettable and immersive experience of the beauty and richness of Vietnam.
If you are looking for more dragon-filled fun in Vietnam, check out The Abandoned Water Park in Hue